Why You Need to Be Binge-Watching "Unbreakable Kimmy Schmidt" Right Now!
Written by Kevin Donaldson. Published: March 13 2015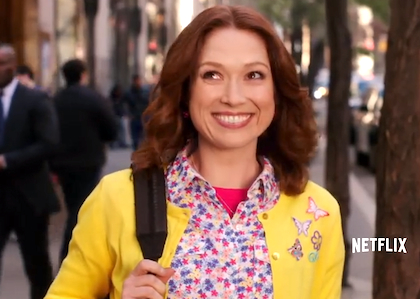 If you haven't check out the Netflix original series "Unbreakable Kimmy Schmidt", which premiered last weekend, then my question is, "WHY?" And my statement to you is, "YOU SHOULD BE." Like, righ now. If you need actual convincing, then fine, I've got six reasons for why you should check it out, because I'm unbreakable in my stance on how great this show is.
1. When the heck have we ever been a show like this?
I'll start off explaining reason number one with the same question: When the heck have we ever seen a show like this? The answer, of course, is Never. It's such a dark premise. The show follows the New York City-centered journey of Kimmy Schmidt, played by the very funnyEllie Kemper ("The Office", Bridesmaids), as she tries to restart her life, and adjust to life in general, after being abducted and forced into a Doomsdays Cult for 15 years at the age of 14. It's a dark idea, and the show does get dark at times, but with Tina Fey co-creating the show, there's plenty of light-at-the-end-of-the-tunnel kind of darkness layered into the humor and story progressions.
2. Tina "effing" Fey is behind it.
Need I say more? Sure, why not? For any fan of "30 Rock", this show will bring you back to the humor you've enjoyed marathoning reruns of the NBC sitcom to try and get back, because it's hard to find anywhere else. On top of a similar style in humor, the music has a very similar score since Fey's husband Jeff Richmondhas lent his musical stylings to the series (as he did with "30 Rock".) To me the music feels like rolling into a fire place and miraculously not getting burned. "Unbreakable Kimmy Schmidt" feels like it takes place in the same weird parallel universe of "30 Rock". To top it off, there are some familiar faces, likeJane Krakowski, who played my step-dad's favorite character, "30 Rock"'s resident narcissistic actress Jenna Maroney (bet you were thinking it was Tracy Jordan). There is also an unlikely casting, which brings me to-
3. Tituss Burgess is ridiculously hilarious.
Bet you never heard the name Tituss Burgess before, but if you were a fan of "30 Rock" you'd recognize him. Allow me to show you a clip to refresh your mind grapes a bit:
In "Unbreakable Kimmy Schmidt", Burgess plays the role of Kimmy's street performer roommate, Titus Andromedon (neé Ronald Wilkerson). Titus moved to New York City to pursue an acting career, which hasn't panned out, from Mississipi after he was really popular in high school, a star athlete, and all the hottest cheerleaders wanted to give up their virginity to him, but since he's clearly gay, he had reservations about all of that. His larger-than-life personality brings so much to the show that it's scary to think he only had a couple of guest star spots on "30 Rock" and hasn't been more prominent in comedy before, but maybe this show will be his turning point. And let's not forget their loose landlord, played by veteran comedic actress Carol Kane, who next season could be my favorite fictional character of all-time.
4. Kimmy Schmidt herself
I mean, she was in a cult and is somehow able to manage a somewhat stable life in a sea of chaos that is the world we live in today. (I feel accomplished if I remember to brush my teeth in the morning, for crying out loud.) Kimmy's undying optimism and lust for life is the driving force of the show as she weaves her way through the world one light of her sneaker at a time. She's been missing since roughly the year 2000 and has missed out on a lot of life, and most importantly her formative years, but maybe that makes her lucky. Her positive outlook could be that she never experienced the soul-crushing machine that is high school, or could've hit her peak in high school like so many other people the rest of us graduated with (or like Titus). But her want for life experience is most likely due to living in an underground bunker with three other women for half of her life where, as Kimmy puts it, "Yes, there was weird sex stuff in the bunker." Either way, Kimmy Schmidt is a character we all can learn from, despite her irrational fear of Velcro.
5. Nostalgia and Life Experience
Being on my own for the first time ever and doing it in a city where I know nobody and am three time zones away from home, I've been able to relate to this show. A lot of it wraps up in nostalgia, though. There's episodes where Kimmy goes back to school, re-learns how to ride a bike (because you CAN forget), has a birthday party for the first time in forever, tries dating a complete stranger she vaguely met through a friend, etc. All of these rites of passage for Kimmy and myself are experienced in a completely different place than where she's from. Plus, there's references to "Sister, Sister",The Babysitter's Club series, The Breakfast Club, and the comedy feels more Marx Brothers-ish than "30 Rock" ever did. Add in how Kimmy dresses (especially those light up sneakers that I wish I still had), and anybody of any age can find something to connect with from their past and love it.
6. NBC gave up the rights to Netflix
Nothing against NBC, but anything that is deemed too weird for network TV is probably pretty darn good, and the oddball hijinks of "Unbreakable Kimmy Schmidt" is the most prime example of that.
But enough of hearing my reasons for why you should check out "Unbreakable Kimmy Schmidt". Instead, check out the trailer and judge for youself (I don't agree that the music for this trailer sets the mood of the show):
Bonus: Krakowski and Fey have both said that they want a future role forTracy Morgan. Cheers to Tracy and hope that his health gets better so he can return to comedy, and will be able to take this possible role. It's a whacky universe begging for him to join in with his own brand of weirdness.
- Kevin Donaldson, YH Staff