Why We Love (and Will Miss) "Glee"!
Written by Nicole Koch. Published: January 09 2015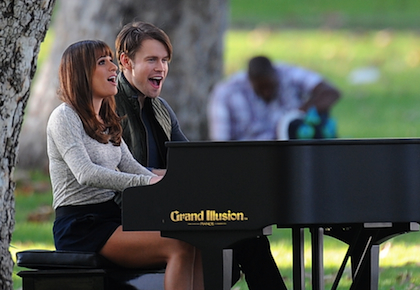 It's a bittersweet day for fellow "Glee" lovers, as the first episode of the show's 6th and final season premieres tonight. Can you remember the excitement you felt when you watched the pilot episode of Season 1? Lea Michele, Cory Monteith (RIP love), Matthew Morrison,Chris Colfer, and the other amazing cast members hooked us all immediately and tugged on our heart strings. As we say goodbye to "Glee" this season, we will always remember the reasons why we fell in love with it. Let's highlight those reasons now, shall we?
1. It's centered around the underdog
This show focuses on the people who weren't, or aren't, the most popular kids in school and tells us that, not only is it okay to be different, but it's BETTER to be different. It reminds us that we're all special and awesome in our own ways! How could you not love such a feel-good series like this one?
2. The writers always choose amazing and relevant songs
Every episode featured at least one song we all know and love. "Glee" tends to tie in Top 40 songs, but we love it when oldies from the '80s and '90s make their way into episodes! For example, Elton John's "Don't Go Breaking My Heart", Bonnie Tyler's "Total Eclipse of the Heart", and Britney Spears's "Baby One More Time" are classics we'll never forget!
3. It tackled socially relevant issues as easily as special themed episodes
Bullying, eating disorders, teen pregnancy, wheelchair access in public schools, and self-love are just some of the social issues dealt with on "Glee". Themed episodes include Grease, Britney Spears, Christmas, and our favorite Michael Jackson! Those are just recipe for show addiction!
4. The fashion sense for all of the characters fit
How cute is Rachel Berry in her knee-high socks, plaid skirts, and ruffled tops? That just screams Drama Queen. Quinn Fabray always rocks sweet, girly dresses to match her dainty singing voice. Mercedes Jones is seen in bright, colorful, and loud fashion pieces like Fedoras, which make her look even more like a diva. And Finn Hudson, the incredibly decent football player, wears jeans, collared polos, and flannels. They are just all so damn cute.
5. Finchel/Corlea's love will last forever!
Finn and Rachel's love story stole the hearts of the viewers in the seasons before his untimely death. They sang the most perfect duets on the show and then looked so in sync on the red carpets. Lea still wears her "Cory" necklace from time to time (heart breaks). We will never forget how beautiful this couple was! We miss you two so much!
Don't forget to tune in to the Season 6 premiere at 8pm tonight on FOX! We know you're all dying to see it, but until then, check out Lea Michele's cover ofFrozen's "Let It Go" that she sings in tonight's episode!
We'll always remember you, "Glee"!
(Photo via Cousart/JFXimages/WENN)
- Nicole Koch, YH Staff