Why Taika Waititi's "Our Flag Means Death"Is Our New Favorite Comedy!
04-14-2022 by Hannah Shariff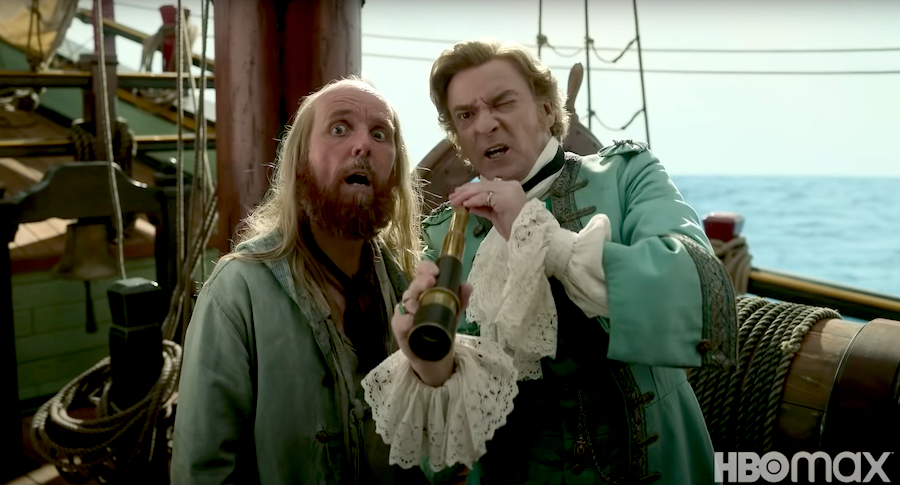 (HBO Max)
Taika Waititi has always given fans what they have wanted. From "What We Do In The Shadows" to Thor: Ragnarok, Waititi manages to infuse just the right amount of humor and heartwearming moments in his works to make audience members go wild. It is no surprise, then, that his latest project, HBO Max's "Our Flag Means Death", has become one of the most in-demand television shows on the streaming platform. 
"Our Flag Means Death" follows the story of Stede Bonnet, an aristocrat who leaves his arranged marriage and children behind to become a pirate. Played by Rhys Darby, the character is based on the real-life pirate, historically known as the Gentleman's Pirate. This is a very apt name for Bonnet, as throughout the season he maintains his aristocratic tendencies even when running into the notorious, leather-clad Blackbeard (played by Taika Waititi). 
Bonnet eventually joins the crew of a ship called The Revenge, and viewers are introduced to a group of pure eclectic characters such as: Lucius, a pirate adverse to gore (played by Nathan Foad), Frenchie (Joel Fry),the quirky songster of the crew; Black Pete (Matthew Maher), the Blackbeard fanboy; Buttons (Ewan Bremmer), the seagull whisperer; and many more. As disfunctional as the group is, their comedic timing is impeccable and leads to some hilarious moments throughout the show. 
However, although the show is based onf a few legendary historical figures, it does go off the cuff as most comedies do. What makes "Our Flag Means Death" different than other comedies, though, is its focus on LGBTQ relationships. The show effectively portrays 3 different queer relationships and explores them in ways that are rarely seen in television series. Not only do the main characters Stede and Blackbeard adopt a will-they-won't-they dynamic, which Waititi has previously stated is romantic rather than bromantic, but side characters like Jim -- a non-binary pirate played by non-binary actor Vico Ortiz -- and Oluwande (Samson Kayo), flourish admist fights across the high seas. 
Not me crying while reading all the reactions on Jim's pronouns ???we doing the damn thing fam ✨????✨ #OurFlagMeansDeath ?️‍⚧️?️‍??‍☠️

— Vico Ortiz (@V_Vico_Ortiz) March 17, 2022
Although there's currently only one season of "Our Flag Means Death" availble on HBO (and spoilers: it does end on a pretty big cliffhanger), fans are advocating for its renewal on Twitter. Until the next season is inevitably greenlit, enjoy watching ten episodes of pure comedic (and wholesome!) goodness on HBO!