Who Is the "Scream" Killer? 4 Possible Suspects and Why!
Written by Brittany Taormina. Published: August 10 2015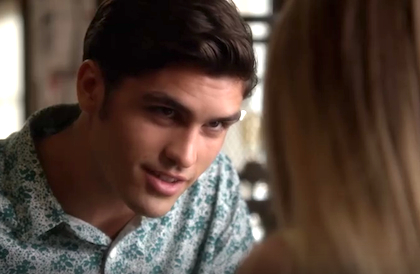 Scared yet??
We're past the mid-way point of the first season of MTV's "Scream" series, based on the hugely popular '90s film franchise of the same name, and at this point the killer could be an array of people! I find myself thinking that I know who the killer is every week, but NOPE! Now, let's get serious. We have broken down a list of the top four potential killers...
1. Jake Fitzgerald
Mr. Jake has some kind of ulterior motive. He appears to be setting up his supposed "best friend", Will, so he won't get caught in the act or held responsible for his blackmailing actions. Who does that? Anyone who throws his or her best friend under the bus is one you should watch out for.
2. Kieran Wilcox
Yes, I know, how could I possibly pick Kieran as one of my top potential killers? Well, he's the new kid in town and somewhat mysterious. He also happens to be missing when all of these horrific and scary situations happen. Don't let this pretty face fool you! He could very well be up to no good.
3. Mayor Maddox
I'm sorry, but what in the world was this man carrying out of the trunk of his car? Brooke's dad appears to have a lot of explaining to do thanks to Jake; she knows something is going on. There is also the whole situation with him being blackmailed. What did Jake and Will find out about him that he doesn't want to get out?
4. Piper Shay
It is always the first instinct to think that the killer is male, but it could very well be female. Piper is a podcast enthusiast who covers stories when a murder happens, but I begin to question why she manages to hang around. Yes, Emma did tell her she should stay, but if people were dropping like flies… I would be running for the hills! I also find it odd that Piper said that the police killed her father when she was younger. Hmmmm… I see a Brandon James connection here, people!
Of course, anyone who remembers the original films knows that, more often than not, the killer turned out to be not one person but a duo! So anytwo of these people could be working together as well!
Either way, it appears that we may have to wait a little longer to find out who the "Scream" killer is because MTV has renewed the show for a second season. I don't know about you, but I can't wait to see how the rest of the season plays out.
Make sure to watch MTV's "Scream" every Tuesday night at 10:00pm!
(Screenshot via YouTube)
- Brittany Taormina, YH Contributing Writer