What To Expect From Season 2 of "Riverdale"!
Written by Nicole Wert. Published: July 03 2017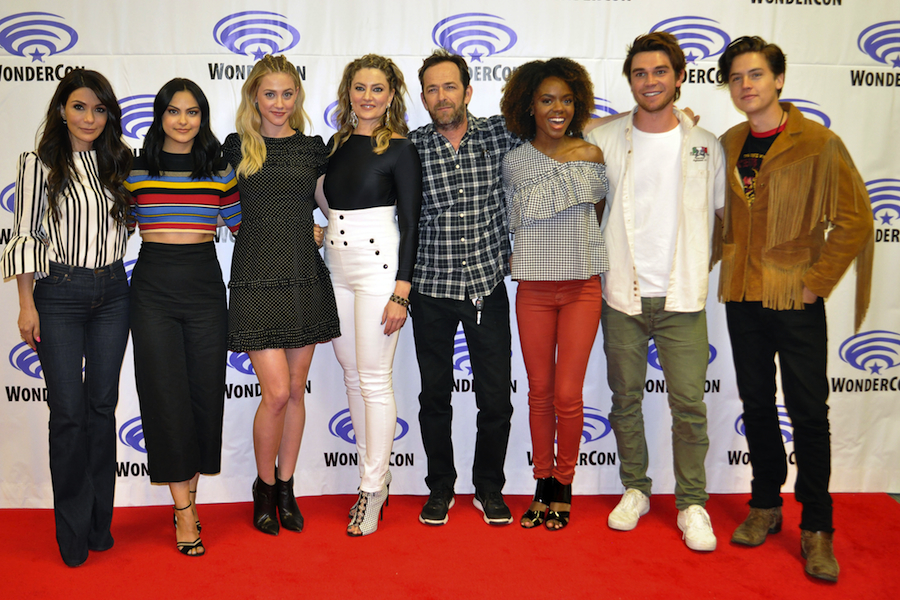 "Riverdale", the CW's original series based upon characters from the classicArchies comics, is now playing on Netflix and everyone is loving it! So, if you haven't yet checked out the hotly anticipated show, then now's the time to hit up Netflix (or borrow someone's log-in info).
Riverdale is a whole town on edge after the murder of local teen Jason Blossom (Trevor Stines). Nobody knows who did it and everyone is going absolutely insane. If you already finished Season 1 and are anything like me, then you cannot wait to see what exactly is going to happen in Season 2. Well, I am here to give you a few hints and possibly a little bit of a spoiler alert!
New behind-the-scenes photos have been released on the @RiverdaleBrasil Twitter page that reveal Veronica (Camila Mendes) is wearing a wedding gown! This is super exciting for all the fans to see, because in the Season 1 finale, Archie (KJ Apa) and Veronica finally decide to become an official couple. Could the pair be making the big leap to getting married in Season 2? I guess we'll just have to wait and see!
There are a few things that we know for sure based upon what the showrunner,Roberto Aguirre-Sacasa, has mentioned about the upcoming season, like that Archie is going to become darker in Season 2. He will seek revenge and become violent. He says, "So, it is going to be a really different Archie for Season 2." This sounds like it is about to be a super intense season!
Aguirre-Sacasa also mentioned that Season 2 will pick up right where Season 1 left off. The focus of the beginning of the season will be on who it was that shot Fred Andrews (Luke Perry). I know we all are dying to figure this mystery out! I for sure cannot wait to see who it was.
Meanwhile, everyone knows that Betty (Lili Reinhart) and Jughead (Cole Sprouse) are the cutest couple around. They finally said the big "L" word to each other, and there is no denying that it was the cutest moment ever. What is even more crazy is that, in Season 2, their relationship will be on the line. Aquirre-Sacasa also mentioned that a "central conflict" will get in the way of Betty and Jughead's relationship. Ugh, super bummed about that one!
"Riverdale" Season 2 is set to premiere on Wednesday, October 11 at 8pm on The CW. Make sure to tune in and watch the show to figure out all of these upcoming twists!
In the meantime, check out what happened when we caught up with the cast at WonderCon!
(Image via Cindy Robichaud/Future Image/WENN)
- Nicole Wert, YH Contributing Writer