We Tried 9 Recipes From 'The Horror Movie Cookbook'!
Written by Katie Marzullo. Published: October 25 2023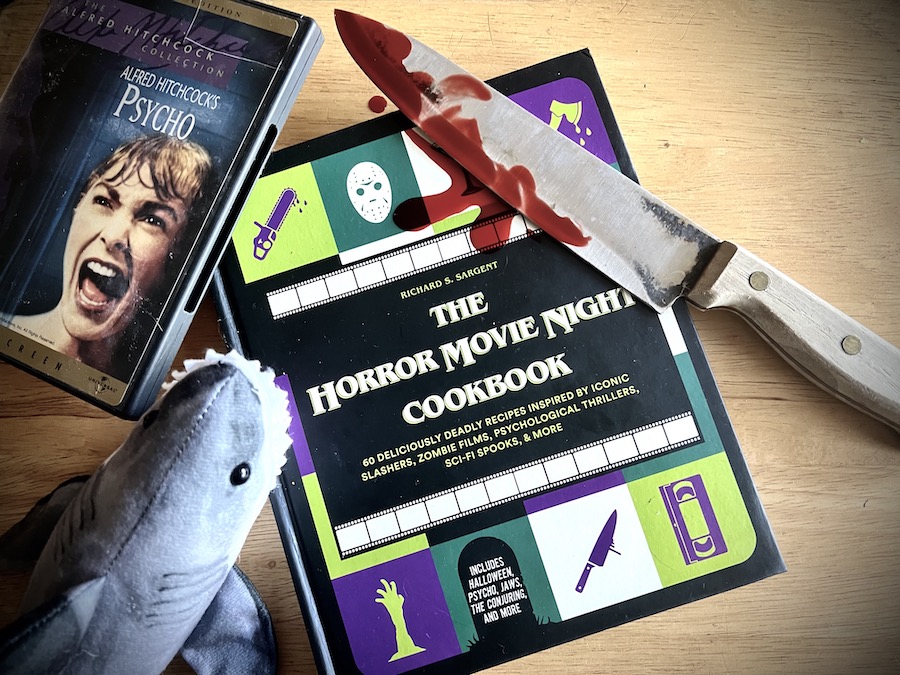 (Photos © Katie Marzullo)
Name a more epic combo than movies and food. Nothing beats sitting down in front of your TV, firing up a good flick, and munching on a snack or even a full meal. And for those of us with iron stomachs, this also includes horror movies!
Scary flicks and yummy food come together in The Horror Movie Cookbook, a collection of recipes based (sometimes very loosely) on some of your favorite creepy films. Being two of my very favorite things, I could not help but try a handful of these recipes to see how they stack up twofold, both as a standalone recipe and how much it pays homage to the film it's based on. Let's get into it!
1. Crawling Steak – Inspired byPOLTERGEIST (1982)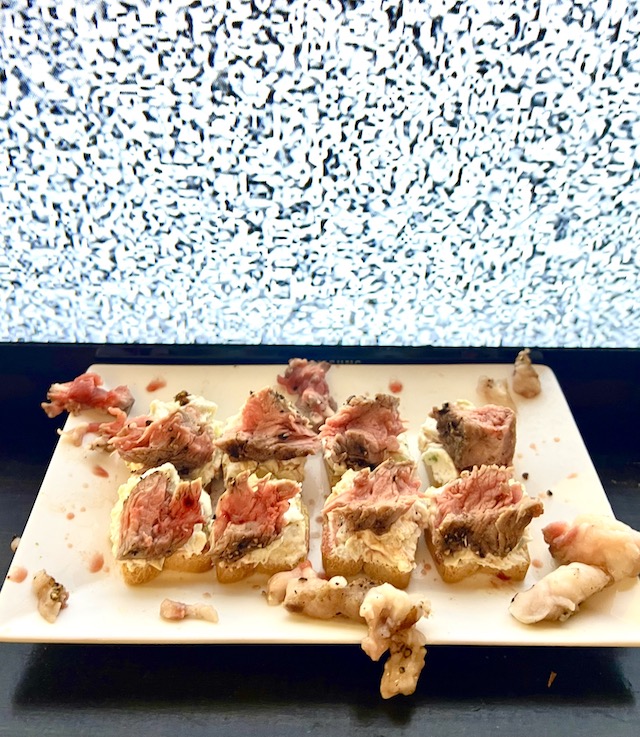 Based on a terrifying scene from one of my favorite horror films which I still can't even watch to this day (iykyk), these simple little appetizers are easy to make and even easier to pound down! Petite toasts topped with a cream cheese-artichoke-jalapeno mix and a slice of seared steak, you can easily make a meal out of these… and I did (oops?). Just try not to think about That Scene while eating them…
Would Make Again? Yes, for a party or holiday.
2. Creepy Cairns – Inspired by THE BLAIR WITCH PROJECT (1999)
Referring to these little canapés as "cairns" is a bit of a stretch, and there's certainly nothing creepy about them, but they sure are tasty! Pan-fried polenta topped with Boursin cheese and fried onions – a winning combo that will have you crying into a camera when you run out.
Would Make Again? Yes, as a quick delicious snack.
3. Piranha Soup with Mini Crab Cakes – Inspired by PIRANHA (1978)
The movie? Not as terrible as I was expecting. The dish? The opposite reaction. The first issue: Why soup? There's literally a scene in the movie where a guy cooks a whole fish in a cast iron pan – why not a riff on that instead? Also, why crab cakes? Not a single crab is ever seen on-screen! All that aside, the dish came out looking nothing like the picture, which looked a lot more brothy. But the recipe said to puree the fish, so that is what I did, and it came out as a thick muck, as you can see. It was surprisingly bland, and the texture was not pleasant at all. The crab cakes, which were supposed to be baked instead of fried for some reason, were pretty disappointing as well. All in all, a sad waste of good fish.
Would Make Again? NO. I would, however, watch the movie again.
4. Marion's Respectable Date Night – Inspired by PSYCHO (1960)
This is literally just a steak dinner, which I already have at least once a month anyway, but Psycho is my favorite movie of all time so you know I had to represent! Based on a line in the movie where doomed heroine Marion Crane suggests having dinner at her house with her boyfriend Sam as an alternative to hooking up in a hotel on their lunch breaks, it's pretty much your average steak-and-potatoes meal. Not a lot of room for error. Personally, I would have gone with some version of "sandwiches and milk", Norman Bates's favorite meal which he offers to Marion when she stays at his motel – AKA, her last supper.
Would Make Again? Yes, and I already have!
5. "There's An I in Meat Pie" – Inspired by SHAUN OF THE DEAD (2004)
Like many recipes in this book, this meal has a rather thin connection to the movie it's inspired by – in this case, a throwaway line I didn't even remember even though I have seen this film like a dozen times. Basically, it's a traditional steak and ale pie – the ale part having the only real connection to the film. That aside, I thought the pie was delicious, although very labor-intensive. I made my own short crust, which the recipe insists on, but I would suggest just buying ready-made dough to cut down some of the work. The end product was very tasty though. I served it with The Second Album I Ever Bought!
Would Make Again? Yes, but only for a special occasion with a lot of people.
6. Tom's Hypnotic Ghost Pepper Curry – Inspired by STIR OF ECHOES (1999)
I have absolutely no idea what this dish has to do with this movie, aside from the arbitrary use of ghost peppers, which I couldn't even find (I substituted habaneros), so it has even less to do with the movie! Regardless, I had never made a curry before, so I was all in on this one. It was delicious but SO. HOT. Like, almost too hot to eat. The curry paste already provides a significant heat, so the peppers where wholly unnecessary.
Would Make Again: Yes, but without the peppers.
7. Bloody Floaties – Inspired byJAWS (1975)
Just when you thought it was safe to go back into the kitchen… This dish was supposed to be red velvet ice cream atop a biscuit "donut". I had to make a few adjustments on this one because (a) the recipe insisted I have an ice cream maker, which is incredibly unrealistic for the average home cook (like me), so I went online and found out how to make homemade ice cream by hand, and (b) it didn't make sense to me to buy a tube of savory biscuits (which the recipe called for – yes, the ice cream has to be homemade but the donuts are store-bought, go figure), so I bought cinnamon rolls instead. And I am so glad I did! The ice cream turned out delicious and tasted like chocolate soft-serve, and the combo of that with the cinnamon rolls was a team-up I never knew I needed. A flavor and texture win for sure!
Would Make Again? YES!
8. Zombie Guts Cookies – Inspired byTHE EVIL DEAD (1981)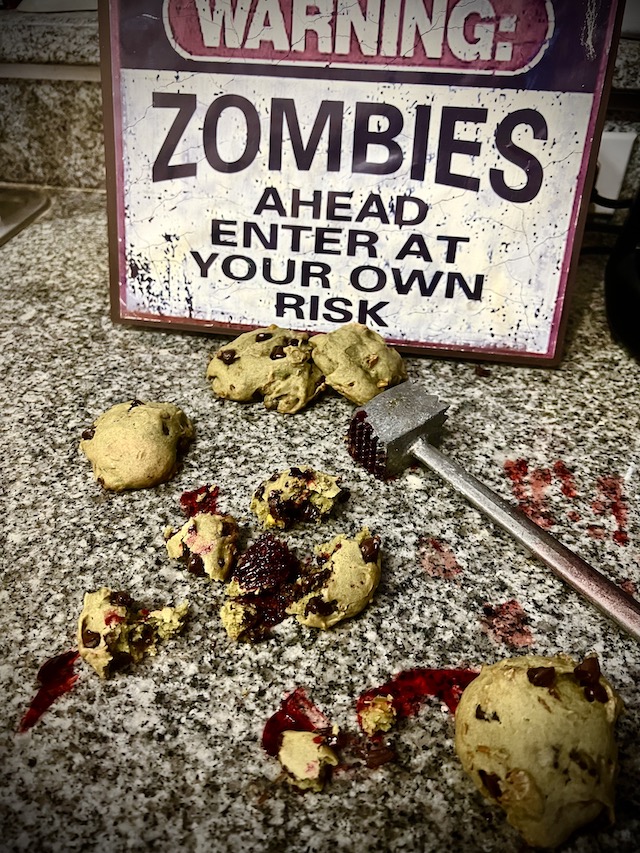 Of all the recipes I tried, this one was not only the most connected to the movie it's based on but also the most aesthetically creepy! The recipe incorporates creamed corn, which was apparently something they used for the gory special effects in the film, as well as green food coloring for that extra pop of ick. The corn didn't really add much in terms of flavor or even appearance, though. It was a tasty, pillowy-soft cookie, but pretty standard.
Would Make Again? Sure, but using my own cookie recipe.
9. Rope Nooses – Inspired by THE CONJURING (2013)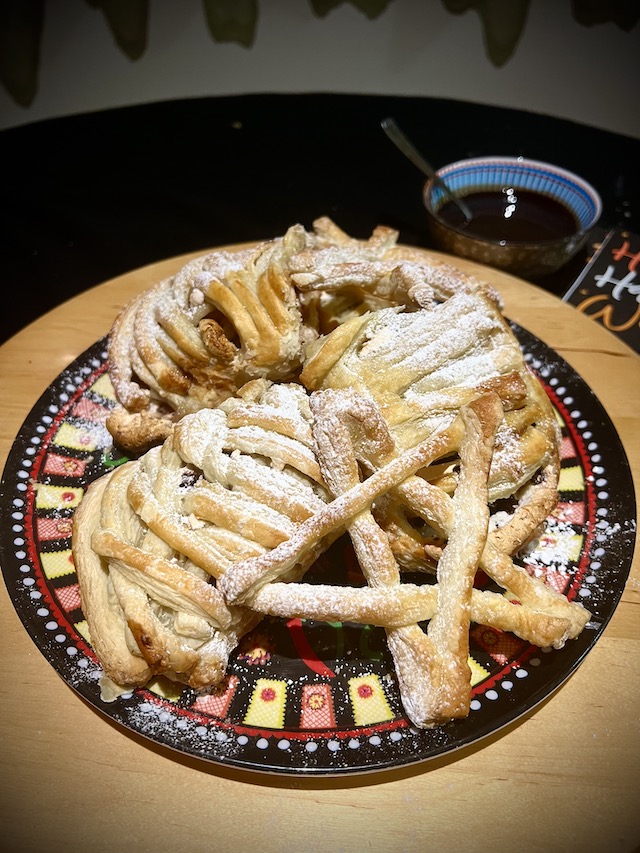 Nothing beats a braided pastry for that instant creep factor, whether you're imitating a mummy or, in this case, mimicking a noose. Even though nooses only play a small part of the story of The Conjuring, an effort was made and I can dig it. Puff pastry is stuffed with a combo of marshmallow cream, chocolate chips, and/or raspberry jam, and the end result was interesting – the cream melts into the pastry and creates this almost caramelized vibe, which is quite lovely. The ones with chocolate chips reminded me a bit of pain au chocolat. I also had some leftover pastry so I made cute little pentagrams!
Would Make Again? I think so!
Hungry yet? Get your copy of The Horror Movie Cookbookhere!