We Tried 10 Recipes From 'The Unofficial Hocus Pocus Cookbook'!
10-17-2022 by Katie Marzullo
I once heard someone refer to cooking as "witchcraft", and honestly? Accurate. I fancy myself a bit of a kitchen witch actually, so when a copy ofThe Unofficial Hocus Pocus Cookbook by Bridget Thoreson arrived at my doorstep, I couldn't resist plunging into my own torture chamber and brewing up some witchy treats!
The book is filled with autumnal favorites, from party snacks to cozy comfort classics to cocktails, all inspired by our favorite seasonal flickHocus Pocus! I decided to focus on recipes that I had either never made before or just thought would be fun to create.
So without further ado, here are 10 recipes from The Unofficial Hocus Pocus Cookbook that would make even WInifred Sanderson proud!
1. Dead Man's Toes, Dead Man's Toes
Starting off with a little appe-teaser, what's better than some pigs-in-a-blanket? That is essentially what this is, only fashioned to resemble the key ingredient of Winnie's life force potion! Obviously the visual here is key, and it's pretty easy to achieve! Be sure to buy franks that plump when they cook to achieve maximum toe-ability!
2. French Onion Soup
Nothing says Fall like a warm, tasty soup, and this is the perfect one if you don't want anything too heavy but still wanna get that warmth in your belly. Though I have made onion soup before, I have never made it with red wine, which definitely gives it that extra depth of flavor!
3. A Little Child... On Toast
Okay, I admit, this is a breakfast dish I have regularly, but I had left over bread from the loaf I baked for the onion soup, so I thought, eh why not? Any excuse for some eggs-in-a-basket! The recipe didn't call for it, but the photo in the book looked like it had some crushed red pepper flakes sprinkled on top, so I added that to mine too for en extra kick to ya morning!
4. A Spell For Cinnamon Bread
When the house fills with the smell of warm cinnamon, you know Fall has arrived! This is a winning recipe, which I shared with several friends and they all gave an enthusiastic thumbs up!
5. Bones of 100 Chickens
Chicken wings are a regular staple in my house, but this was a recipe I'd never attempted before and lemme tell ya -- flavor bomb in my mouth! Not for the faint of heart or stomach, as the recipe does not skimp on the spices, but if you're into that sort of thing, this is a must-try! I also made the Garlic Parmesan Dipping Sauce in the back of the book as an accompaniment but used black garlic instead of regular garlic for that extra touch of spooky.
6. Tuna Biscuit Dinner For a Very Helpful Cat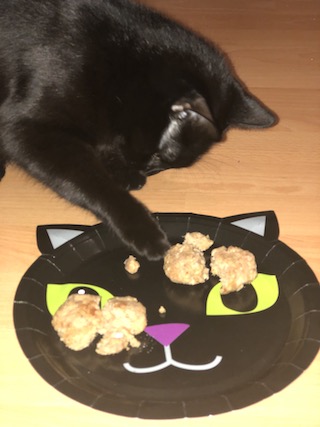 Yes, that's right, this book even includes a recipe for cat treats! So of course I had to whip these up for my own little familiars. Unfortunately, my two Binxes are incredibly picky and rarely care about anything that's not their regular cat food and treats, so suffice it to say... they weren't interested. Whomp-whomp...
7. Dead Man's Chungs
Just what ARE "dead man's chungs"? Well, according to this recipe, they're a man's... well... you know. And the recipe interpretation of that are crabcakes! These were pretty tasty but honestly I think they would have been better fried than baked, but that's just me.
8. Black Magic Beef Stew
I'll be honest, I've never been much of a fan of beef stew, but maybe that's just because I've never made it myself. So I decided to do just that and I am so glad I did! It couldn't be easier too -- just throw all the ingredients in the biggest cauldron you have, put the fire on low, and let that baby simmer for a day or two. This is Fall comfort food at its best, and the meat just melts in your mouth! I will definitely be making this again. (Note: I added mushrooms to my stew because I had them in the fridge and needed to use them up before they went bad.)
9. Squash Ravioli
This was by far the most labor-intensive dish, so don't attempt unless you have like an entire afternoon to devote to it. Between cleaning and prepping the butternut squash, mixing and rolling out the pasta dough, and building the raviolis, I needed to sleep for a week after this one -- but it was SO WORTH IT. I've never made ravioli before, and my one previous attempt at fresh pasta was a complete fail, but this? Perfection. I am definitely keeping this pasta dough recipe handy for the future!
10. Brown Butter BooOOooK Blondies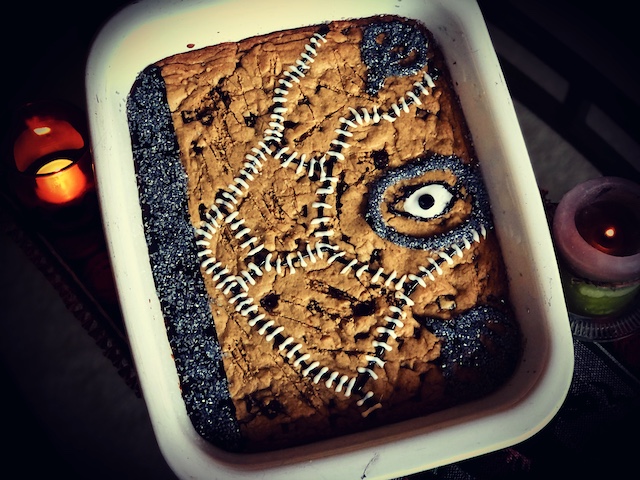 And finally, the piéce de resistance... Blondies are basically just brownies without the chocolate (though this does include chocolate chips), and the inclusion of the brown butter is what makes this recipe sing! I obviously went in a different direction decorations-wise from the book, which simply has you cut the blondies into little squares and add white and regular chocolate Kisses to serve as the spellbook's eyes, but I wanted to be more ambitious. So I went for a life-size book decorated to look more like the movie version, and I'm pretty happy with the results! But I'm even more happy with the taste! (Be warned, though, that making brown butter can be a bit of a daunting task, so practice a few times if you feel you need to!)
And there you have it, my fellow kitchen witches and wizards! This is just a small sampling of the MANY yummy-looking recipes in this book, soorder your copy right now get spellcastin'!