Ways To Have a Safe Friendsgiving This Year!
11-13-2020 by Adriana Darcy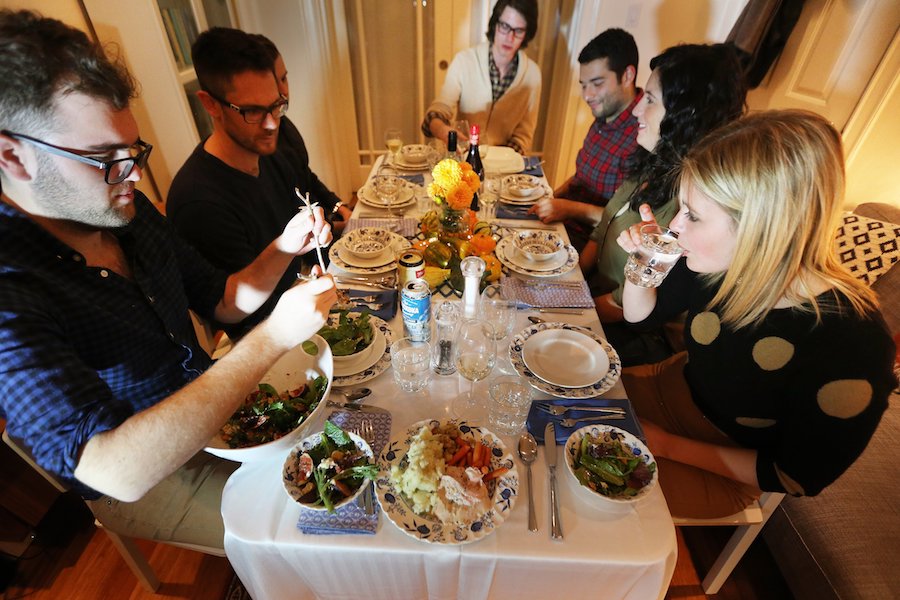 ( © Steve Russell/Toronto Star via Getty Images)  
Thanksgiving is not the same without Friendsgiving, and though this year, with new lockdown orders happening across the country, the possibility of a Friendsgiving celebration seems slim, we have some fun alternatives that will allow you to stay safe and enjoy the presence of those that you love!

1. Virtual Dinner
Just because you all can't sit around a table together doesn't mean you can't still have dinner together! Grab your laptop, set up your own little sitting area, and have a virtual dinner! You can share what you're thankful for, play fun games together, and still enjoy each other's presence from a safe distance!
2. Outdoor Dinner
If you live in a warmer area, you and your friends could have an outdoor dinner! Set up a few party tables and folding chairs and enjoy an outdoor meal. If an outdoor dinner isn't your cup of tea, you can set up a bonfire and enjoy each other's company around the fire. Either way, the point of Friendsgiving is to spend time with and appreciate your non-blood family!
3. Share handwritten letters
Have everyone in your friend group write letters to each other, letting them know why they are so important to you. You can mail them or drop them off at your besties' houses. You can turn it into a game by making the notes anonymous and guessing who said what about you!
4. Fun Activities
If you're not interested in a virtual or outdoor meal, there are tons of other ways you can make this Friendsgiving special, either from a safe distance or virtually!
Pumpkin carving 
Carving pumpkins is the perfect activity outdoors or indoors. Have a socially-distant pumpkin carving session in your backyard, or via video chat. Add a twist by turning it into a fun competition!

Visiting a local farm
Friendsgiving is the perfect time of year to get one last apple or pumpkin-picking sesh in with your friends! Grab your masks and head over to your local farm. Make sure to follow COVID restrictions, keep your mask on, and have fun!
Baking Competition
One of my favorite parts of Friendsgiving is baking! Fall is when all of the perfect treats are ready to be made, from apple and pumpkin pie to banana bread. Open up your favorite video chatting app and set your timers! When you are all done making your favorite fall snacks, you can enjoy them independently, or safely deliver them to each other to judge! 
Friendsgiving might not be what we expected this year, but all that means is we can get a little more creative! As much as we love sitting around the table eating food with our friends, it can get a bit redundant. Take advantage of the strange circumstances to make this year a little more special!