Ways to Be an Ally & Organizations To Support on #BlackOutTuesday (And Beyond)
06-02-2020 by Calissa Kirilenko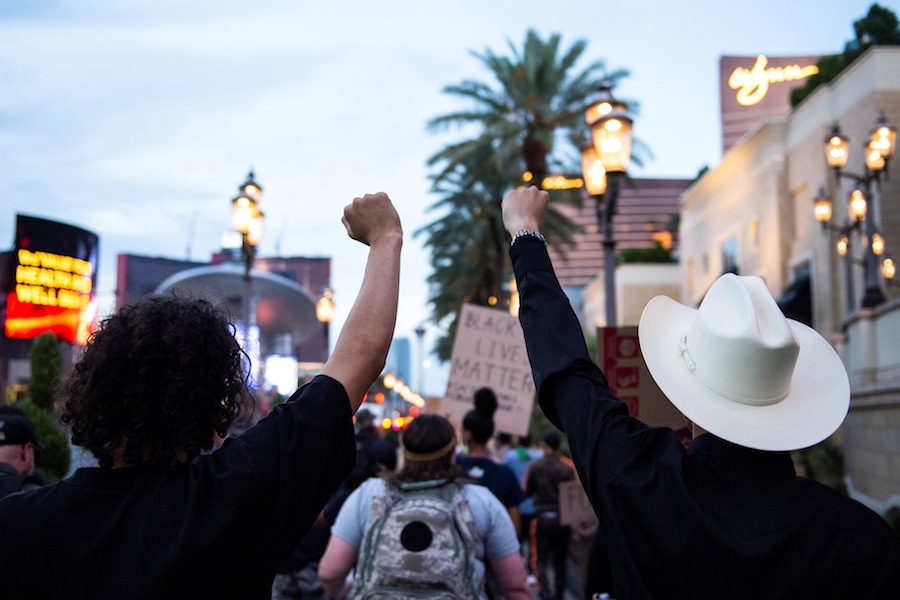 (BRIDGET BENNETT/AFP via Getty Images)
Today (June 2), companies, individuals, artists, and organizations everywhere are participating in #BlackOutTuesday, a day to pause all businesses and take a stand against the racism and inequality that exists in this country. It is important to take the time to have an honest and collective conversation about the actions that need to be taken to help support the black community. It is important to educate ourselves and donate where we can, to take action because this is not just a 24-hour initiative.

Below is a list of funds and organizations you can donate to and other ways to contribute to the cause.
1. Black Lives Matter
Black Lives Matter was founded in the wake of Trayvon Martin's murder back in 2013 and is a Global Network formed to bring justice, healing, and freedom to black people across the globe. You can donate to their organization here.
2. George Floyd Memorial Fund
This fund is going directly to the family of George Floyd to help cover funeral and burial expenses, counseling, travel expenses for all court proceedings as they continue to fight for justice for George, and the benefit and care of his children and their educational fund. You can donate here.
3. The Loveland Foundation
This foundation was started by Rachel Cargle in 2018 as a non-profit that helps support black women and girls seeking mental health support. You can donate here.
4. NAACP Legal Defense Fund
The NAACP Legal Defense Fund in America's premiere legal organization fighting for racial justice. The organization is fighting to protect voting rights, reform the criminal justice system, and improve equal access to education, among other civil rights causes. You can donate here.

5. The ACLU
The ACLU has a long-term goal of making the rights and privileges provided by the constitution available to every single person in the country. You can donate here.
6. Community Bail Funds
This secure platform allows you to donate between 40 community bail funds nationwide and show your support to protestors.
7. DON'T Post Blank Black Images with the #BlackLivesMatter Hashtag
These posts are clogging up timelines on socials and preventing those participating in protests from easily accessing vital information. If you post one of these images, use the #BlackOutTuesday hastag ONLY.
8. Support Black Voices
If you have a favorite black artist -- writer, filmmaker, musician, etc. -- share their work. Read books and articles about the black experience. Share the stories of important black figures from history. Talk about what these people's contributions mean to you and society as a whole.
9. Have a Conversation
#BlackOutTuesday and #TheShowMustBePaused do NOT mean going silent. Continue to talk about race in America. Continue to support the black community. Continue to stand up for injustice. Have that uncomfortable conversation with that friend or relative that you've been putting off. Now is the time.

Additionally, you can text "JUSTICE" To 668366, Text "FLOYD" to 55156, Text "ENOUGH" to 55156
You can also stream the following video, where 100% of the ad revenue will be donated to various organizations that support Black Lives Matter and Black Lives Matter associated protester bail funds.
Stay safe, everyone. We're all in this together.