VIRAL ALERT: Lennon & Maisy
Written by Hannah Greene. Published: October 11 2012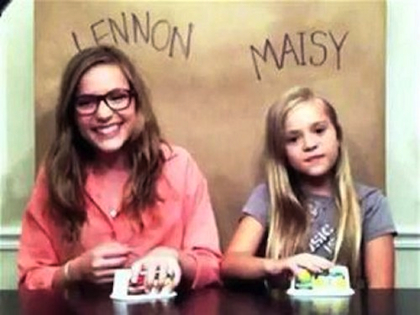 If you caught the premiere of "Nashville" last night, you might have noticed the mini-divas in the backseat of Connie Britton's car belting out some perfect harmonies. And if you were me, you  asked yourself, "Where did these chicks come from?!" Well, leave it up to YouTube to produce another viral sensation in the form of preteen sisters.
Lennon (12) and Maisy (8)Stella shot to overnight online stardom after posting a cover of Robyn's "Call Your Girlfriend", using empty butter tubs for percussion. Since posting the video on May 29, the sisters' lives have been a crazy whirlwind of events. The video has over 9 million views, they have over 25,000 Twitter followers, they performed on "Good Morning America", and, to top it all off, the Canadian-raised duo recently landed roles on ABC's "Nashville" as Maddie and Daphne, the daughters of Rayna Jaymes (the character played by the flawless Britton).
I can only hope we'll get to see (and hear) the YouTube sensations a few more times on the show. But, seriously, where was YouTube when I was a little girl with a killer set of pipes?! Oh well, more power to the Stella sisters… keep jammin', girls!
Check out their cover of "Call Your Girlfriend" below!
And make sure to tune into ABC's "Nashville" every Wednesday at 10pm!
(Image via lennonandmaisy/YouTube)
- Hannah Greene, YH Staff