U.S. Women's Soccer Team Poised for Yet Another World Cup Championship
Written by . Published: July 15 2011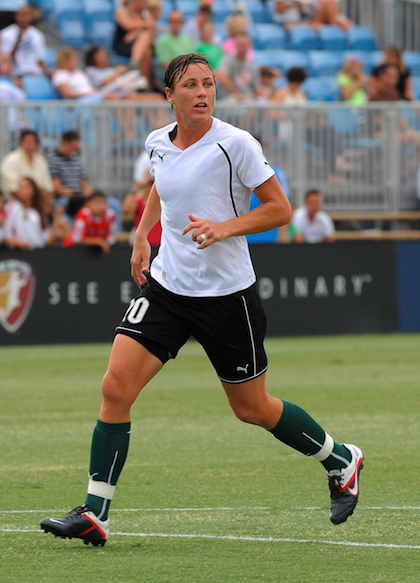 The USA women's national soccer team defeated France 3-1 Wednesday (July 13) in
Monchengladbach
, Germany to send them to the FIFA Women's World Cup Final, taking place this this Sunday (July 17) in Frankfurt. This will be the first time that the
U.S
. women's squad has made it to the finals since their highly-publicized championship in 1999. That team, led by renowned soccer star
Mia Hamm
, defeated China in the most-attended women's sports event in history with an official attendance of 90,185. 
Let's see if this year's squad of confident starlets can bring the trophy home against Japan, who surprised most critics with their 3-1 victory over slightly-favored Sweden.
Although the
U.S
. women's team boasts a talented roster of conditioned veterans, none of them has had prior experience in a World Cup Final. Fortunately, the squad has already played several hard-fought games in this year's tournament and are confident in their ability to succeed on the world stage. For example, the team faced heavy adversity in the group stage against Sweden – the match ended as a 1-0 loss for the red-white-and-blue. The
U.S
. then faced Brazil and stunned the soccer community with a last-second equalizer by forward
Abby

Wambach
in extra time that tied the game 2-2. They then went on to defeat Brazil in a 5-3 penalty kick shoot-out.
Check out the highlights of the
U.S.-Brazil
match
here
! 
Also, hear the players
react
to their semi-final win over France.
Despite some difficulties on the pitch,
U.S
. goalie
Hope Solo
has faith in her team. After their win over France, Solo said that she expects a victory this Sunday: "The confidence comes from our preparation," she said, "And because we know we're damn
good."
But how good is Japan's national team? Will they take the title and dash the
U.S.'s
hopes of another Women's World Cup championship? 
Although the
U.S
. is 22-0-3 all-time against the Asian nation, most critics would agree that this year's squad is the best Japanese women's team ever assembled, and that their smart, possession-oriented style is incredibly effective against bigger, stronger squads (as it was in their tournament wins over Germany and Sweden). This could mean trouble for the
U.S
., who has so far relied on late heroics to see them through this year's tournament.
Still, the
U.S
. team is known for their never-say-die attitude and heads into the final facing a team they have confidently beaten in the past. Let's see who can pull out a win this Sunday in this 2011 Women's World Cup final!!!
(Image via JD3/WENN)