Universal's New 'Fast & Furious' Attraction Drives Home the 3D Interactive Trend!
Written by Amanda Baltazar. Published: July 06 2015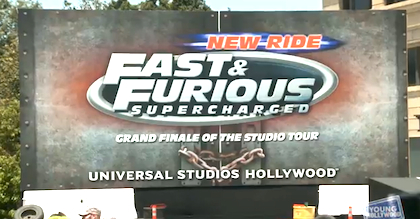 Fast and Furious: Supercharged is officially open at Universal Studios! It is the newest addition to the Universal Studios Tram Attraction at the park, and it is EPIC! Check out YH's exclusive look at the ride below!
I, myself, have been on the ride, and I can confirm all the hype -- it is AMAZING! The ride itself is part of the Universal Backlot Tram Tour, which has, up til now, already had a Fast & Furious portion of the tour that tied in to The Fast and the Furious: Tokyo Drift, where a pair of souped-up stunt vehicles put on a brief "performance" for the audience. In this new version, Vin Diesel -- or, should I say, Dominic Toretto -- and his team need the Tram's help to get away from the bad guys. They take the train on a high-speed freeway chase that makes you feel like the wind, blowing past you like you're going over 100 miles per hour!
They definitely pulled out all the stops to the special effects on this ride, including wind, water, fire, smoke, and even super realistic holograms of our favorite Fast and Furious stars!
The ride uses the same type of technology as the tram's King Kong 3D experience, using a 270-degree panoramic screen which surrounds the audience and giving each person a special viewing that only they experience from their specific vantage point. So the next time you get on the ride, sitting in a new seat will give you an entirely different experience! I sat in the middle when I went, so I'll be trying to grab a seat near the back or front so I can catch things I didn't catch before.
Much like a lot of the rides and attractions at Universal Studios, Fast and Furious: Supercharged uses the 3D advancement combined with seated motion technology and a multi-sensual experience to give you the experience of being there without actually being there. These attractions use sound, fire, water, smoke, motion, and other special effects, even your sense of smell, to guide you through the experience.
From theSimpsons Ride to the Despicable Me Minion Ride, Universal Studios has taken a hold onto 3D technology and enhanced the experience to give us the best and most realistic ride experience they can!
Who remembers the first race in the Fast and the Furious franchise?
I remember thinking how fast they were going and wondering what that felt like. Now, we all have a chance to get a glimpse of what it feels like when the nitrous is turned on and going over 100 miles per hour!
The prevalence of 3D rides and attractions has been increasing over the past few years, and if the amount of 3D movies in theaters is any indicator, then this trend is sure to continue. Many theme parks will more than likely monopolize on these advancements in 3D tech and open up a huge network of new worlds to experience.
Whether it's under the sea or up in space, I'd like to see where else they take this technology in entertainment and ride attractions. 
Let us know what your favorite attraction is at Universal Studios Hollywood! Can I get a woot-woot for Wizarding World of Hary Potter coming in 2016? Holla back, Potterheads!
(Screenshot via YoungHollywood.com)
- Amanda Baltazar, YH Staff