TRACK BY TRACK: Tyler, The Creator
Written by Kevin Donaldson. Published: April 20 2015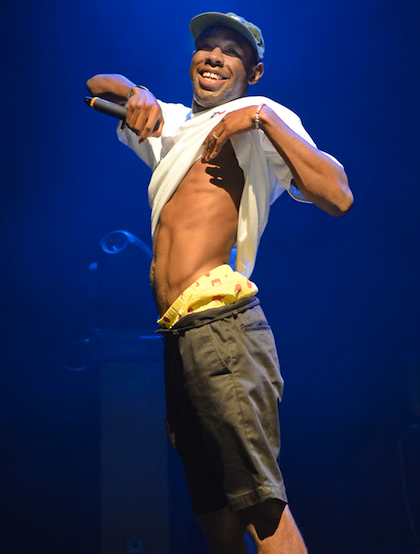 Tyler, The Creator shocked his fans on April 9 by annoucing that his latest album Cherry Bomb would be out on April 13. It had everybody scratching their heads because nobody even knew he was making a new album to be released this year in the first place! So, just like his good friend and fellow rapperEarl Sweatshirt, who also released his new albumI Don't Like Sh!t, I Don't Go Outside with little to no promotion until right before its release, completely blindsided fans.
NowCherry Bomb is out and it's like nothing Tyler, The Creator has every done before. It's got his jazz, soul, and minimalist punk influences, all combined in aN.E.R.D.-esque barrage of sights of and sounds.
1. "Deathcamp"
One of the first two songs made available in the pre-order before the album hit its full release in the iTunes store, this song kicks off the album in a hard and aggressive rock music way, with Tyler, of course, rapping about how he doesn't follow rules and doesn't have armpits. (He must be rich from saving a lot by not buying deodorant.) This song sets the stage for the album with how you'll see some of the old and something new.
Fave lyric: "I don't like to follow the rules / She said that I must / I don't have any armpits."
2. "Buffalo"
This is probably the most like what we've already seen from Tyler, The Creator song on the album. The beat sounds like something off his breakthrough mix tape Bastard. It's also the only song on the album that Tyler used a sample from another song ("Shake Your Booty" by Bunny Sigler, which was previously used by a former collaborator of Tyler's named Pusha T). The lyrics are an assault on Tyler's critics and how he doesn't believe there are any leaders anymore. Everybody wants to follow the latest trends rather than make something themselves.
Fave lyric: "Not kiddin' keep the Tommy on me b*tch, I'm Ms. Pickles."
3. "Pilot"
This is a really interesting song on the album. It expands on the concept of flying that is briefly mentioned in "Buffalo", which is a theme that routinely comes up throughout Cherry Bomb. The song itself also shows the audience just how different of a Tyler, The Creator album Cherry Bomb is. It starts off with a pretty cool sounding dark rap beat with a sort of silent anger hidden in it, and then BAM! it completely changes... by not changing. The beat itself doesn't change a whole lot, but the tone of it becomes soulful in a way. Overall, though, this isn't a very happy song, but happiness feels like it's on the horizon.
Fave lyric: "I'm in first class but I feel like coach."
4. "Run"
In the past, Tyler, The Creator has been known to use effects to deepen his voice for a variety of reasons. "Run" is the first song to introduce to the world Tyler using these effects to make his voice more high-pitched instead, kind of in the way that Kanye West has been known to. It's an aggressive beat and, for the first time, is a Tyler, The Creator song that clocks in just over a minute long. It's like Tyler's PSA to people living in the projects whose only goal in life is killing and gangbanging, so, with how quick the song is, it's almost like Tyler just wanted to get it over with, or he wants to verbally accost them.
Fave lyric: "In the car called life, took the lame route / Going nowhere fast but you think that you not / 'Cause you never hesitate to take the thang out."
5. "Find Your Wings"
This is the first truly jazzy song on Cherry Bomb, and it's also the first outright positive song. It sounds like it could almost be aStevie Wonder song. "Find Your Wings" is about shedding negativity, believing in yourself, and finding the thing you really love to do, because the thing you love is your wings, and with them you can fly and be free. This song also features vocals from Kali Uchis, a new singer that Tyler produced some music for recently. This is Uchis's first appearance but not the last on here.
Fave lyric: "Don't let your wings go to waste / The sky is your home, be free."
6. "Cherry Bomb"
This is definitely a punk-influenced song, sounding somewhere betweenSonic Youth and Death Grips. It's tough to make out exactly what this song is about, as it's like Tyler's vocals are the background and the gritting digital distortion you are hearing is meant to be front and center. As the title track, though, it feels like it's about how Tyler could explode at any moment. I say this because, at the end, a female singer singing lyrics referencing that comes in more audibly than Tyler previous was. The end also sets up that we are in a fake place called Okaga, CA.
Fave lyric: "I'm a firecracker and I'm ready to blow / You fire me up, I lose control."
7. "Blow My Load"
There are definite soul influences here combined with music similar to that from Bastard. This is album's "doing it" song. I mean, every music album needs a "doing it" song, except maybe for maybe The Wiggles… that'd be creepy. Wanya Morris ofBoyz II Men and fellow Odd Future memberSyd Bennett sing background vocals. ComedianEric Andre also makes an appearance at the end as a radio host trying to get people to call in to win tickets for a triple feature at a movie theater called Moon Theatres.
Fave lyric: [ummm, this song is too dirty to list any of my favorite lyrics.]
8. "2 Seater"
Once again, a very jazzy song. This is actually two songs in one, as it completely changes after a skit halfway through. In an interview, Tyler said the next part is a song called "Hair Blows", which is simply about a time he road in his car with a girl and he liked how the wind was blowing her hair around. Tyler balances pretty well here between rapping and singing. It's a fun, mellow song that's good to relax to.
Fave lyric: "Boy, I'm a king and I ain't lyin', boy, hakuna matata / Better watch for them hyenas, if you flex then they swarm."
9. "The Brown Stains of Darkeese Latifah Part 6-12 (Remix)"
Whoa! That's quite a title, Tyler! What does it mean? I have no idea, but I'm sure with how conceptual Tyler is with the worlds he creates, he knows what it means, and if he knows, that's good enough for me. This song has got a pretty cool sounding rap beat that boils and then finally explodes into a surplus of sounds from different instruments. Lyrically, it is about people talking badly about Tyler behind his back, and all the things they brag about doing, like taking drugs, which Tyler doesn't do because, as it explains, he doesn't need to. ScHoolboy Q guests on this track.
Fave lyric: "Catch me in some vans like one of them soccer mamas."
10. "F#cking Young/Perfect"
As it stands right now, this is my favorite song on the album. It's got dazzling sounds in the intro like something from N.E.R.D., some acoustic guitar work in the background, with Uncle Charlie Wilson providing backing vocals. Tyler rolls out some high-pitched effects again here to help him sing. You can see so much of Tyler's influences that he hasn't really rolled out before, like Marvin Gaye. The song itself is about how he is in love with an underage girl who is making advances towards him. He speaks about how, even though she only kissed his hand a couple times, and they Facetime when they're bored, he's still paranoid that the cops are coming for him. Then he raps about how the girl should look for somebody else, because he can't shake the physical age gap and her emotionally maturity. Kali Uchis comes out again for the "Perfect" part of the song as the underage girl, which might be my favorite part of the song.
Fave lyric: "I'm not the one for you / $hit, I'm still growing up by myself / And mentally you're older than me and that $hit doesn't help."
11. "Smuckers"
For a while now, Tyler has been boasting about how he's friends with one of his heroes, Kanye West. For Tyler's last album, Wolf, he also claimed that he denied Kanye a guest spot. I was skeptical, and then I heard this song where Kanye and Lil Waynejoin Tyler. This is a really funny song by Tyler, and it's cool to hear him rap with two of his favorite rappers, because at the end of the day, he is a kid just living out his dreams. Musically there's some great piano work here that blends well with the electronic music and jazzy tones that drive this song.
Fave lyric: "Like a hickey, boy, I'm sicky / Like a HIV victim, man, nobody f@ckin' with me."
12. "Keep Da O's"
This marks the second time that Tyler got to collaborate with his ultimate idol Pharrell Williams, but the first time they sing together. It's tough to tell where Williams is on this song, as Tyler gave both him and Williams a very high-pitched voice effect, but this is one intense sounding song. It's hard to say exactly what this song sounds like, but it'll definitely get you pumped up for whatever it is you've got to tackle that day. Whether it's climbing a mountain or cleaning your room (there's no difference between those in my mind), throw this song on and you'll crush what you've got to do.
Fave lyrics: "My garden's full from breaking these hoes."
13. "Okaga, CA"
The song that closes out the album sends us into a world of positivity with Tyler, The Creator, which, with the ending of his past two albums, that is not the case. (Bastard ends with bittersweet positivity.) This is a truly beautiful song and the most laidback on the album. It's Tyler singing to his girl about how he's got his wings and it's time for her to join him on a trip to the moon, because the sky isn't the limit in Tyler's world. Not sure who the girl singing with Tyler in the song is, but she's great on it. On second thought, this might be my favorite song from the album.
Fave lyric: "Girl, I know you ready, I can see it in your eyes / Boy, I know you're not, I can tell you're terrified."
But wait, there's more! Tyler, The Creator also released a music video right after the announcement of Cherry Bomb. Since Tyler directs all of his music videos, this one is pretty whacky in a really fun and interesting way. Check it out (NSFW language):
Cherry Bomb is available now in the iTunes store. Physical copies with five different covers will be available soon!
(Photo via George Chin//IconicPix/WENN)
- Kevin Donaldson, YH Staff