TRACK BY TRACK: Tate McRae's 'Too Young To Be Sad'
04-05-2021 by Madison Murray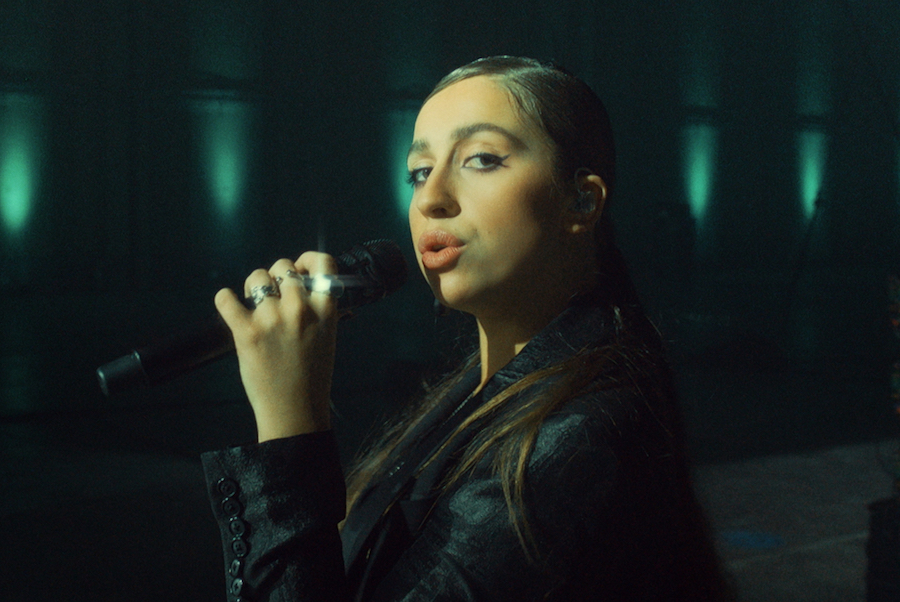 ( © NBC/NBCU Photo Bank via Getty Images)  
Most 17-year-olds are focused on schoolwork and spending time with their friends before they go off to college. But if you're Tate McRae, you're releasing your second EP, Too Young To Be Sad, and already getting recognition as an MTV Push Artist to Watch!

Like many new artists, Tate began her career posting original songs and covers on YouTube. She's also a talented dancer and got third place on "So You Think You Can Dance: The Next Generation" in 2016. Too Young To Be Sad, which came out on March 26, features hits like "rubberband" and Tate's breakout song "you broke me first", as well as new songs like "bad ones" and "wish i loved you in the 90s". Let's take a closer look at the tracks!
1. "bad ones"
The EP's thrilling opener, "bad ones", talks about Tate's bad luck in love over a frantic yet subtle drum beat. The instrumental pairs airy guitar notes with booming bass, creating a big juxtaposition that mirrors Tate's hopes for a relationship versus what actually happens. She premiered a music video for the song the day the EP came out, bringing the track to life in a more universal way as she ditches a group of friends who are pushing her to do things she shouldn't.
Favorite lyrics: "You're the only thing about me that should change…"
2. "rubberband" 
Tate tries to train herself to forget someone on "rubberband", reflecting on how a relationship went wrong while admitting that, even though she was the one who left, she wonders if she did the right thing. Her vocals float so well over the song's prominent beat! If you like this one, you should check out her October 2020 song "lie to me", a collab with Ali Gatie that didn't make it onto the EP.
Favorite lyrics: "I know you wanted a promise / I wasn't ready, can I be honest?"

3. "slower"
On the somber track "slower", Tate fears that a relationship might burn out if they move too fast. It has a sadder tone than the songs before it, showing her frustration and worry about the idea of losing this person. The echoes and vocoder on the backing vocals are so cool! They bring more attention to the lyrics, allowing the story and message to be the main focuses of the song.
Favorite lyrics: "We might end up strangers somehow…"
4. "r u ok"
Ironically, "r u ok" is one of the more upbeat songs of the EP, seeing Tate confront someone who didn't treat her well and now wants her back. She knows her worth and refuses to settle for a guy who "missed [her] birthday and [her] shows". We love the growth this track shows off!
Favorite lyrics: "How am I supposed to open up when you were just so good at closing off?"
5. "you broke me first"
Tate's breakout song came with "you broke me first", a track about avoiding an ex who mistreated you when they try to get back in touch. The lyrics sound so confident despite the uncertainty surrounding the relationship, creating an interesting contrast that will draw you right in.
Favorite lyrics: "For a while, I would stare at my phone just to see your name / But now that it's there, I don't really know what to say…" 

6. "wish i loved you in the 90s"
The EP closes with the nostalgic "wish i loved you in the 90s", which sees Tate wishing she could love someone in a simpler time. After the heavy-hitting beats the earlier songs featured, it's refreshing to hear the strum of an acoustic guitar and light synth. It's also a nice way to close out a project that talks about the end of relationships -- the song feels like coming to peace with the fact that, sometimes, it's just a case of "wrong place, wrong time". 
Favorite lyrics: "What happened to the guy picking up the girl? / Now you speed down the highway and don't care to say a word…" 
What's your favorite song from Too Young To Be Sad?