TRACK BY TRACK: Spoon
Written by Natalya Gioiella. Published: April 01 2017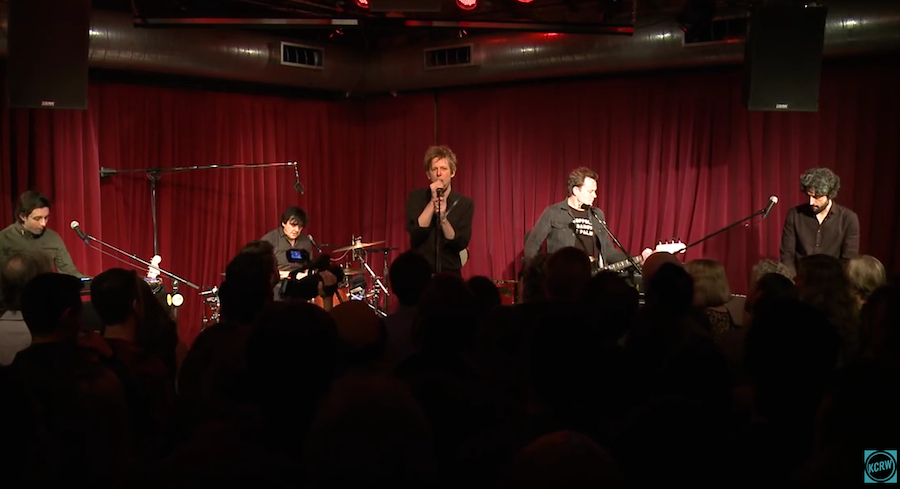 I remember seeingSpoon in concert a couple years ago and being absolutely blown away by how good their vocals were, how they were able to play their instruments with such ease, and how they seemed to truly enjoy entertaining the audience with their upbeat, catchy Indie rock songs. I was even more surprised to learn that a band whose been as successful as they have, hasn't been more talked about by kids in the younger generation. It's truly a shame because they really are quite talented, and hopefully after reading this, they will have a whole new legion of fans! 

For the unfamiliar, ​Spoon is an American Indie rock band that was formed by lead guitarist and vocalist Britt Daniel, and ever since then, he and drummerDaniel, guitarist/keyboardist/backing vocalistJim Eno, bass player Rob Pope, and keyboardist Alex Fischel have remained inseparable. They got their start releasing their first EP,Nefarious on Vinyl, in May of 1994. A year later, they signed with Matador Records and released their first full length album, LP Telehono. From then, success only mounted. They have released a total of 8 albums, with their 9th being the just-released Hot Thoughts.  

Hot Thoughts features Spoon's new and improved raw sound combined with their traditional mix of synthesizers, strings, and other usual electronic vibes. The tracks are featured in a disorientating and emotional-rollercoaster fashion in order to showcase how one's supposed to feel when entering into relationships. You could feel pain after a breakup, lust for someone whom you've liked for a while, or you could feel such love for a person that it's the most amazing sensation in the world. Some of the songs are upbeat and seem to be inspired by '70s dance tunes while others have more emotional tendancies.
Here is their new album broken down track-by-track. We hope you dig it!

1. "Hot Thoughts"
The album opens with the titular song, and we know what you're thinking -- with a title like that, the song will probably be dirty and somewhat inappropriate. Well, you're wrong! It's actually an upbeat rock song about lusting after someone and missing them so much that you just can't stop thinking about them. By adding the effects of synthesizers and other electronic sounds, the lyrics and tone of the song pop more and really let listeners understand the purpose that he's trying to convey, which is the fact that he just can't stop thinking about that person. Overall, though, lead singer Daniel just wants people to understand how you're supposed to feel in a new relationship before things inevitably go downhill. You're supposed to feel like nothing bad is ever going to happen, and that the feeling of love is just the most empowering thing that you can experience. Thus this song relates back to the whole theme of the album, whose focus is on love.
Favorite Lyrics: "Hot thoughts all in your mind all of the time / I'll hold it to rhyme..."

2. "Whisperl'lllistentohearit"
With this song, we can see and understand why we'll inevitably end up on an emotional, dizzying, and disorienting "rollercoaster". The tune begins with a deep, mellow-sounding synthesizer riff and features Daniel's more mellow-sounding vocals, but as the tune and song get going, it becomes more upbeat and highly-synthesized as Daniel sings about a woman's expectations for a man. Yes, while standards can be good, you can't set them so high because it's virtually impossible for a man to give a woman everything she wants. That's what this song is trying to convey using the different tones. The song is also warning people that, if you do something to compromise the relationship like set standards too high, it's possible that pain will also ensue; a theme prevalent to the whole album.
Favorite Lyrics: "I know you must hold secrets / Just show me some signs of life..."

3. "Do I Have to Talk You Into It"
We're taken even further down this emotional journey to visit the land of pure electronic tones heavily infused with the instruments of piano and guitar while Daniel sings (in a robotic-ish voice to match the music) about a woman having difficulty being pleased in the relationship she's currently in. It seems judging by the tone in the music that the relationship is ending due to the fact that one of them can't be happy with the other.
Favorite Lyrics: "When the mood of the era's gone / And the words get stuck on the tip of my tongue..."

4. "First Caress"
The emotional rollercoaster has to end sometime, but it's for it to end only 4 songs in. "First Caress" is a song about remembering one of his past loves and the time he enjoyed caressing, cuddling with, and holding her. He feels deeply hurt by this breakup, a feeling we can all relate to. The song still might feature an upbeat tune like most of the songs on the album do, but it has an emotional ending.
Favorite Lyrics: "Ex-lover, where are you staying? / Angel, my love, my first caress..."

5. "Pink Up"
An interesting name fit for an interesting tune. This trck features ta mellow beat in the beginning but than once again turns highly-synthesized and upbeat, infused with guitar, drums, and piano. It's very representative of a narrative about the happy times he felt when he was with one of his past loves. He's allowing us to be reminded of the memory with her, more indicative of the overall theme of the album.
Favorite Lyrics: "Spend a week in the moment / Just when you would change your focus, we get our own ideas..."

6. "Can I Sit Next To You"
This song brings us back to the previous theme of lusting after someone, liking them so much that you just don't want to be away from them. it's a very catchy tune that almost makes you want to get up and dance as you can distinctly hear the sound of synthesizers, their own original instruments, and hints of that rock beat they can't get enough of.
Favorite Lyrics: "I'm gonna walk a tightrope / No one's holding me back..."

7. "I Ain't the One"
We're almost at the end of our journey now, and that's very indicative in this song, as the tone is more mellow and the only sounds you hear are Daniel singing about the pain he felt over a past love, accompanied by a synthesizer and a guitar.
Favorite Lyrics: "When the moon is rising and looking at me / I say, I ain't the one..."

8. "Tear It Down"
I think this song is the most disorienting and most indicative of the rollercoaster theme. Just when you think the song will be more laidback with this funeral-sounding organ music, the song brings back the beat about finding love and happiness from afar and not being able to get enough of one another.
Favorite Lyrics: "Let them build a wall around us / I don't care, I'm going tear it down..."

9. "Shotgun"
Another upbeat song sandwiched in between two mellow-sounding songs. Interesting and even more disorienting, but rightly so as the song is about the pain he feels that unfortunately is part of the downfall to a relationship. He's also pointing out everything that went wrong in this relationship, blaming the woman for their breakup.
Favorite Lyrics: "I will never fall for your lies again / You shot me right in de face wit' a shotgun..."

10. "Us"
I really wasn't expecting this kind of song from Spoon, and what a weird way to end an album where the only sound you hear for 5 minutes is a jazzy beat infused with horns, the sweet-sounding kind of synthesizers, but no vocals. We can only imagine for this is signifying the end of the rollercoaster and sums up everything he felt when a relationship ended. He swept up this this giant swirl of pain, lust, and love in the relationship into this one song and probably wanted to put some closure on all the emotions he was feeling at one time or another for the woman he loved. What a perfect ending to a great album all about the battlefield we call love!

​We hope you'll now be inclined to listen to more of their songs! Find their new album in its entirety on Spotify!
(Image via KCRW/YouTube)
- Natalya Gioiella, YH Contributing Writer