TRACK BY TRACK: Olivia Rodrigo's 'SOUR'
05-27-2021 by Melanie Haid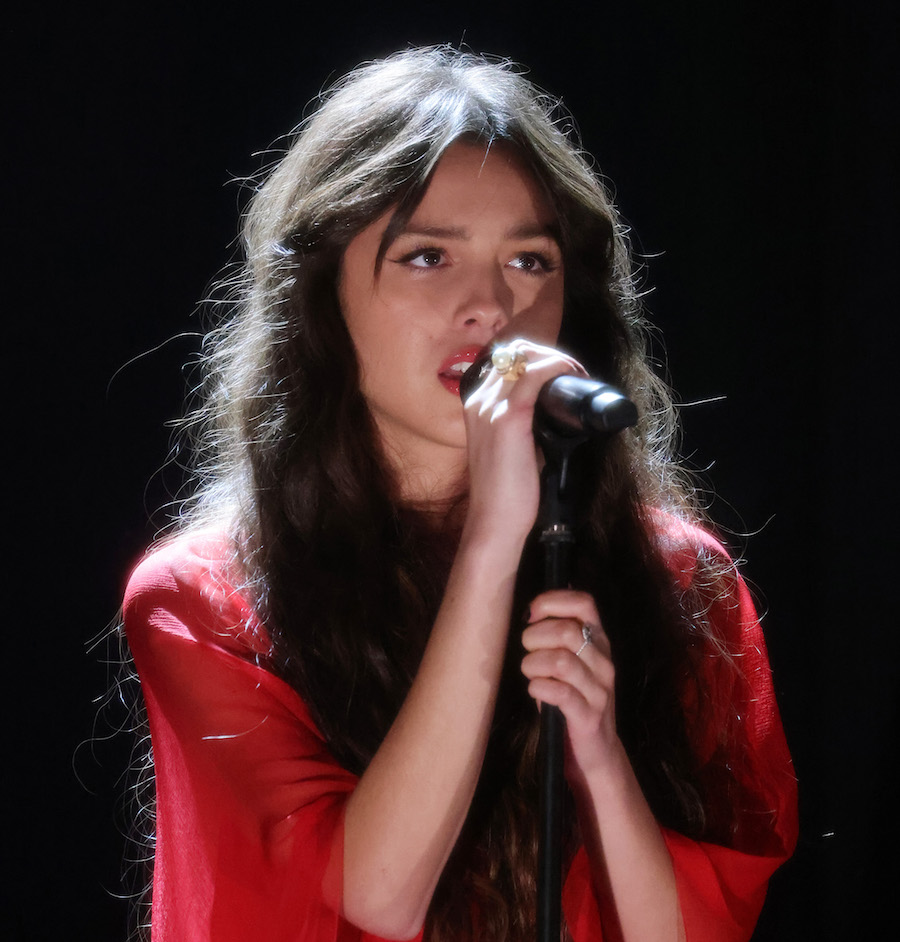 ( © JMEnternational/JMEnternational for BRIT Awards/Getty Images)  
Olivia Rodrigo's debut album SOUR is everything we could have ever wanted and more. Teenage angst, heartbreak, emotion, killer sound, and snappy lyrics, SOUR has us all wondering, where's our teenage dream?! The album has already charted and the songs have been streamed millions of times across all platforms. So let's break down the album, track-by-track!
1. "brutal"
"God, it's brutal out here." You've got that right. Being a teenager isn't easy, especially in this day and age, not to mention the boxes the world wants to put you in as you get older. Olivia writes about this struggle, of potentially running away from it all, and wondering why her life isn't how she imagined it to be – or how society says it should be Some of the best angsty lines in the album come out in this song, as well as softening that edge by talking about insecurities and the sheerly overwhelming expectations that life (and we) set for ourselves. Pretty brutal indeed.
Favorite lyrics: "I love people I don't like, and I hate every song I write, and I'm not cool and I'm not smart and I can't even parallel park..."
2. "traitor"
This song simultaneously makes me angry and sad at the same time, and I am so mad at whoever would hurt Olivia -- but she did make this absolute bop from her pain so that is to be appreciated. Most of the songs on this album cater to familiar feelings of heartbreak, and this one specifically focuses on the aftermath of a betrayal, and who hasn't been there? Similarly to "drivers license", she muses about a love lost to someone else, how it didn't take them long to move on, and that this "other girl", whoever she is [cough cough], was already in the mix while Olivia was still in the picture. That emotion of betrayal is so strong, I feel like I'm reliving it every time I listen to this song.
Favorite lyrics: "It took you two weeks to go off and date her / Guess you didn't cheat, but you're still a traitor..."
3. "drivers license"
This was the first single released from the album, and it just about broke the internet (and flooded everyone's TikTok For You page). Right off the bat, we knew this album would be something to look forward to, and she did not come to play. In this song, she talks about getting her driver's license, hence the title, but feeling the emptiness of not having that person by her side that she had always talked about driving around with. This song really pulls at your heart strings, and it's the perfect song to accompany you lonely evening drives through the neighborhood when you just want to feel something.
Favorite lyrics: "'Cause you said forever, now I drive alone past your street..."
4. "1 step forward, 3 steps back"
Everyone who knows Olivia Rodrigo knows she's a huge Swiftie, and this song is not only an ode to Taylor Swift's favorite number (13) but also samples some of her work. It's the overwhelming ups and downs of an inconsistent relationship, never knowing where you stand with someone, and thinking you're making progress only to be catapulted backwards. Some of Swift's "New Year's Day" is woven into this piece, and the overall tune and melody pays homage to the influence Swift has on Rodrigo's life and career as her inspiration. It's one of the more solemn songs on the album, and taps into the inward reflection of how much you can love someone while recognizing that they are not good for you.
Favorite lyrics: "And maybe in some masochistic way I kind of find it all exciting / Like, which lover will I get today? Will you walk me to the door or send me home crying?"
5. "deja vu"
This was the second single Rodrigo released prior to dropping her album last week, and it was a stark contrast in feeling to "drivers license" – and we love it. "Deja vu" is all about an ex that lacks creativity when it comes to his "brand new girl", continuing to do, and pretty much copy-and-paste, all of the things he used to do with Rodrigo into his new relationship. As the album title suggests, this piece has a very "sour" feel to it -- the bitter, unfair feeling that you meant little to someone who is saying all the same things to someone else. Rodrigo hopes her ex is getting deja vu and is thinking of how he originally said and did all those things with her; she sings, "So when you gonna tell her / that we did that too / she thinks it's special / but it's all reused..."  TEA.
Favorite lyrics: "Now I bet you even tell her how you love her, in between the chorus and the verse..."
6. "good 4 u"
Similar in concept to "traitor" and "deja vu", "good 4 u" highlights an ex's uncanny ability to move on like nothing ever happened, while Rodrigo is left shattered to pick up the pieces. Rodrigo sings, "good 4 u / you look happy and healthy / not me, if you ever cared to ask," following the theme of someone who promised her the world and moved on like she was nothing. What a feeling to encapsulate in songs throughout this album!
Favorite lyrics: "I guess that therapist I found for you she really helped / Now you can be a better man for your brand new girl..."
7. "enough for you"
When I first heard this one, I was beside myself. Especially as a young person, and being in a difficult relationship, it's a common, heartbreaking occurrence to never feel like you're "enough", Rodrigo also hints to similar themes of "jealousy, jealousy" where she frequently compares herself to other women and wonders why she doesn't look like them, or attract the same attention as others.
Favorite lyrics: "I read all of your self-help books / So you'd think that I was smart / Stupid, emotional, obsessive little me / I knew from the start this is exactly how you'd leave..."
8. "happier"
Despite the title, Rodrigo hopes that her ex is not as happy with his new girl as he was when they were together. Harsh, true, but look at all the other emotions Rodrigo's ex-loves made her feel in this album! So we really don't blame her for this.  And she doesn't blame the new girl either, let's make that clear too. But at the same time, there is a lot to unpack here, in this album as a whole, but the "sour" vibes are strong.
Favorite lyrics: "And do you tell her she's the most beautiful girl you've ever seen? An eternal love bullshit you know you'll never mean / Remember when I believed you meant it when you said it first to me?"
9. "jealousy, jealousy"
This is one of my favorite songs on the album. Similar to "enough for you", this track expresses a lot of Rodrigo's insecurities candidly and openly, especially towards other girls on social media. Especially as young women, it can be difficult to be confident in oneself with all of the content constantly influencing us on every social media platform. The raw honesty of Rodrigo facing her insecurities in this piece is something that a lot of women can relate to, especially in a world where social media is everywhere.
Favorite lyrics: "All I see are girls too good to be true, with paper-white teeth and perfect bodies / Wish I didn't care / I know their beauty is not my lack..."
10. "favorite crime"
"Favorite crime" is another track on this album that exemplifies Olivia's storytelling. She uses the metaphor of crime and being criminals together to express how she was betrayed and how she gave up everything for him. Thoughtfully placed words and lyric choices like "alibi", "accomplice", and more – powerful lines like "one heart broke, four hands bloody." The lyrics in this piece and the storytelling are incredible – a true work of art.
Favorite lyrics: "I watched as you fled the scene, doe-eyed as you buried me / One heart broke, four hands bloody..."
11. "hope ur ok"
Rodrigo uses her lyrics and storytelling skills to the max on this last track, telling stories of people coming through hardships with Olivia at the ending wishing them luck in their future endeavors. She has said that these were not based on any specific people but inspired by many people that she's known. It feels like she's talking about real people throughout this song, and it's a very inspiring way to end the album.
Favorite lyrics: "Address the letters, the holes in my butterfly wings / Nothing's forever, nothing is as good as it seems / And when the clouds are ironed out, and the monsters creep into your house, and every door is hard to close..."
This album definitely has no skips, and as her debut, it's already making waves throughout the music industry (and if you haven't heard every song yet, you need to get on it!), and we can't wait to see her next steps in her career. We're just gonna say it: SOUR is a masterpiece!
What's your favorite song off the album?