TRACK BY TRACK: Luke Bryan
Written by Brittany Taormina. Published: September 02 2015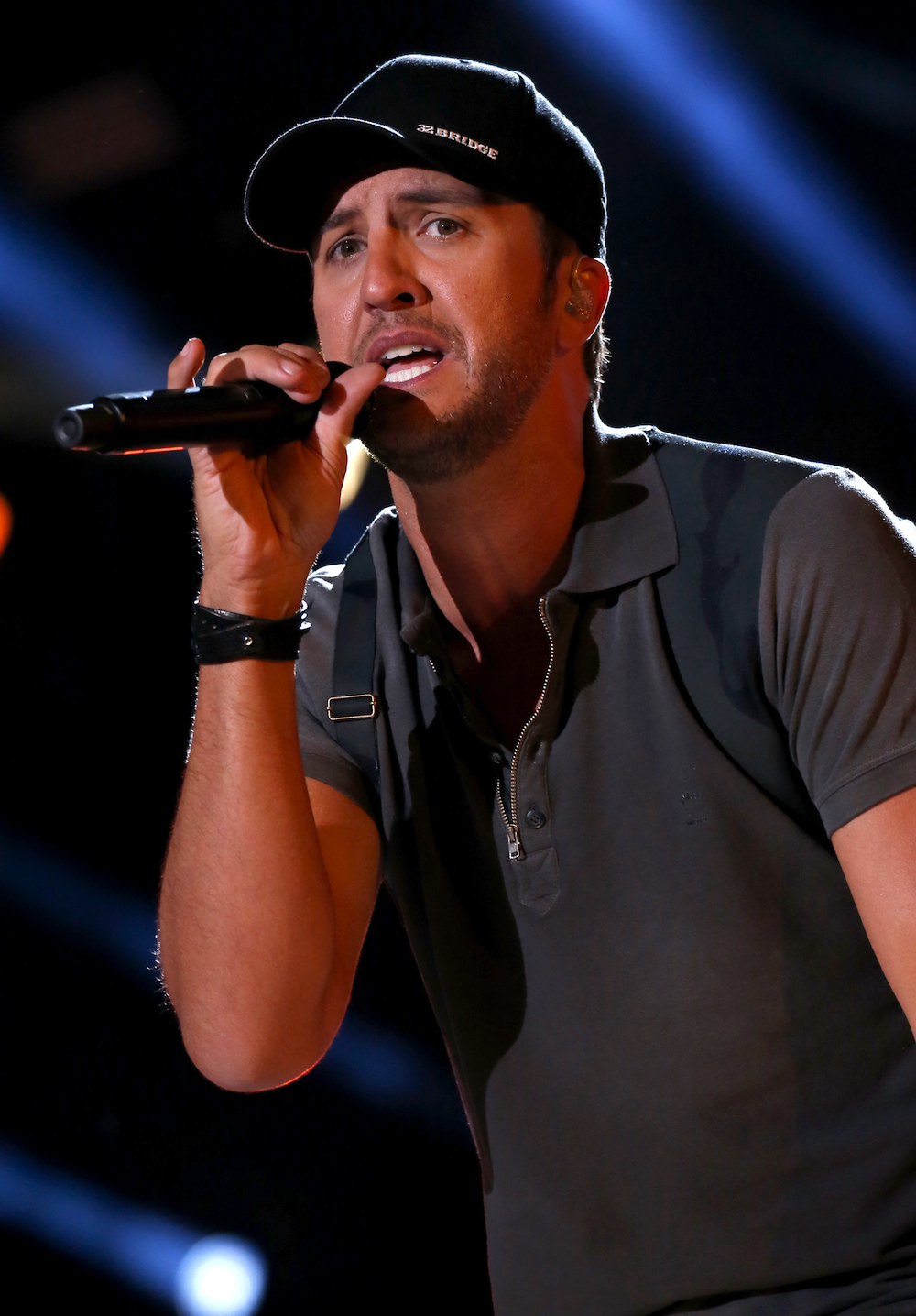 When country hunk Luke Bryan released his fifth studio album, Kill The Lights, last month, it debuted at Number One on the Billboard 200 charts, and it became his third consecutive album to top the U.S. Country charts (the first two peaked at Number Two, nbd...). His first single from the new album, "Kick Up The Dust", also went to #1 on both the U.S. Country and U.S. Hot Country charts, and in May, Luke kicked up some more dust by embarking on a national tour in support of the album, which concludes at the end of next month.
Luke Bryan knows how to be extremely versatile when it comes to his sound, while managing to hold on to his country roots. If you still haven't picked up a copy of his new record, or are debating doing so, here's a breakdown this album track-by-track to convince you!
1. "Kick The Dust Up"
"Kick The Dust Up" DEFINITLY makes you want to turn a cornfield into a party… pun intended. This is a fun upbeat song that sets the tone for the album nicely. Not to mention, one of the reasons this song was chosen as the first single was because his kids loved it. How cute is that?
Fave Lyric: "And its like knock knock knock goes the diesel / If you really wanna see the beautiful people."
2. "Kill the Lights"
Now, "Kill The Lights" is the title of this album and I think it works well. It's catchy and fun while still managing to keep Luke's traditional three-word album titles (I'll Stay Me, Doin' My Thing, Tailgates & Tanlines, Crash My Party). The beginning of the song has an old school "funk" sound to it, which is refreshing. Parts of the melody remind me of "We Want The Funk" by theFunkaholX.
Fave Lyric: "The yellow moon in your eyes / Lost in your slow stare."
3. "Strip It Down"
"Strip It Down" was the second single off the album, which was a nice contrast to "Kick The Dust Up". This is more of a ballad, with a lot of piano in the melody. Luke loves a good song that puts relationships into perspective. Sometimes we all wish we could go back to the way it was.
Fave Lyric: "When it was an old back road with an old school beat / Cowboy boots by your little bare feet."
4. "Home Alone Tonight" ft. Karen Fairchild
Who doesn't love a little payback against their ex? This song covers that scenario perfectly. It also features the incredible Karen Fairchild from Little Big Town, and her and Luke's vocals really compliment each other.
Fave Lyric: "Ain't a clock, a tick, a tock, that's gonna stop a night that we won't regret."
5. "Razor Blade"
Who runs the world? GIRLS! This song plays on the idea that a woman can walk into a room and completely capture someone's attention. It's a fun twist on a man's perspective!
Fave Lyric: "Her smile'll slash you to the heart / There you are in the back of a bar."
6. "Fast"
This is one of my favorite songs off the album. "Fast" is a relateable song that reminds you how quickly time passes you by. It really does put life into perspective.
Fave Lyric: "Sixty seconds now feels more like thirty / Tick-tock, won't stop, around it goes / Sand through the glass sure falls in a hurry."
7. "Move"
If you're going to dance to any song off the album, it should be this one. This song makes you want to jump on a tailgate and have fun with your friends!
Fave Lyric: "Your mama packed y'all up and moved yout to the south / Packed a U-Haul 'cross a one-tree yard..."
8. "Just Over"
Heartbreak, heartbreak, and more heartbreak! It's no fun when a relationship ends, and this song portrays that. One person thinks it can be fixed, while the other doesn't. Luke, you have to make us all emotional!
Fave Lyric: "Like the page, she's turning over / Like the light, she's starting over / Without me."
9. "Love It Gone"
Okay, this song is phenomenal! This sounds like it could be off of Luke's first album. It's fun and catchy and will absolutely put you in a good mood. Luke is very good at creating enough variation his music where it sounds new but still honors his original country roots.
Fave Lyric: "Come on and trust me, honey / I can turn those raindrops sunny"
10. "Way Way Back"
Let's go back in time. In this song, a couple is remembering all of the times they had together, such as listening to old CDs or traveling down a nameless road. It's cute, fun, and reminds you that love can last forever.
Fave Lyric: "Way, way, back / Find that no-name road / Cross those boxcar tracks."
11. "To the Moon and Back"
This is another one of my favorites. It is a beautiful ballad where you can hear a lot of the guitar. It reminds me of something that you would listen to at a summer lake house. Absolute PERFECTION.
Fave Lyric: "From the crazy and the different / To the more of the same / From the coast is clear / To a hurricane."
12. "Huntin', Fishin' and Lovin' Every Day"
This song perfectly captures the kind of person Luke Byran is, literally. What can I say? It's the simple life. What more could you ask for?
Fave Lyric: "If I could make a living from walking in the woods / You can bet I'd be sitting pretty good."
13. "Scarecrows"
This song not only wraps up the album, but I believe that it's perfectly represententive of Luke or someone like him, who didn't necessarily grow up in a big city. Now, Luke is a worldwide country music star, but still is the same humble guy he has always been.
Fave Lyric: "Just like the scarecrows, even when the wind blows / We keep our roots in these cornrows."
Luke Bryan is a musical genius. He is one of the most genuine people in the industry and I am so happy that his career has become what it is!
Want to see more of Luke? Follow him on Twitter, Facebook, and Instagram!
(Photo via Judy Eddy/WENN)
- Brittany Taormina, YH Contributing Writer