TRACK BY TRACK: Little Mix's 'Confetti'
11-17-2020 by Tyler Bey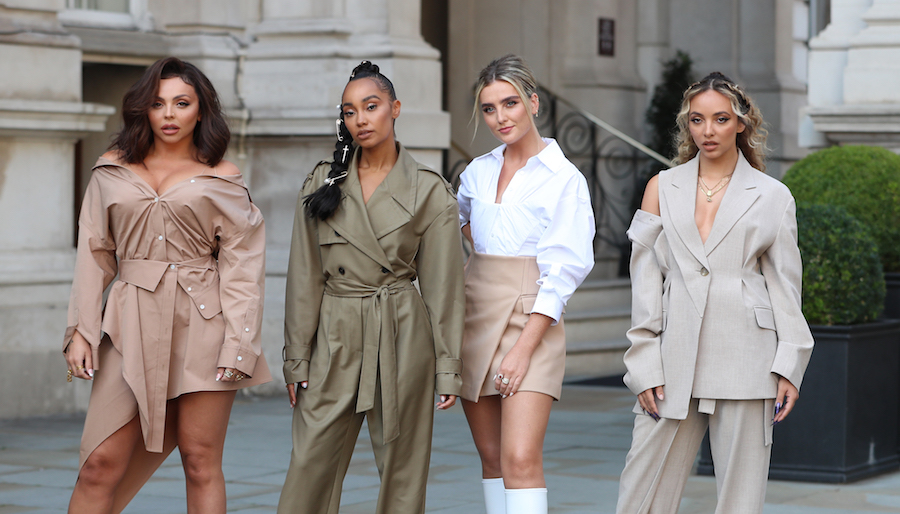 ( © Neil Mockford/GC Images/Getty Images)  
Little Mix is back and better with their 6th studio album! Ever since winning "The X Factor UK" and being the first girl group after The Pussy Cat Dolls to have their debut album reach the U.S. Top 5, they've been in seriously high demand. With over 20 million monthly Spotify listeners, the group, consisting of Jade Thirlwall,Perrie Edwards, Leigh-Anne Pinnock, and Jesy Nelson, has navigated the pop genre flawlessly throughout the years, keeping up with the latest and freshest sounds. Their new album Confetti is no exception, as track after track takes you through the addictive rhythm and harmonies Little Mix is known for.

Let's break it down!
1. "Break Up Song"
With an '80s-inspired groove, the song is "just another breakup song" like the group sings. Heading their album with this song was a smart move, as we're reminded of just why Little Mix has been so successful for so long. Between their fun lyricism and powerful vocal ability, the quartet is a master at pop music.
Favorite lyrics: "Yeah, I'll find a way to dance without you / In the middle of the crowd / I'll forget all of the pain inside..."
2. "Holiday" 
Take the comfort and freedom of Christmas and make it just a little bit sexy, and now add a swinging bass and you've got "Holiday". The background lyrics and harmonies make this song a hit. You can't help but sing along to the little voice in the background going "uh-uh". This song was a genius move by Little Mix, as their album comes at the brink of the infamous time of year known as "cuffing season" -- as the weather gets colder, Little Mix wants you to find someone that makes you feel "like a summer night".
Favorite Lyrics: "Whenever, wherever, we're lasting forever, my baby (uh-uh) / And you're turning me on (uh, uh-uh)..."
3. "Sweet Melody"
The song tells the story of a boy who used to treat you right but eventually turned into a cheating liar. What's most special about this song is the music's parallel with the storytelling. If the girls singing about how the boy stopped them in their tracks, the song stops too. When the girls sing about how the boy was cheating "over syncopated beats", the song reflected that. 

Favorite lyrics: "He used to sing me sweet melodies (Sing sweet melodies) / He played me, made me believe it was real love..."
4. "Confetti"
When I initially played this song without noticing which song it was off the album, the drama of the track was noticeably different than any of the songs before it. The album's title track delivers an explosive punch as the group sings about being the center of attention and celebrating every day like it's your birthday. What else could you really need from a quality pop song? 
Favorite lyrics: "Flashing lights, I ain't got no worry on my mind / Know that you're mad, I realised / That I don't need ya, I don't need ya..."
5. "Happiness"
Is it weird that I hear Mariah Carey somewhere in this song? One thing about this group is that they love to include late-'80s and '90s-inspired vocality and production into their songs. If you listen hard enough you really can hear the likes of Whitney Houston and Celine Dion in their tracks. By taking cues from the legends, they inch closer and closer to legendary status themselves. The song is about finding the happiness inside yourself and casting off the shadow of loneliness. 
Favorite Lyrics: "And I swear (I swear) I'm never gonna lose me again (again) / Oh, oh, oh (again)..."

6. "Not a Pop Song"
Well, let's get the elephant in the room out the way: is the song another pop song or does it hold up to its title? Well… there's definitely some pop-aliciousness at work here, BUT what the title is trying to say is that the lyrics themselves defy the pop formula, which is… half-true. This song is interesting because it's definitely a good song, but it's still very much pop-influenced... maybe I just don't get it... I don't know. Listen for yourself because I'm a little confused... It's still a bop though!
Favorite Lyrics: "A hamster on a wheel / That's how it feels tryna be real..."
7. "Nothing But My Feelings"
One thing that I love about Little Mix is how good they are at ending songs. There's nothing worse than a track that has some amazing production and great lyrics, turning out to be way too short to be enjoyable, or way too long to add to a playlist. Every song on this album is the perfect length for the material the song gives, and "Nothing But My Feelings" is no exception. A song about being lonely with that special someone on your mind, the track delivers excellent vocal performances and choral harmony all just under 3 minutes.
Favorite Lyrics: "I'm layin' here in nothin' but my feelings / Plus some diamonds, drippin' from my earrings..."
8. "Gloves Up"
Starting off with a burst of energy, "Gloves Up" is impressive in how many times it's able to transform structurally while keeping its narrative of winning and fighting for success. One of my favorite things about our generation of music-makers is the unapologetic confidence that exudes in their songs. When the quartet says "put your gloves up", they're challenging the patriarchal idea that women can't fight or be successful without men. The all-girl group's mere existence is an antithesis to that idea, and this song is a perfect reminder to listeners about exactly what Little Mix stands for.

Favorite Lyrics: "Fight 'til the day that I die / Can't knock me down and that's why (you can't knock me down) / I got 'em all the way up..."
9. "A Mess (Happy 4 You)"
The song wonderfully describes that awkward feeling of seeing your ex with someone after you both broke up peacefully. The song talks about how something inside you wants to be bitter, but you can't be because you both agreed to move on. It's kind of a nice thought, though, -- in the end, letting go of someone to the extent where you know if they're happy, you too can find happiness and that's exactly what this song is about.
Favorite Lyrics: "If you're happy, I'm happy, I'm happy for you..."
10. "My Love Won't Let You Down"
The slowest song so far on the album, the track is a sensual ballad describing the power of love. They sing about how they'll be there for the ones they care about even when no one else is around to be there for them. It really is a sweet song and comes at a perfect time thematically in the album; right after discussing how it's hard to get over someone in "A Mess (Happy 4 You)", the group reminds us that love is strong enough to overcome any adversity or disagreement with "My Love Won't Let You Down". 
Favorite Lyrics: "We can sit on the edge of your bed / Tell me all of the fears in your head / And I'll sing you your favourite song / 'Til the pain and all the tears are all gone..."

11. "Rendezvous"
Right off the bat, the song is incredibly more ambitious than any of their other tracks. Using a much less traditional mix, "Rendezvous" is melodic, dramatic, and vocally impressive while still being sing-along-able. The song is bold and that's precisely what this album needs to carry it through its final act. 
Favorite Lyrics: "Come see me face to face (Yeah) / I want you every day (Yеah) / In every single way..."
12. "If You Want My Love"
Let's be real, not all pop artists can actually sing. Lots rely on their autotune and/or pretty face to carry them through the industry. But let it be known Little Mix is not one of those groups! "If You Want My Love" is one of those songs you mouth-sing because of how demanding it is vocally; for those wanting to sing along, I'd advise you to do some warm-ups and drink some tea first. It's a really good song and full of addictive lines that are sure to get stuck in your head by the second listen. 
Favorite Lyrics: "Everything you're doin' right now is so basic/  Baby, get the picture / Need to movе quicker..."
13. "Breathe"
Rounding us out with the last song on the album, "Breathe" asks the questions everyone's asking right now during our time of uncertainty -- what are we supposed to do when we're apart from those that we love? How do we stay alive and living in dire circumstances? How do we carry on in times like this? It's a perfect song to end a near-perfect pop album.
Favorite Lyrics: "Wonder if you're feelin' the same / Do you remember me? / Or are you replacin' me?"
In closing, if you like high-quality standard pop music, you'll really find some playlist regulars on this album. Little Mix is no stranger to highly successful albums and this is no exception. Do yourself a favor and stream Confetti wherever it is you get your music. Trust me, you won't be disappointed!