TRACK BY TRACK: Imagine Dragons' 'Evolve'
Written by Emmy Freedman. Published: July 01 2017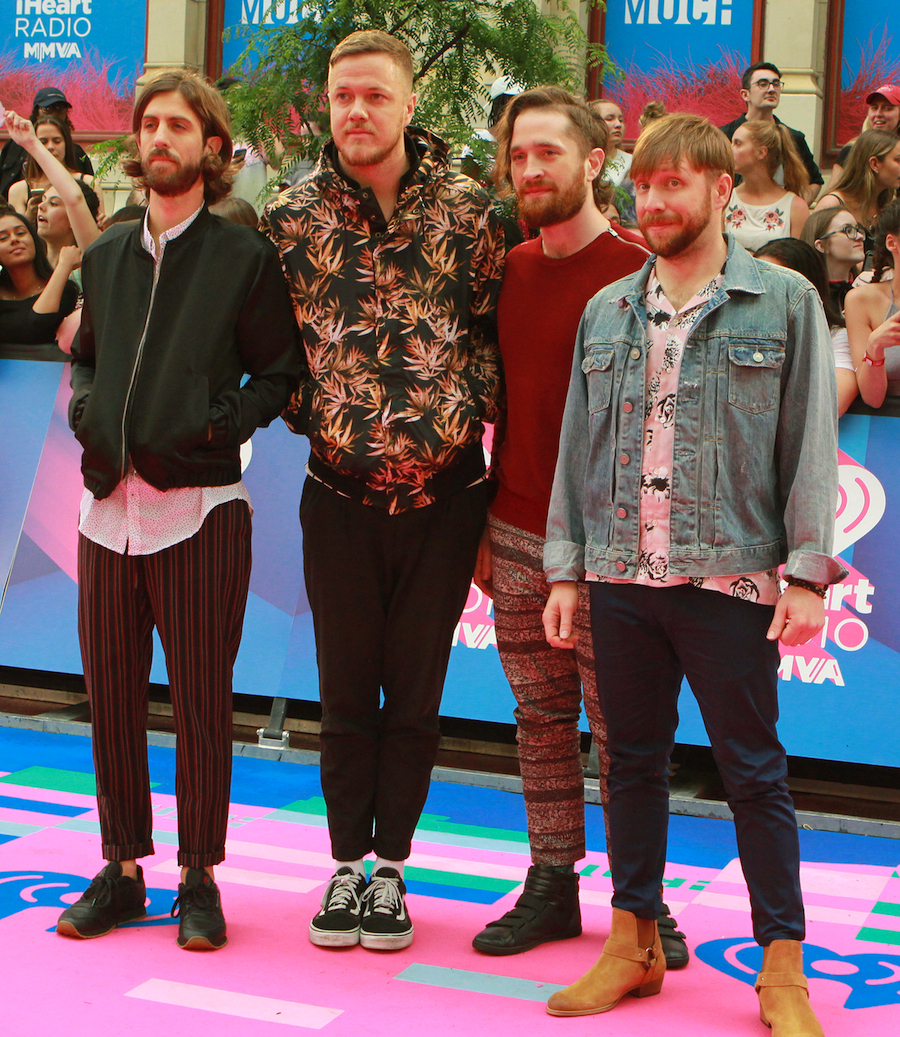 Imagine Dragonsreleased a new album, Evolve, last week, and it's time to see how this one stacks up against the band's previous releases. The group made it big back in 2012 with its debut album, Night Visions, chock full of hit songs and catchy beats, and the follow-up album, Smoke + Mirrors, built on top of that trend. Now with their third release, Imagine Dragons drop more beats and show through their lyrics how they've been able to come so far in a short period of time; the band's not afraid to step up to any challenge that arises.
1. "I Don't Know Why"
It's immediately clear that Imagine Dragons is delving more into the techno-pop world. Since the album's titled "Evolve", I guess it could be expected that this album would be a bit of a departure from earlier releases. However, the group's heavy beats that populated its previous albums are still very present. The chorus is super catchy, so I'm already hooked for the rest of this album.
Favorite lyrics: "We could be passing in the shadows / Loving the risk of being found..."
2. "Whatever It Takes"
In this song, lead singer Dan Reynolds sings about doing "whatever it takes" to achieve something. He loves the feel of adrenaline rushing through his veins, and I certainly feel the adrenaline rushing through my own veins as I listen to the booming chorus.
Favorite lyrics: "And yet a masterpiece / And yet I'm half-diseased..."
3. "Believer"
This song I'd already heard because it was released as a single to hype up this album. And hype it did with its hook-y chorus and falsetto vocals. It also holds true to what seems to be the overarching theme of this album, which is to be the best version of yourself despite any setbacks.
Favorite lyrics: "Building my rain up in the cloud / Falling like ashes to the ground..."
4. "Walking the Wire"
Imagine Dragons are toning it down a little with this song. After those big booming choruses of the last few songs, a calmer song feels much needed. This song was released as a promotional single before the album's release, but as I'm not a die-hard fan, I was unfamiliar with it. This song also has a different feel from the rest of the album so far because it's a sweet song about taking the risk and allowing yourself to fall in love.
Favorite lyrics: "If you're afraid of falling, then don't look down..."
5. "Rise Up"
"Rise Up" is much more emotionally charged than the tracks that precede it. In the chorus, you can actually feel Dan Reynolds's nostalgia and pain in his vocals. We're back to the theme of not shying away from challenges, and the band is getting more serious about achieving its goals.
Favorite lyrics: "I'm broken in the prime of my life / So embrace it and leave me to stray..."
6. "I'll Make it Up to You"
After that doozy of a song, we're back to a slower number. Its nice, steady beat is soothing and the bass-infused chorus is like a jolt of energy before we return to the next verse. Like "Walking the Wire", this is another cute little love song about an absent lover realizing he needs to be more attentive or fear losing the one he loves.
Favorite lyrics: "And in your eyes I can see the places that you'd rather be..."
7. "Yesterday"
This song is a strange departure from the album. It's got a completely different sound with hand claps and fluctuating vocals. I appreciate the creativity, but if I'm honest, this is not my favorite track. Maybe YouTube agrees because we couldn't find it anywhere there.
Favorite lyrics: "No tomorrow without a yesterday.."
8. "Mouth of the River"
We're now about 75% of the way through the album, and we're back to the typical Imagine Dragons sound. There's the signature bass-heavy chorus and inspirational lyrics about the human experience and remaining true to oneself.
Favorite lyrics: "Oh, I'm alkaline / I'm always keeping to the basics..."
9. "Thunder"
I was also familiar with this song before going through this album since it was released as a single back in April and has blown up a bit on the radio. The booming chorus is reminiscent of actual claps of thunder, adding to the overall aesthetic. And like the big crashing presence of thunder, Reynolds is singing about not conforming to the wills of everyone else and making a scene wherever he goes.
Favorite lyrics: "Have a seat in the foyer, take a number..."
10. "Start Over"
Similar to "I'll Make It Up to You", "Start Over" is about trying to salvage a relationship that seems to be on the brink of doom. Despite the sadness behind that concept, this track is upbeat and contains some cool and diverse drum work.
Favorite lyrics: "Silence screaming over your words..."
11. "Dancing in the Dark"
This song is throwing down some chill vibes with a psychedelic-sounding chorus and echoing vocals. It's unique from the other songs on the album, and an interesting choice for the final song on the album. However, after the rollercoaster we just rode that's full of booming basses and loud vocals, this track acts as a much appreciated come down after all that.
Favorite lyrics: "Most days I'm keeping to myself / Living in my little bubble..."
After all that, which new Imagine Dragons song is you favorite and made you get up and dance?
(Image via DC5/WENN)
- Emmy Freedman, YH Contributing Writer