Surya Spa Is Just What You Need To Unwind After a Long Week!
Written by Kayla Miracle. Published: June 30 2017
Need to relax, detox, and rejuvenate? California's own Surya Spahas you covered, offering intense healing, nourishing, and transformative treatments that will have you feeling like a new person!
Surya Spa specializes in the Panchakarma treatment, a profound series of revitalizations providing a specific experience for each participant. Panchakarma is a seven-day series with therapy sessions that last four hours each. Martha Soffer, founder of Surya Spa, is an expert at Panchakarma therapies. The process includes natural oils and herbs administered through massages daily. These offer unique healing for specific ailments and circumstances. The treatment also requires eating the vegetarian meals that Soffer provides. The purpose of Panchakarma is to detoxify the body and create a clean mental and physical slate. Sign me up!
The spa is highly praised by its celebrity cliental, like Gwenyth Paltrow and Kourtney Kardashian, who really value the healing and balancing aspects that the therapies offer. Whether you're a huge celebrity or someone who just wants a little downtime, you need the wonders of Surya Spa.
Los Angeles residents can experience Surya Spa at their Pop-Up at the Four Seasons Hotel Los Angeles At Beverly Hills until July 3.
At the Pop-Up, clients can select a treatment from a long list of Ayurvedic therapies: the popular Panchakarma series, Abhyanga and Shirodhara, Udvartana, Pinda Swedana, Full Naysa, Abhyanga and Chakra Light Balancing, or Marmas and Dharas and Pichus. All of the treatments focus on getting your body and mind in the best state possible by focusing on things like nourishing and restoring your body, increasing natural energy, cooling and soothing muscle tissues, clearing the mind, and focusing on your spirituality.
Young Hollywood's own R.J. Williams and Tracy Behr checked it out firsthand and both agreed it truly lives up to the hype. They both were fortunate to get treated by Martha herself and walked away feeling completely relaxed and transformed. Check out some of the pics below and take their word for it – it's definitely worth the trip!
Entrance to the Pop-Up therapy room created at the Four Seasons Hotel Los Angeles At Beverly Hills
Jars of the custom, homemade medicinal oils that Martha concocts to suit each individual client's needs!
After reading R.J.'s pulse and determining that he was experiencing neck issues, Martha and her staff got to work!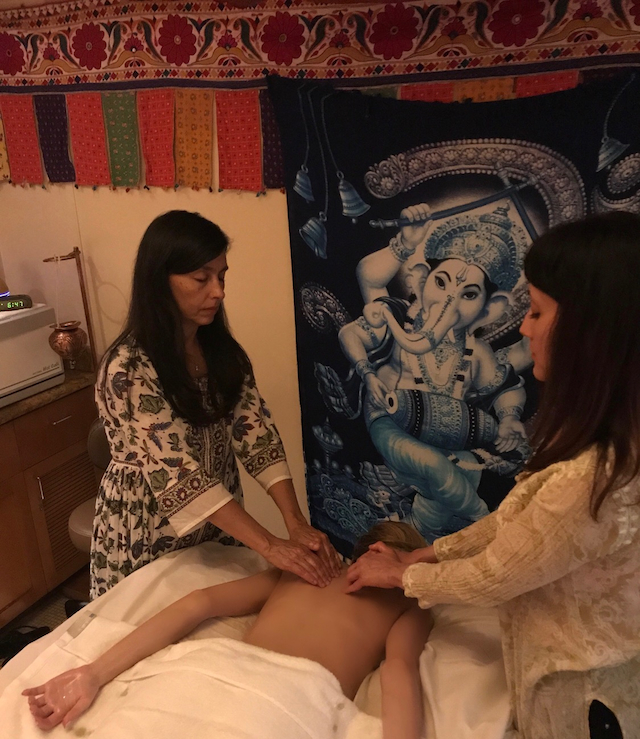 Tracy enjoys a "synchronized massage" to address digestive and skin issues.
"The oil feels incredible!"
For more information on how you can get involved in this life-changing spa experience, visit
suryaspa.com
and follow them on
Twitter
!
(Image via Swing Studios LA)
- Kayla Miracle, YH Contributing Writer