TRACK BY TRACK: Haim
Written by Raffy Ermac. Published: October 07 2013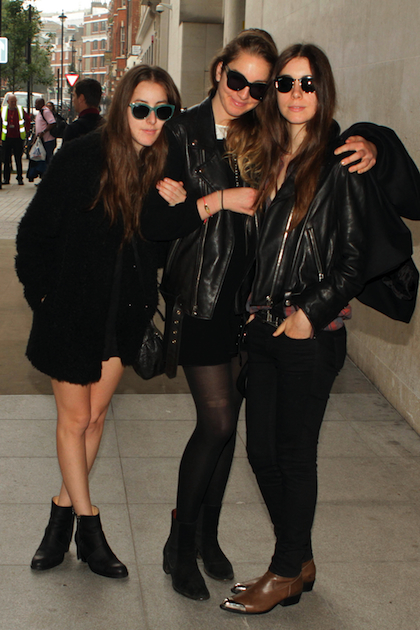 When we first spotlighted indie rock superstars Haim earlier this year, we knew we had something special on our hands… What we didn't know or foresee, though, was all the (well-deserved) attention, hype, and sheer new popularity this trio of sisters (Este,Danielle, and Alana) has achieved since then.
Headlining tours, musical festival gigs, mentions in many music magazines as being one of the next best things of the year -- all on the heels of their recently released debut studio album, Days Are Gone. Let's take a glimpse into what makes Haim's newest record so damn irresistible, especially in a market where sincerely good indie music is so hard to come by!
1. "Falling"
Although "Falling" begins super soft and seems to be tame, a boisterous and exciting medley of everything good about the '90s era of soft rock overwhelms (in a good way) your ears, and all of a sudden you're hooked. It's almost like how Haim suddenly broke out onto the music scene earlier this year -- shy and reserved at first, and then, with a loud bang, here they are, and they're here to stay.
Fave line: "Never look back, never give up."
2. "Forever"
One of the singles that propelled Haim into stardom in the first place, "Forever" was first released back in October of last year, an uber funky throwback to late-'80s/early-'90s pop/rock, drawing comparisons to that of another super band by the name ofFleetwood Mac. A fan and crowd favorite, there is nothing more satisfying than belting out the catchy words to this song of lost loves when the rhythmic guitar starts to riff, all inhibitions set to the wind.
Fave line: "I'm tired of fighting the good fight / If you say the word, then I'll say goodbye."
3. "The Wire"
If I was in a bar in some random small town in the southwestern United States, this is the song I'd imagine playing when I decided to let loose and start having fun. Even though the song is about a relationship laden with many issues, most notably miscommunication, it's a fun, jaunty record that will strangely having you snap your fingers and thumping your feet, in a weird yet fun down-n-dirty western kind of way. These girls are from Los Angeles, right??
Fave line: "It felt right, but I fumbled when it came down to the wire."
4. "If I Could Change Your Mind"
The quintessential heartbreaking "I'm sorry for breaking up with you in the past, can we please get back together" song, Haim surely does have a knack for making even the most unpleasant and somber of relationship qualms into a fun, catchy, and amazingly well-produced pop/rock record.
Fave line: "Visions of your love pass right by me / Your eyes are enough to remind me."
5. "Honey & I"
Another sugary, pop/rock, sweet yet somewhat sassy ode to love, "Honey & I" explores what it's like when you and your man are "doing just fine" and don't really need anything, or anyone, else. The acoustic-tinged, mellow production makes for a good driving-down-the-beach song. Cliché I know, but who cares? Haim is good for any occasion.
Fave line: "Love wasn't what I thought it once was / But I thought it once was…"
6. "Don't Save Me"
One of the previous songs from last year that ultimately made the final cut on the studio album, "Don't Save Me" gives critics and fans another reason to compare Haim to Fleetwood Mac, but in this modern day and age, maybe that isn't a bad thing. Funky, sad, sassy, and all with that happy-sounding Haim flare, "Don't Save Me" is one of the many gems of the record, which talks about a love (surprise, surprise) being one-sided and her being fed up.
Fave line: "Never thought I would grow so old of seeing the gold / Still I never want it to go."
7. "Days Are Gone"
A curveball on the album (weird, especially for a title track), "Days Are Gone" sounds like a strange mix of free-form spoken word, with electronic instrumentals and what sounds to be flames in the background. Delightfully oddball, you'd just have to listen for yourself to get the full effect…
8. "My Song 5"
It's almost like Haim wrote this song with Kanye West's "Jesus Walks" in mind, but that may be due to the fact that the hauntingly chanted lyrics mixed with the pounding drumline make for one badass combination that somehow only Haim could truly execute without sounding silly or contrived. Will we be expecting a Haim hip-hop mixtape anytime in the near future?
Fave line: "You've been lying sohoney / I'm not your honey pie."
9. "Go Slow"
Just like the title of the track suggests, this record is the perfect smooth and slow break the album of thumping bass and guitar needs, and although it's about a particularly hard separation to come to terms with, this is probably one of the most relatable, honest, and vulnerable songs Haim has in their repertoire of hits.
Fave line: "Oh I just wanna go back hold on to the way that I was / Cuz you took away all my young life and I hate who I've become…"
10. "Let Me Go"
Probably the only track where the vocals sound anything but amused and happy, the spotlight of this song is the build-up of instrumentals that is eerily calming, yet makes you want to get up and join a march in an excited rush in your nearest big city.
Fave line: "Let me go, you know I'm not one for leaving."
11. "Running If You Call My Name"
My personal favorite, the archetypal "I don't need you anymore" song comes back with a fiery and rocking vengeance in Haim's album closer, and much to the chagrin of whoever the subject of the song is, it is absolutely the best track to ever end an album with. Epic in all senses of the word, especially during the beautifully executed breakdown towards the tail-end of the song, Haim won't ever have to worry about their fans running… because they are definitely here to stay for more amazing music.
Fave line: "Let me hide your eyes, it's too bright / Now I'm slipping through the white."
If you like what you've heard so far about the hype and excitement around Haim, then you surely would love to go out and buy a copy of their debut album, because you won't be disappointed. It might even restore your faith in the pop/rock genre…
(Image via Duval/WENN)
- Raffy Ermac, YH Staff