TRACK BY TRACK: DJ Khaled's 'Grateful'
Written by Emmy Freedman. Published: June 24 2017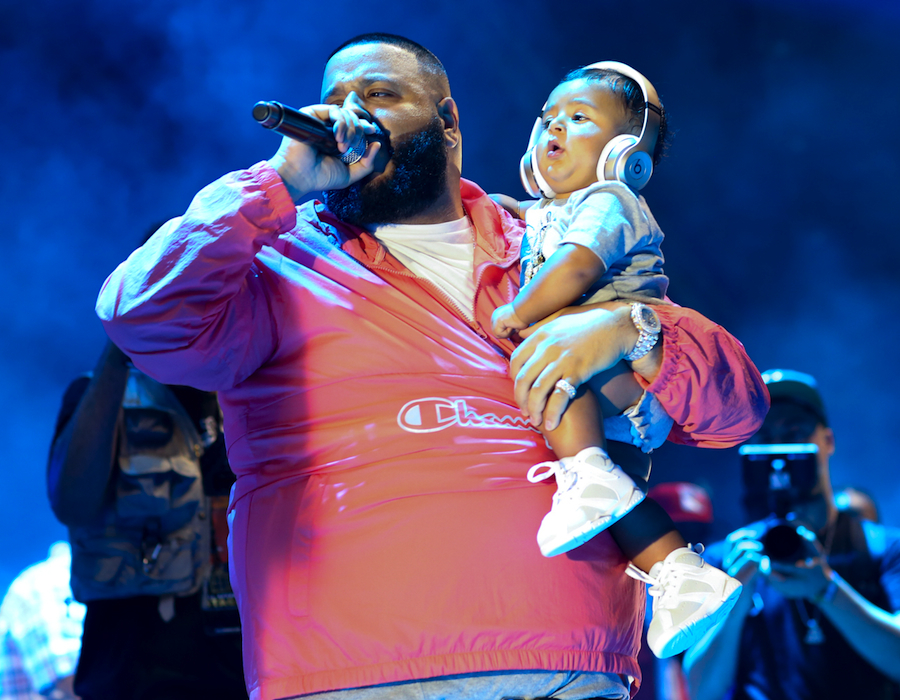 DJ Khaled just released anotha one — and this time, it's a whole album. We've been getting bits and pieces of his highly-anticipated ninth full-length album Grateful with "I'm the One" and later "To the Max" and "Wild Thoughts." Looking at this album, two things become apparents: (1) the tracklist is stacked with today's hottest musicians, and (2) these songs are going to be inescapable. Every song on this album has the potential to hit the radiowaves, so watch out -- Summer '17 belongs to DJ Khaled! Let's take a look at each individual track...
1. "(Intro) I'm so Grateful" (feat. Sizzla)
The album starts out with some birds chirping that take us into the tropics just as a bongo drum beat comes in. DJ Khaled introduces us to the album we're about to take a journey through by screaming his name before Sizzla's Jamaican accent enters and gives the song a reggae feel. DJ Khaled closes out the song by name-dropping his son and thanking his enemies, which leads us into what I'm most excited for: Beyoncé.
Favorite lyrics: "It's a human blessing / Hey, let it flow..."
2. "Shining" (feat. Beyoncé and Jay-Z)
Beyonce does not disappoint. It's a girl power anthem, with Bey telling people to not slow her down. About halfway through the song, her boo Jay-Z comes in, and he's okay, too. He mostly raps about all the money he has, but does make a cool 21 Savage reference. There's no doubt this golden couple is anything less than shiny.
Favorite lyrics: "Money don't make me happy / And a fella can't make me fancy..."
3. "To the Max" (feat. Drake)
This song was released a couple of weeks ago, but now it's placed nicely into the grander scheme of the album. The whole thing has an island vibe, perfect for summer, and this song is no different. Of course, any DJ Khaled and Drake pairing is going to be fire, so bring on anotha Drake future, DJ Khaled.
Favorite lyrics: "I talk in gray / I don't keep it white and black..."
4. "Wild Thoughts" (feat. Rihanna and Bryson Tiller)
"Wild Thoughts" was another pre-released single, but, again, its tropical vibes now fit in nicely with the rest of the album. RiRi's voice is perfect for the vibes thrown out in this song, and Khaled throws in a groovy Spanish guitar and later an electric guitar in the chorus. Bryson Tiller comes in later and complements Rihanna's verse well. I like how, in both cases, the female singer precedes the guy who shares the song with them. Way to go.
Favorite lyrics: "I'm too hip to hop around town with ya..."
5. "I'm the One" (feat. Justin Bieber, Quavo, Chance the Rapper, Lil Wayne)
We've now arrived at the last pre-released single on the album and the most stacked track there is. I don't care how many times I've heard this on the radio in just the last 24 hours, I'm still listening to it all the way through. And now I'm dancing on my bed... and now I need to skip to the next song...
Favorite lyrics: "We go way back / remember criss-cross and hopscotch?"
6. "On Everything" (feat. Travis Scott, Rick Ross, Big Sean)
Yes, this is a lot of rappers on one song. Somehow, it works. It's exciting. The three criss-cross their voices and it's overwhelming but, boy, am I entertained. Each adds their signature flow and voice to the song to make for a very thorough rap jam.
Favorite lyrics: "Life will test us all / Let's see if we true or false..."
7. "It's Secured" (feat. Travis Scott and Nas)
Travis Scott's back, but more importantly DJ Khaled somehow got Nas to appear on this album. (Actually, I take that back -- Nas was on Justin Bieber's latest album too; maybe he'll sign up for anything these days.) This song's sound is significantly different from the one before it, which is necessary since the one before is so busy. The song is mostly just about their lavish lifestyle and how they made it out of poor childhood conditions (so, like any rap song), but Nas's verses work so well with Travis Scott's voice in the chorus that now I want every song to be a Nas/Travis pairing.
Favorite lyrics: "Chili Fritos in the helicopter / Money can't get that ghetto outchea..."
8. "Interlude (Hallelujah)" (feat. Betty Wright)
So we've had some fun, and now it's time to go to church. Betty Wright's impressive voice is strong and powerful as she breaks up the album and sings about glory and stuff.
Favorite lyrics: "For real, I got to stay up on my toes for real..."
9. "Nobody" (feat. Alicia Keys and Nicki Minaj)
Okay, I'm excited for the next half of this album and that two powerhouses are going to lead us into it. Alicia Keys transitions us from church back to hip-hop, and then Nicki takes over. The two sing about making it as women in the industry and it's so inspirational that it's clear we haven't quite left the pews yet.
Favorite lyrics: "You know the queen still reign / It's just business as usual..."
10. "I Love You So Much" (feat. Chance the Rapper)
Count me in for a Chance the Rapper song, but honestly this song is kind of weird. The first minute is just Chance naming people in his family ("Me and my daughter taking over"), and then DJ Khaled comes in and addresses, presumably, his son whom he professes his love to. His son Asahd is also on the cover of the album in case there was any doubt that this album is dedicated to his 7-month-old. But we're not done yet. Two-and-a-half minutes in, a funky version of the alphabet song kicks in before Chance brings back the same refrain of naming his family members. Can we have Nicki back?
Favorite lyrics: "You're my son, you're a mogul, you're an icon, you're a legend..."
11. "Don't Quit" (feat. Calvin Harris, Travis Scott, Jeremih)
First of all, I don't get why a DJ would feature another DJ on his song. But whatever, this song is already feeling fun and a nice reprieve from the last one. This song brings us back to the tropical vibes that were so apparent in the first part of the album and I'm oh so happy. So far, this is one of the most infectious hits on the album.
Favorite lyrics: "Lil' mama got a vibe, let's ride..."
12. "I Can't Even Lie" (feat. Future, Nicki Minaj)
I guess DJ Khaled heard me because he brought back Nicki. This epic track is classic Future with a sick trap beat and lyrics about drugs and cash. Nicki's verse will leave you shook, but Future comes back in one last time for the chorus so you'll have to collect yourself before the next song.
Favorite lyrics: "Crying emojis in my group texts..."
13. "Down for Life" (feat. PARTYNEXTDOOR, Future, Travis Scott, Rick Ross, Kodak Black)
It almost took me as long to write the list of featured artists as it did to listen to the song. I guess "anotha one" now refers to how many rappers DJ Khaled can fit on a song. This track is exactly what you'd expect: five rappers vying for time on a standard-length song. Future raps about 500 words in a minute, and Rick Ross raps for approximately 30 seconds about all the girls that are into him.
Favorite lyrics: "I spent 100K on your bag / That's a crocodile Birk..."
14. "Major Bag Alert" (feat. Migos)
I'm stoked for the simplicity that comes with a mere Migos feature. It's still three guys so DJ Khaled met his quota, but Migos' voices all sound like one so it's a much calmer situation. I'm partial to any song that has Migos in it, and this song is no different. The Atlanta trio once again prove why they're at the top of the rap game right now. Migos has combined DJ Khaled's two famous phrases in this song: "Major key alert" and "Secure your bag." So it seems like Migos is warning the public of its large amounts of money.
Favorite lyrics: "Imma go 'Ye with the runway / Major bag alert with the Kim K..."
15. "Good Man" (feat. Pusha T, Jadakiss)
I wasn't aware Pusha T still rapped until I saw his name on the tracklist, but I guess DJ Khaled has the powers to get anyone to start up again. Right away Pusha T references his presidency of Kanye's label G.O.O.D. Music and asks DJ Khaled not to pair him with anyone else on this song unless they're straight-up awesome (Jadakiss, I guess, fits this bill). This song proves one thing: Pusha T is awesome and, honestly, DJ Khaled does not deserve him. But here he is and I'm #grateful for it.
Favorite lyrics: "At this point now, rap is only therapy..."
16. "Billy Ocean" (feat. Fat Joe, Raekwon)
Again, two people I was not aware were still around are listed on this album, coming together on a song paying homage (kinda?) to the iconic '80s Caribbean King. The two also use his name for play on words with money ("bills"), which makes this yet another song on the album in which rappers are bragging about their money.
Favorite lyrics: "Yeah it's sorta like a mafia movie / sit back Rocky 'n' groovie in the '92..."
17. "Pull a Caper" (feat. Kodak Black, Gucci Mane, Rick Ross)
It sounded like we were about to get spiritual again until Kodak's voice flooded in. Actually, this song has a cool sounding beat and is much more toned down from the rest of the album. I'm into it. The three rap about living life to the fullest, and pulling some capers for the thrill of it.
Favorite lyrics: "'Cause they don't wanna see you move into their cul-de-sac..."
18. "That Range Rover Came With Steps" (feat. Future, Yo Gotti)
This marks song number three with Future on it. Honestly, DJ Khaled could've left this song out and I don't think anyone would've noticed. But Future's still on good form so it's worth it. Yo Gotti's verse is all right too, but sitting two-thirds down the album, this song is largely forgettable.
Favorite lyrics: "My trials and tribulations playing out on blogs..."
19. "Iced Out Arms" (feat. Future, Migos, 21 Savage, T.I.)
Another Future feature, woo-hoo. These songs are all starting to sound the same — reference Patek and a few car brands and you've got a complete rap song. Think about it: this song is 100% about a fancy watch. By the time T.I. comes in, I'm over it. The one thing it has going for it is that the chorus and its beat are pretty hype.
Favorite lyrics: "Damn I'm so dranked that I saw a T-Rex..."
20. "Whatever" (feat. Future, Young Thug, Rick Ross, 2 Chainz)
Fifth Future feature boomin' through my headphones right now. The good news is that Young Thug is on this song too, and he always offers an interesting voice to any hip-hop song. This song is way more upbeat and exciting than the few before it, so even though it's not offering much of anything new to this album at this point, it still comes as a breath of fresh air.
Favorite Lyrics: "I tried to hide this money and ran out of money..."
21. "Interlude" (feat. Belly)
This final interlude is surprisingly cool in relation to the general feel of this album. It's a quick song, but Belly offers us a quick break from the beat-heavy Future & Friends songs.
Favorite lyrics: "I'm careless, I'm so perilous with all of this arrogance..."
22. "Unchanging Love" (feat. Mavado)
Mavado's voice reminds me of The Weeknd, so this song already feels immensely different. We're back to the tropical vibes as we close this album, a theme that was forgotten somewhere around the halfway point. The interlude and this track also bring us back to the religious vibes, so it looks like we're back in church again for the remainder of this album.
Favorite lyrics: "Yeah, yeah mighty bueno..."
23. "Asahd Talk (Thank You Asahd)" (feat. Asahd Khaled)
The takeaway: DJ Khaled is obsessed with his son. This 16-second track consists of him thanking Asahd for co-producing this album, followed by some gurgly baby sounds.
Favorite lyrics: "Yes boy, yes boy."
Whew! That was quite a ride! What's YOUR favorite track fromGrateful?
(Image via WENN)
- Emmy Freedman, YH Contributing Writer