TRACK BY TRACK: Aly & AJ's 'A Touch of the Beat Gets You Up on Your Feet Gets You Out and Then Into the Sun'
05-15-2021 by Rebecca Breitfeller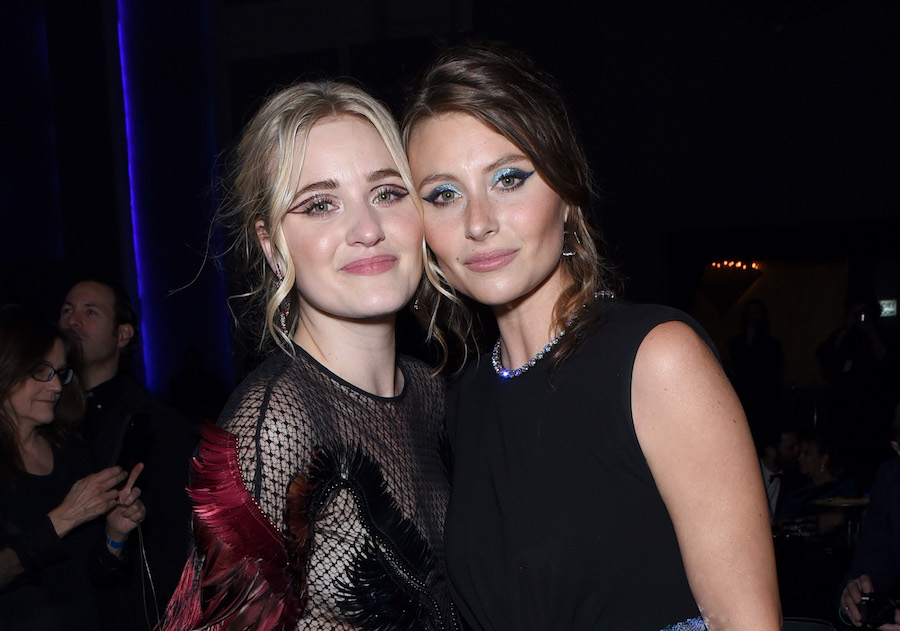 ( © Presley Ann/Getty Images for The Art of Elysium)  
If you're looking for the perfect Summer album, look no further. After 14 (long) years of patiently waiting, Aly & AJ have released their fourth studio album, A Touch of the Beat Gets You Up on Your Feet Gets You Out and Then Into the Sun. If you weren't jamming to Aly and AJ Michalka's music during the Disney Channel commercials growing up, you were severely missing out. When this iconic sister duo announced their return to music with an EP in 2017, fans went wild (myself included). Now we finally have another full-length album to dissect, and somehow each track gets better than the one before! 
Let's discuss, shall we?!
1. "Pretty Places"
This song is ethereal pop magic. No song will make you want to roll your windows down and go on the ultimate road trip more than this song will! It's such a positive vibe to kickstart the album, and sets the tone for the rest of the tracklist. What could be better, you might ask? Well, the music video is even more dreamy than the song itself!
Favorite lyrics: "All the pretty places / Pull us away from where the pain is..."
2. "Lost Cause"
With this track, Aly & AJ perfectly summarize that feeling when you just know something isn't working anymore. Sometimes things are worth fighting for, and other times you just hit a deadend. Despite the sadder lyrics, the song production itself is wildly groovy, giving off '70s vibes to the max with a catchy beat and dreamy complementary guitar.
Favorite lyrics: "'Cause lately, I don't havе the tears / My consciencе hasn't been this clear..."
3. "Break Yourself"
This is definitely one of my favorites. Not only do Aly & AJ themselves sound SO good on this track, but sonically this song is just so cool. There's truly no better word to describe it. It is very reminiscent of popular '80s/'90s pop-rock group The Cranberries, but still feels shiny and new. 
Favorite lyrics: "You hit the ceiling, burning the candle light / You wanna re-light the flame..."
4. "Slow Dancing"
This was the first single released off the album, and they did not miss the mark with this being the first sound of the album. It's a super soothing and laid-back track production-wise, but the meaning holds some weight. The sisters sing about their desires in love and how, when you truly fall for someone, all you really need is the simple things, like slow dancing together. It's a very day-dreamy tune that is sure to get you in your feels.
Favorite lyrics: "Hell's bending keeping me captive / Heaven's here it's right where you're standing..." 
5. "Paradise"
If your beach playlist doesn't include 'Paradise", you need to go add it right now! This song feels like falling in love in Summer. It takes the idea of what a paradise should be and makes it uber personal. At the height of any romantic relationship, the best way one could describe it is with this particular song.
Favorite lyrics: "Living on gut feelings, high rollers / Wanting the time to stop and it won't..."
6. "Symptom Of Your Touch"
Released as the duo's third single from the album, "Symptom Of Your Touch" is light, airy, and elegant. The track describes those moments of not being able to resist certain people, and it feels like one of the most 2007-era Aly & AJ songs on the album. It will have you reminiscing and dancing all night long! 
Favorite lyrics: "If you're asking me for closure / Don't expect it to happen when I lose my composure..."
7. "Lucky to Get Him"
This has to be my absolute favorite from the album! Again, it's another perfect Summer song, and the talented sisters sound better than ever before vocally. Simple production gives Aly & AJ the chance to showcase their vocal ability, and the catchy uptempo beat will have you playing this song on repeat (I know I have). The harmonies, melodies, and everything in between is pure MAGIC.
Favorite lyrics: "If you're asking me for closure / Don't expect it to happen when I lose my composure..."
8. "Listen!!!"
"Listen!!!" was released as the second single of the album in January of this year, and, well, the title speaks for itself. I would categorize this as one of the most catchy songs on the album and has without a doubt been on a constant loop in my house. This is another track that feels very nostalgic to the sisters' Insomniatic era. It's the perfect indie pop-rock track to get your day started on a high note. 
Favorite lyrics: "I'm feelin' like I'm a hostage here / It's clear something went missing (missing) / I might be lost but I know my way out..."
9. "Don't Need Nothing"
In late April, just before the album release, "Don't Need Nothing" and its accompanying music video were released as the fourth and final single. The titular line of the album lies in this song, and it's their most anthem-esque song on the tracklist. It is sure to get stuck in all our heads, but we're not mad about that at all.
Favorite lyrics: "You know the devil's never far behind / But he isn't welcome here so don't bother, don't bother..."
10. "Stomach"
This track might be one of my favorite Aly & AJ songs of all time! I know, I know, that's a pretty bold statement. Definitely their saddest track; every part of this song is so tragically beautiful. The synth is such a nice touch to the story being told, which is one of heartbreak and falling out of love. Creatively and auditorily, I feel this is one of their best releases.
Favorite lyrics: "I'm staring at a stranger / That's a secret I've been keeping / I'm holding onto both sides of a raft / That just keeps on sinking..."
11. "Personal Cathedrals"
Similar to "Stomach", the lyrics of "Personal Cathedrals" are poignant and clever. The song feels super inspired by Fleetwood Mac and has such a great guitar line to carry you through from start to finish. This is for sure another driving-with-your-windows-down type of track.
Favorite lyrics: "They treat these lonely dance floors / Like personal cathedrals / Even diamonds here don't shine..."
12. "Hold Out"
Talk about a pretty song. Apart from being incredibly ethereal sonically, the lyrics on "Hold Out" are extremely vulnerable for Aly & AJ. They have never shied away from honest storytelling in their work, but this song about that longing for someone to hold you and listen to your brain's most inner workings is so raw and genuine. If you love a good slow jam, this one's for you!
Favorite lyrics: "When the waves come crashing down / We can be the ones to pull each other out..."
I can honestly say I have not been this impressed by a collection of songs in a while. Everything flows just right, and though each song has a deeply personal move and groove, every track fits together like the most perfect puzzle. There's nothing quite like the nostalgia of Aly & AJ music, and this time around they have pulled out all the stops. Can't wait to have this album playing all Summer (more like all year)!
What is your favorite song from the new album?