Top 5 Summer Movies of All Time (And Why They Still Matter)!
07-13-2022 by Tiara Brownie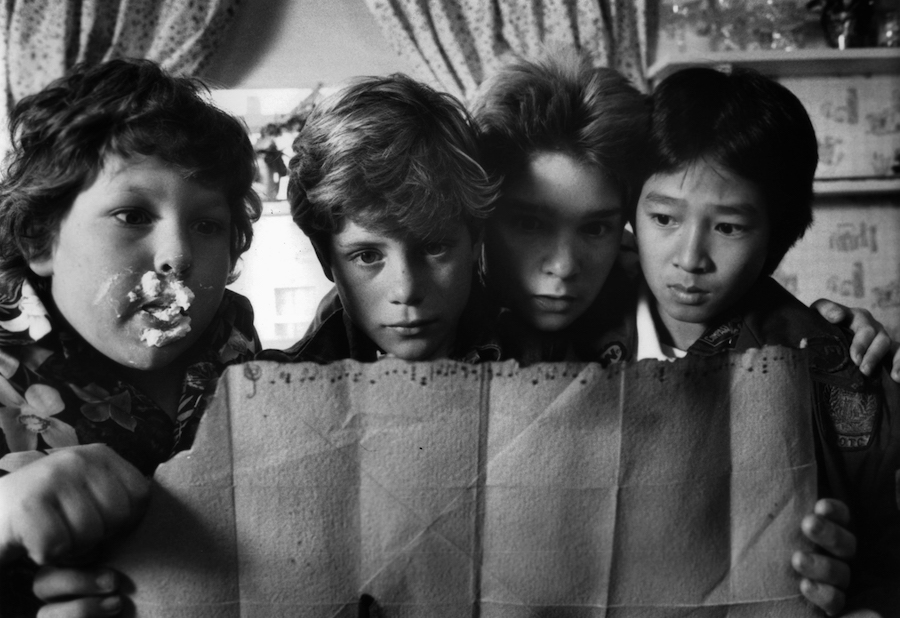 ( © Warner Brothers/Getty Images)  
Summer is officially here! You know what that means, right? It's the time of year when you can enjoy a nice beach day, tan by the poolside, or have a picnic/barbeque. But with the Summer fun comes the Summer heat! So, what are you supposed to do when it's just too hot to go outside? How about relaxing under the AC with your favorite beverage/snack and watching some classic Summer movies?!
Here are our top 5 summer movies of all time!
1. Stand by Me (1986)
Directed by Rob Reiner, Stand by Me is a classic Summer movie (based on the Stephen King Novella The Body) about the story of friendship and coming-of-age. Star Wil Wheaton describes the film as a love letter to childhood innocence, even though the film deals with adult subjects such as abuse, dysfunctional families, and death. It is the Summer of 1959 in Castle Rock, Oregon, and four neighborhood friends are on a mission that they hope will land their pictures on the front page of the newspaper as town heroes. Each of the boys -- Gordie Lachance (Wheaton), Chris Chambers (River Phoenix), Teddy Duchamp (Corey Feldman), and Vern Tessio (Jerry O'Connell) -- go on a journey in search of finding Ray Brower's dead body, a boy who was struck to death by a train. While on this journey, the four boys gain a better understanding of themselves, the value of friendship, and the necessity of standing up for what is right.
How it's still relevant: Life lessons such as death, how to grieve, and dealing with bullies will always be a part of life, along with the meaning of true friendship, and that's precisely what this film stands for. Not to mention, the film was featured in "Euphoria" Season 2. In Episode 6, "A Thousand Little Trees of Blood", Lexi and Fez formed a friendship through their mutual admiration for Stand by Me, which they had both seen and enjoyed. Despite the difficulties posed by their histories and the surroundings in which they find themselves at present, Lexi and Fez are both looking for ways to connect with other people. However, unlike the four boys in the movie Stand by Me, they are not looking for dead bodies. In addition to this, the narrative focuses on coming-of-age and the process of moving on to the next stage of life. In the movie, there is a sense of longing among the four main characters, and there is most certainly a longing regarding the relationship between Fez and Lexi. Because Lexi greatly wants to satisfy her wish to have and do something just for herself, she has decided to create a play. It would imply that Fez, like Lexi, is looking for connection and tranquility in their relationship through the two of them. The creators of the program wanted Lexi and Fez to have a preferred film that in some way incorporated emotion, danger, and the simpler times of childhood.
Stand By Me is available to rent on Amazon Prime.
2. Do The Right Thing (1989)
Directed by Spike Lee, this film is most definitely considered a classic Summer film because the plot centers around the race relations between African-American and Italian-American residents of a Brooklyn neighborhood on a hot Summer day -- an incident in Howard Beach, New York, in 1986, in which a Black man named Michael Griffiths was killed by a white mob using baseball bats, served as inspiration for the film Do the Right Thing.
How it's still relevant: Sadly, police brutality is something African-Americans and Hispanics still face today. In the movie, Radio Raheem (played by the late, great Bill Nunn) and Sal (played by the late, great Danny Aiello) fight because the former won't turn down the noise on his boombox, and when the police officers come, they instantly target Raheem. One of the officers picks him up off the ground and places a billy club around his neck, suffocating him until his feet hang still in the air. Mookie (Lee) responds to the murder by hurling a trash can through the glass window of Sal's Famous Pizzeria, followed by the establishment being torched and destroyed. The closing credits of the film feature a remark by Martin Luther King Jr., followed by a quote by Malcolm X, both of which discuss using violence as a strategy for achieving emancipation. The death of Radio Raheem can be easily compared to the death of George Floyd, an African-American man who a police officer killed by kneeling on his neck and cutting off oxygen to his brain, resulting in his death, and protests that followed.
Do The Right Thing is available to rent on Amazon Prime.
3. The Goonies (1985)
Directed by Richard Donner, this '80s film is a classic Summer blockbuster! The movie's plot follows a group of young kids living in the "Goondocks" neighborhood of Astoria, Oregon. They are attempting to keep their homes from going into foreclosure, and in the process, they find an old treasure map. This leads them on an adventure to uncover the long-lost fortune of One-Eyed Willy, a legendary pirate who lived in the 17th century. The true message behind the film is friendship, but mainly "Don't judge a book by its cover." A group of unwealthy misfit kids can become heroes, and the pretty cheerleader is actually friendly and not mean. And, most importantly, Sloth is not a monster at all but actually a giant teddy bear. This is probably the most important theme that The Goonies explores: people are just people. No matter how you look, every human being has feelings and deserves to be treated like one.
How it's still relevant: Unfortunately, just like Sloth in the movie, individuals are still being bullied and mistreated for looking and being different. The impacts of cyberbullying include problems not only with one's physical health but also with one's mental health, including increased stress and anxiety, sadness, acting out violently, and low self-esteem, among other issues. On the plus side, though, who wouldn't want to see a teenage Josh Brolin, long before his Thanos days?!
The Goonies is available to stream on HBO Max.
4. My Girl (1991)
Directed by Howard Zieff, this childhood classic is bound to be one of your favorite movies growing up. The film centers around death and friendship. Tomboy Vada Sultenfuss (Anna Chlumsky) is surrounded by sorrow. Her mother passed away while giving birth to her, and her father (Dan Aykroyd) runs a funeral home out of the family's residence. The other children view her as a peculiar individual, and the fact that her closest companion, Thomas J. Sennett (Macaulay Culkin) is a boy doesn't help. The two become very close until, one day, while searching for Vada's mood ring in the woods, Thomas J. suffers and ultimately passes away from an allergic reaction to bee stings. Vada has to experience losing someone she loves yet again.
How it's still relevant: The movie taught us there's no right or wrong way to grieve. Death is simply a part of life. Unfortunately, we will lose the ones we love, but that doesn't mean we must forget them. They live on in our hearts and our memory.
My Girl is available to stream on Netflix.
5. Now and Then (1995)
Directed by Lesli Linka Glatter, this Summer classic centers around Roberta Martin (Rosie O'Donnell), Samantha Albertson (Demi Moore), and Tina "Teeny" Tercell (Melanie Griffith), three powerful women who travel back to their hometown to reacquaint themselves with their childhood friend Chrissy DeWitt Williams (Rita Wilson) and support her as she nears the end of her first pregnancy. These four people who have been friends for life talk about their recollections of the wonderful Summer of 1970, where their younger counterparts are played by Christina Ricci, Gaby Hoffman, Thora Birch, and Ashleigh Aston Moore, respectively.
How it's still relevant: No family is perfect! The movie does a great job of depicting a real-life family dynamic, which is one of my favorite features of the film. None of the females come from traditional families; whether it was because of Roberta's upbringing in an all-male household or Samantha's experience navigating the repercussions of her parent's divorce, these women possess a very authentic sense of homeliness, which is very relatable in today's society.
Now and Then is available to stream on Tubi.
Which one of these Summer classic films is your favorite?