Rookies & First-Timers Dominate the 2022 Emmy Award Nominations!
Written by Katie Marzullo. Published: July 12 2022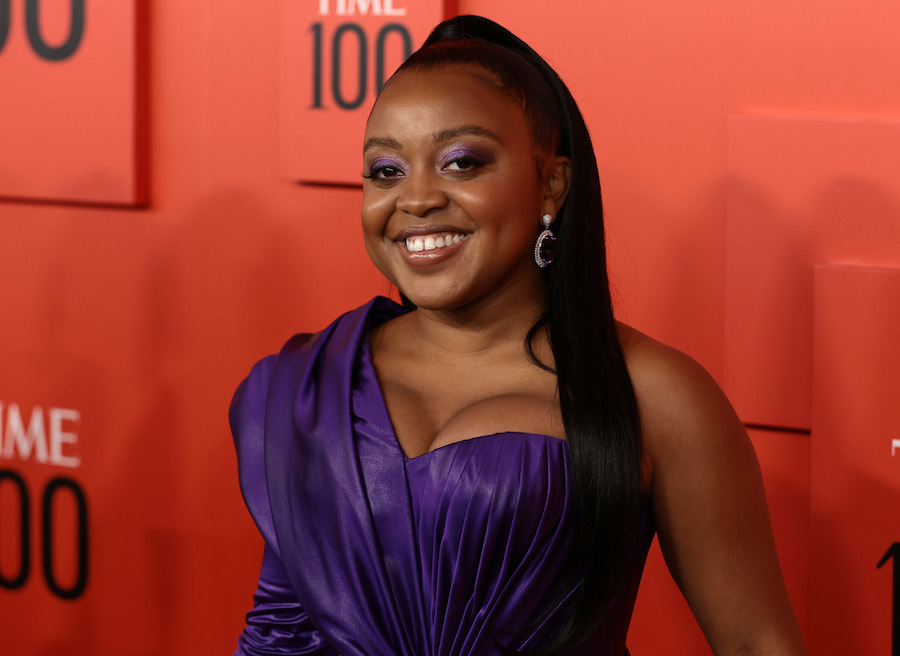 ( © Dimitrios Kambouris/Getty Images for TIME)
It's that time of year again for the best of TV and streaming to shine!
This year's crop of Primetime Emmy nominees includes a slew of first-timers, whether they be rookie programs or established shows & stars who have finally gotten their due! Some of these notable newbies include:
- With only one season under its belt so far, "Abbott Elementary" made a huge impression with critics and fans alike, and now those accolades have born fruit with a total of 7 nominations, 3 of which for its star and creator Quinta Brunson alone (Outstanding Comedy Series, Lead Actress in a Comedy Series, and Writing for a Comedy Series)! Not only are these her first-ever Emmy noms, but she is the first ever Black woman to accomplish this feat in the same year. In addition to Brunson, her co-stars Janelle James, Tyler James Williams, andSheryl Lee Ralph are also first-time nominees.
- Another rookie series gaining recognition is Showtime's "Yellowjackets", which came out of the gate firing on all cylinders with, imo, one of the best pilot episodes in a very long time. Not surprisingly, the writing for that pilot episode was nominated, as well as starsMelanie Lynsky – her first Emmy nod! – andChristina Ricci (her second), and also a nomination for Best Drama Series. "Yellowjackets" has a total of 7 nominations.
- Apple TV's "Severance" is another rookie show looking down the barrel of a slew of Emmy nominations – 14 in fact! In addition to its Best Drama Series nod, this marks the first-ever(!) Emmy nomination for its star Adam Scott.
- Netflix's smash-hit "Squid Game" also came away big this morning, making history as the first-ever non-English language series to be nominated for Best Drama Series. Among its 14 total nominations are all 4 of its principle castmembers – Lee Jung-jae,Jong Ho-yeon, Oh Yeong-su, andPark Hae-soo – as well as a Guest Actor nomination for Lee You-mi.
- "Euphoria" did excellent this year too, with 16 nominations – 3 of those nominations belonging to our girl Zendaya, who becomes the youngest 2-time nominee for Best Actress AND for producing, as well as the first Black woman nominated for acting and songwriting in the same year. Joining her on the roster for the first time ever are her co-stars Sydney Sweeney,Colman Domingo, and Martha Kelly. (No love for Hunter Schafer again this year? Sigh…) Sydney is also nominated this year for her role in HBO's "White Lotus".
- Speaking of "White Lotus" – surprisingly, the wonderful Jennifer Coolidge landed her first-ever Emmy nomination this year, thanks to her performance in the delightfully unhinged series. The show received a whopping 20 nominations in total!
- Of the 6 actors nominated in the Lead Actor in a Limited or Anthology Series or Movie category, 5 of them – Oscar Isaac,Andrew Garfield, Michael Keaton, and Sebastian Stan – are first-time Emmy nominees. Only Colin Firth has been nominated once before (way back in 2001).
- Keaton's "Dopesick" co-stars Kaitlyn Dever and Will Poulter are also first-time Emmy nominees, and deservedly so!
- "Only Murders In The Building" came out swinging with 17 nominations for their debut season, as well as nominations for stars Steve Martin and Martin Short. Nothing for the third member of their crime-solving gang Selena Gomez though…
-Elle Fanning received her first-ever Emmy nod this year thanks to her amazing performance in the second season of Hulu's "The Great". It took a minute but the Academy voters eventually got there…
Other notable highlights include:
- No surprise that last year's Best Drama Series, "Succession", leads the pack once again with a total of 25 nominations. Not far behind is its comedy counterpart, "Ted Lasso", leading the way with 20 noms.
- Marvel did very well this year, with its 3 Disney+ shows – "Loki" (6), "Hawkeye" (2), and Moon Night" (8), getting a handful of nominations each. Those are for design and technical categories though – no major acting, writing, or directing nods.
-Beanie Feldstein is not having a great week. Coming off the heels of her announcement that she's leavingFunny Girl early, she doesn't even get a consolation prize of a nomination for her fantastic work as Monica Lewinsky in "Impeachment: American Crime Story". That accolade went instead to the heavily made-up Sarah Paulson as Linda Tripp. [sad trombone]
- "Stranger Things" scored a lucky 13 nominations, though a big goose egg for any of its amazing cast. It did, however, get nominated for Outstanding Music Supervision for "Dear Billy" – yes, THAT episode!
- "What We Do In The Shadows" enjoys another nomination for Best Comedy Series and a total of 7 noms; however, none of the brilliant cast received any nominations.
- Last year's winner for Supporting Actress in a Drama Series, Julia Garner, finds herself not only again competing in that category (for her role in "Ozark") but also as Lead Actress in a Limited Series for her much-buzzed about performance asAnna Delvey in "Inventing Anna".
- The incredible Chadwick Boseman received a nomination for his voice-over work (one of this last-ever projects) as T'Challa for Marvel's Disney+ series "What If…?"
Check out the full list of nominees here. The 74th annual Primetime Emmy Awards will air on September 12!