Top 5 Iconic Music Venues in the U.S.
Written by Raffy Ermac. Published: May 14 2014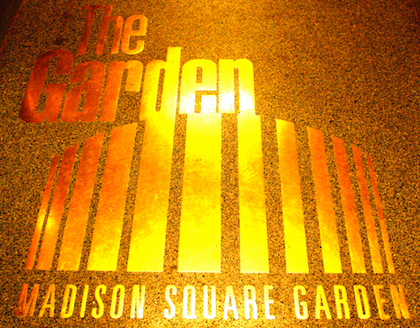 No matter who you are or where you are from, there is a special connection that literally everyone feels when seeing live music. The best thing about it, besides getting to experience your favorite bands and singers performing for a crowd, is the energy you feel when at a venue, and the atmosphere, hype, and buzz just before someone hits the stage.
From small holes in the wall, to the biggest and most extravagant arenas, there are different kinds of places all over the country that are perfect for seeing a gig, and whether or not you like to vibe to a small act or feel the thunderous applause in a huge dome with other fans of a bigger performer, there is no doubt that we all, as music listeners, love to enjoy a concert.
Here is some of the country's most iconic venues that promote and instill the love for live music in all of us.
Madison Square Garden (New York)
It's every artist's dream to become big enough to headline at The Garden, and even though everyone who is anyone has played there, and has been playing there for decades, the best thing about The Garden is that it is the benchmark for artists on their way to icon status.
Whisky A Go-Go (Los Angeles)
Like their website says, "as long as there has been a Los Angeles rock scene, there has been the Whisky A Go-Go." Legendary acts from The Doors to Led Zeppelin have performed at the world famous West Hollywood club, and you'd be hard-pressed to find someone who doesn't think this venue is a must-stop for touring artists from everywhere.
Metro (Chicago)
Many critics agree that the Metro, a well-known concert venue in the Chicago area, is indeed an amazing place to put the stress of the day aside and see some up-and-coming bands and artists just about to hit it big.
TD Garden (Boston)
What MSG is to New York, TD Garden is to New England. Probably one of the most iconic entertainment stations in all of Boston, almost everyone big who is touring always makes it a point to go and make a stop here.
Hollywood Bowl (Los Angeles)
Southern California is indeed the entertainment capital of the country -- and of the world, for that matter -- so it's no surprise that another venue on this best-of list is located in the City of Angels. The Hollywood Bowl holds a special place in many artists' and bands' hearts, simply for the fact that a lot of people have called this iconic amphitheater a place to let your music and your craft shine. All music genres find their way to the Bowl, and that's what so great about it. Did we also mention it's the country's biggest natural amphitheater?
With plenty of places all over the country to go catch a show and see a performance, there should be no shortage of music-themed fun for people of all ages this summer. Where are some of YOUR favorite places to see a concert?
- Raffy Ermac, YH Staff