Today's Earworm: Tegan & Sara's "I Was a Fool"
Written by Katie Marzullo. Published: April 26 2013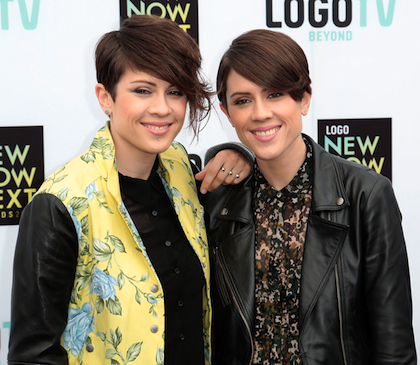 Allow me to introduce you all to my new favorite thing – "I Was a Fool", the second single off Tegan & Sara's latest album,Heartthrob. Following the success of their first single, "Closer", the Canadian twinsies continue churning out catchy indie jams that put one in mind of the synthpop grooves of the '80s.
By the gals' own admission, their sound has deliberately evolved since they both turned 30, and they wanted this new album to reflect that. Indeed, it seems a majority of the songs on the album are dripping with melancholy, the type of malaise that accompanies a Gen-Xer when he/she realizes they aren't kids anymore. And "I Was a Fool" definitely smacks of that contemplative tone, when one suddenly wakes up one day and thinks, "whoa, what have I been doing??" It's the kind of self-awareness that comes with age, and it's not only relatable in a thematic sense, but it's an incredibly evocative tune. No surprise that the music videos reflect this.
Yes, I said videos, plural. We posted recently about how lyric videos have become so sophisticated that they many of the official ones can stand on their own artistically, and such is the case with the official lyric video for "I Was a Fool". But that hasn't stopped T&S from releasing another fully-produced music video either, and this one stars "Parenthood" actress Maw Whitman as the lovelorn central character. Both are equally effective in getting the song's point across. Though, for me, I prefer to projective my own image upon it… Whatever works!
Check out BOTH videos below!
(Photo via Brian To/WENN)
- Katie Marzullo, YH Staff Editor