Today on POWER PLAYERS: King of Documentaries, Morgan Spurlock!
Written by Katie Marzullo. Published: March 28 2012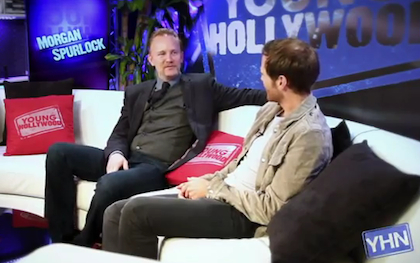 I love Morgan Spurlock. I love anyone who is able to teach me something new. Every time I watch one of his projects, whether one of his feature documentaries or his TV shows, I always walk away feeling thoroughly educated. His effectiveness stems from his ability to engage his audience, to draw them in in an entertaining way, almost "tricking" them into enlightenment! "Hey, this is a pretty cool movie… Aw shoot, I just LEARNED something too! That sly dog!"
So, props to Mr. Spurlock for making us all a little more intelligent.
The filmmaker recently stopped by the YH Studio and is the subject of this week's episode of POWER PLAYERS on YHN. His latest documentary project is decidedly a little more lighthearted – Comic-Con Episode Four: A Fan's Hope explores the world of comic book convention culture and the quirky personalities that inhabit it. And guess what? Some of the celebs that cosplayers go to see are also fans! Guys likeKevin Smith and Eli Roth got into the biz for the same reason gazillions of fans show up to the San Diego convention every year and, in doing so, became Comic-Con icons themselves!
Check out our chat with Morgan Spurlock on POWER PLAYERS below:
Be sure to check out more episodes of POWER PLAYERS:
- Katie Marzullo, YH Staff Editor