Tips and Tricks To Make Your Coachella Experience A Success!
Written by Hollie McLaughlin. Published: April 04 2018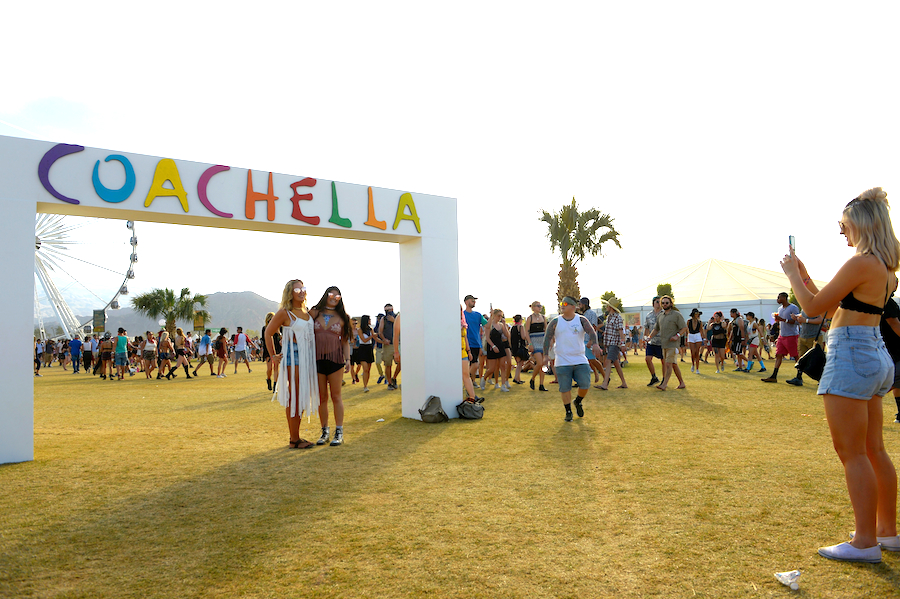 April is here, which means herds of music lovers are about to make their annual trek to the desert! The annual Coachella Valley Music & Arts Festival kicks off this year on April 13 and runs until the 22nd.
Before you get your outfits Instagram-ready and pack your bags to head to this beloved music festival, here are a few tips and tricks to guarantee your Coachella experience is a epic success!
Follow instructions; You Actually Have To Read Those Emails From Coachella
Prior to the festival, Coachella will be sending you a ton of emails. This isn't spam; it's actually emails with important festival information. The last thing you want to do is show up to Coachella with an unregistered wristband or contraband glass bottles in your camping gear. 

If You Love Your Feet, Pack Sensible Shoes
Before heading off to Coachella, take a look at your suitcase and rethink all of those cute sandals. Remember, you'll be facing large crowds, dust paths, and gravel during the festival. There's no need to show off your freshly-painted toenails or make sure your footwear compliments your outfit. During Coachella, a trusty pair of sneakers is all you need.
Pack a Bandana
Show your respiratory system some love by packing a bandana. In case you forgot, Coachella takes place in the heart of the desert. In order to avoid inhaling a ton of sand during your Coachella experience, a bandana should be your best friend during the festival.
                                                                                                                                                                                   (

Frazer Harrison/Getty Images)
Be Sure To Have a Portable Phone Charger
Speaking of being Instagram-ready, be sure to have a portable phone charger on hand and ready to go. Whether you use your phone to primarily capture Coachella moments for social media or as a means of communication to connect with friends, a portable phone charger is one item you'll be happy you brought along when your phone battery drops to 10%.
                                                                                                                                                                                   (

Frazer Harrison/Getty Images)

Cash Is King
When it comes to Coachella, leave the plastic at home. Sure, it will seem like there is an ATM within arm's reach everywhere you turn around at the festival, but the ATM fees are ridiculous. It's always a good idea to have cash on hand ahead of time in case of emergency (i.e. You lose cell reception and you're forced to take a traditional taxi instead of your beloved Uber).
Have a Meeting Place
Cell phones aren't always reliable. It is the desert, after all, and reception tends to drop. If you get separated from friends, you'll be thankful you have a meeting place. 
Bring Layers
The desert is hot by day and cold by night. When packing crop tops, shorts, and the latest fashion tends, be sure to throw in a sweater and jeans into your suitcase so you won't freeze during cold desert nights. You'll save yourself some money when you don't have to buy a hoodie at the merchandise tent. 
Rent a House Off Site
While many like to camp on site during their first Coachella as a rite of passage, it's not for the feint of heart. If you like a warm bed, a hot shower, and a clean bathroom, finding a place via Airbnb, HomeAway, or VRBO may be your best bet. 
Drink Water, Drink Water, Drink Water
The Coachella Valley is a very hot, flat, dry desert. When you think you can't drink anymore water, challenge yourself to drink even more water. Only 3/5 of the large stages are covered and provide shade from the harsh desert sun. To avoid dehydration and heatstroke, tons of H2O is essential. The festival provides free water, but investing in things like a Camelbak Hydropak is well worth it! And while we're on the topic of being exposed to the sun, don't forget your sunscreen. With the average festival goer spending an average of 8+ hours at Coachella each day, don't forget to carry your sunscreen with you and reapply it several times a day.
                                                                                                                                                                                   (

Frazer Harrison/Getty Images)
We hope you take these tips and tricks to heart and have an amazing time at Coachella!
(Top image via Matt Cowan/Getty Images)
- Hollie McLaughlin, YH Contributing Writer