'Thoroughbreds' Is Your Newest Dark Comedy Cult Fave!
Written by Diego Pineda. Published: March 10 2018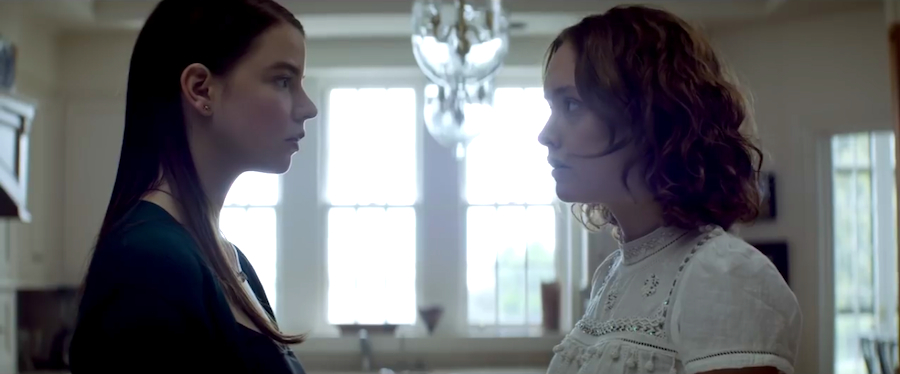 Picture this: Two high school friends living in the wealthy suburbs of New England full of mansions, nicely kept lawns, and lavish cars... Sounds like #LifeGoals, right? Well, not when there is a murder to be planned...
Thoroughbreds is your next favorite dark-comedy thriller. It stars Anya Taylor Joy (Split) as Lily and Olivia Cooke ("Bates Motel") as Amanda. These two are complete opposites, yet somehow they manage to face reality when bonding together. Lily is the preppy Queen Bee who is trying to get over the death of her father. Amanda can't relate to anyone emotionally and therefore lacks the sensitive touch Lily has. Lily's bad relationship with her stepfather Mark (Paul Sparks) leads Amanda to suggest the unthinkable...
In order to achieve the murder, the two girls get help from Tim (played by the late Anton Yelchin), who becomes the assistant to the girls. Anton died shortly after shooting the film and the stars hope the movie honors him and his career.
Amanda and Lily must learn to come together in order to face their obstacles and personal battles. Their plan to murder Mark serves as an escape from their different lives. Everything they do will leave you wanting to know what they will do next.
Written and directed by first-timer Cory Finley, Thoroughbreds is for sure to keep you on the edge of your seat in its suspense -- but also laughing in its dark funny parts!

Thoroughbreds premiered yesterday, March 9, and is in theatres now, so go watch it!
(Image via Focus Features)
- Diego Pineda, YH Contributing Writer