The Year of Chris Pratt!
Written by Amanda Baltazar. Published: October 07 2014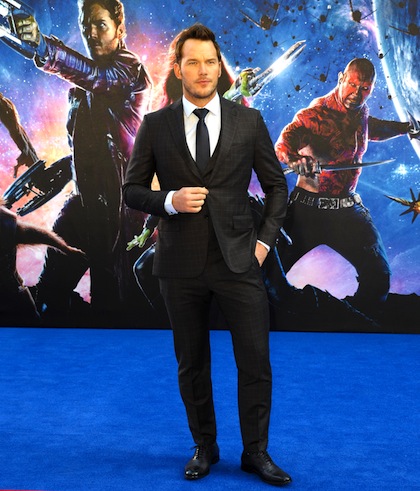 This year has been the Year of Chris Pratt. And we love it! TheGuardians of the Galaxy star has certainly made his way through Hollywood in the best way possible! Many will recognize him as the hero, Peter Quill, or maybe they recognize his voice as Emmet from The Lego Movie, but Mr. Pratt has actually been right under our noses way before 2014!

Pratt got his big break after being discovered while waiting tables in Maui, landing a role in the television series, "Everwood". After that, he booked roles in many television series' and small roles in feature films like Wanted and Bride Wars. He also lent his voice to Ben 10: Ultimate Alien. But where most people probably got their first glimpse of Chris Pratt in his true comedic form was in NBC's "Parks and Recreation" as the lovable goofball Andy Dwyer. Fun Fact: Andy was supposed to be a temporary guest character in the show, but Pratt's portrayal of the character landed him a regular role!

And yes, he's just as funny out of character too, as we learned when we visited the set of "Parks & Rec" and sat down with him and his castmates!
Pratt continued to play roles in feature films like Zero Dark Thirty, Moneyball, and Her. Pratt then got in shape (even though we all loved him just the way he was!), and became Peter Quill for a movie that basically took over the 2014 box office.

We got to see Chris's transformation firsthand when we chatted with him at last year's Comic-Con, along with a couple of his Guardians co-stars:
Since then, we've found out that Pratt is much more versatile than we all realized. He has amazing dance moves, he can braid hair, and he can rap all the lyrics to Eminem's "Forget About Dre". He is hilarious, he's sexy, and he's married to Anna Farris. And if you caught the season premiere of SNL, you saw what a cute couple they are!

And he's not slowing down any time soon. Pratt will be starring in the fourth installment of the Jurassic Park series,Jurassic World.

So if anyone's having the best 2014 so far, it's Mr. Chris Pratt. Keep doin' what you're doin', Chris, cuz we're loving every minute of it!
(Photo via WENN)
- Amanda Baltazar, YH Staff