The True Horror of Jordan Peele's 'Get Out' Lies in its Relevance
Written by Sarah Osman. Published: March 01 2017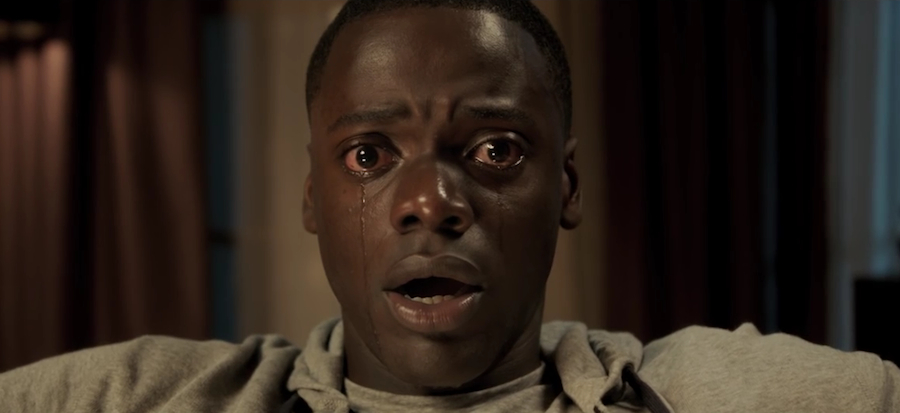 Jordan Peele's biting horror/satire Get Out is not your traditional horror film. There are hardly any jump-scares, the blood and gore is quite limited, and the main character is actually smart -- a welcome change from most horror films. The film's horror lies in its slow-burning moments of psychological terror, similar to the master of suspense,Alfred Hitchcock. Combined with the film's obvious nod to The Stepford Wives, Get Out isn't just out to make audiences jump -- it's designed to make them think (which, for many, is a for more horrifying prospect).
The opening moments of Get Out, an unarmed black man is strangled to death on a cold, deserted suburban street. These images are sure to invoke the death of 17-year-old Trayvon Martin, whose cold-blooded murder helped to inspire the #BlackLivesMatter movement and shed light on how systemic racism still reigns. Watching the film, one can't help but be reminded of the numerous black lives that have been lost due to a white person not "liking the way they look". While the opening scene is meant to terrify the audience and remind them that this is indeed a horror film, the true horror is the reminder that, if you're black, you are still not welcome in many neighborhoods.
The plot ofGet Out is quite simple: a young Brooklynite named Chris (Daniel Kaluuya) goes upstate with his white girlfriend Rose (Allison Williams) to meet her "WASP-y" parents. He worries that they may judge him for being black, but he is quickly reassured by Rose's father (Bradley Whitford), who states he would have "voted for Obama for a third term" and acknowledges how uncomfortable it is that they have black servants. However, something is amiss with the family's groundskeeper and maid (Marcus Henderson and Betty Gabriel), who never stop smiling... Rose's brother is also quite eerie as he demands to know if Chris likes UFC and has ever been in any fights. Chris becomes worried, but doesn't truly begin to panic until his family hosts a get-together and he is bombarded by aging white folks who ask to see his golf swing, feel his muscles, and proudly states that "black is the new cool."
The get-together is without a doubt the funniest scene in the film, as Chris tries to politely navigate the territory. Their awe over Chris is downright embarrassing, and the scene becomes even more bizarre when Chris meets Andrew (Lakeith Stanfield), whom he once knew back in Brooklyn but is now dressed like a knock-off Jay Gatsby. He is also on the arm of a white woman 30 years his senior and doesn't seem to understand Chris's alarm. Clearly a satirical look on whitewashing and white America's fascination with black culture, this scene is the most poignant in the film, as it connects back to the idea that, while white Americans love black culture, that doesn't mean they love black people.
I don't want to give away too much of the horror part of the film, as it unfolds rather like a mystery. Some of the film's cinematography is not only creepy but downright impressive, and Chris is a sympathetic and easy character to root for. However, the best character by far is his loyal best friend, Rod (Lil' Rel Howery). Rod's rants about Chris's predicament are great, ranging from the idea that "white people love to make black people into sex slaves" to that, as a TSA agent, he deserves more respect. In addition to Howery's brilliant delivery, Rod is simply a caring friend; we all want someone to have our back the way that Rod does for Chris.
Get Out is the ideal horror/satire of the our current age. It's a harsh yet humorous look at the racial issues that still confront America, similar to the sketches made by Peele andKeegan-Michael Key in "Key and Peele". If this is Peele's first venture into horror, then I'm ready for Part II.
(Image via Universal/YouTube)
- Sarah Osman, YH Contributing Writer