The Top Ten Best Lines from the Justin Bieber Roast!
Written by Nicole Koch. Published: March 31 2015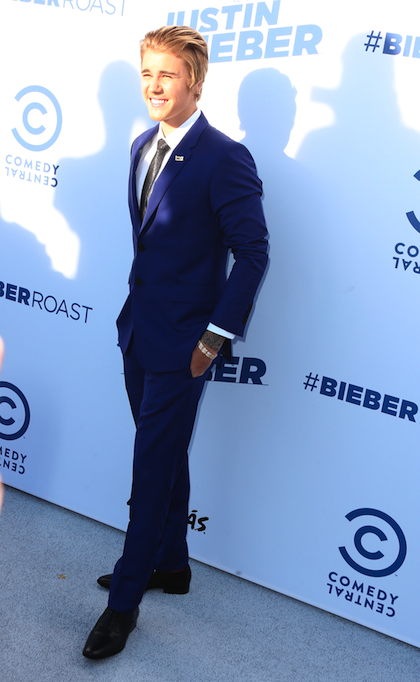 Did you guys SEE the Justin Bieber Roast last night on Comedy Central? If you didn't, then you aren't living.
The hour-long episode was pure comedic genius, with a panel of roasters that included Kevin Hart as the Roast Master,Jeff Ross, Natasha Leggero,Pete Davidson, Martha Stewart (I know, random, but she killed it), Shaquille O'Neal, Snoop Dogg,Ludacris, Chris D'Elia,Hannibal Buress, and even Ron Burgandy! There were SO many oh-my-gosh-did-they-really-just-say-that moments, and a lot of the time I was shocked they even went there. But I have to say, out of all the roasters, Biebs did the best. His jokes were hilarious and didn't push too far over the boundary lines. Out of all of the LOL-worthy liners of the night, I've picked my top ten faves:
10. "Martha, do me a favor and put your ankle bracelet on vibrate so we don't have any problems on the show." -- Kevin Hart
9. "Kevin has a Napoleon complex. Kevin, Napoleon was the leader of France. Ludacris, France is in Europe. Justin, Europe's a continent. Shaq, a continent is not a free breakfast." -- Natasha Leggero
8. "Selena Gomez couldn't be here tonight. Just because she didn't want to be here." -- Kevin Hart
7. "You need to settle down, bring some balance into you life and find a nice gal. Someone on your level, someone powerful and rich, someone you can smoke with, have a three way with, someone who's a player in the boardroom and a freak in the bedroom. My final piece of advice is, call me!" -- Martha Stewart (to Biebs)
6. "You gotta give it up for Justin. He started from the bottom and he's still a bottom." -- Hannibal Buress
5. "Is it true you dumped [Selena Gomez] because she grew a mustache before you?" -- Jeff Ross
4. "I know I've been driving recklessly, getting arrested, smoking weed, abandoning monkeys and urinating publicly, but my biggest regret is plowing my Maserati into Jeff Ross's Saturn in the parking lot. And Jeff, I feel really bad, because I don't know where you'll sleep tonight, man." -- Biebs
3. "Luda[cris] and I had a lot of hours making the song "Baby" together. In fact, he told me it was the only baby he made on purpose." -- Biebs
2. "What do you get when you give a teenager $200 million? A bunch of has-beens calling you a lesbian for two hours." -- Biebs
1. "Before I go, I want to thank everyone for tonight. This roast was a dream of mine. I especially want to thank all of my fans and everyone watching at home. I turned a lot of people off over the past few years, but I know I can still turn out good music and turn everything around. You have my word, I will not end up broken, pathetic, bitter, or sitting on the stage of someone else's roast. Let's get serious for a second. There was really no preparing me for this life. I was thrown into this at 12 years old, and didn't really know what I was getting myself into. There's been moments I'm really proud of, and a lot of moments I look back and I'm pretty disappointed in myself for, but the things that I've done really don't define who I am. I'm a kind-hearted person, who loves people, and through it all, I lost some of my best qualities. For that, I'm sorry. But what I can say is, I'm looking forward to being someone that you guys can all look at and be proud of. Someone you can smile at and see some of yourself in. Someone once said, 'Its how you rise from a fall that truly defines you as a man.' I'm excited for that challenge, and I want to say thank you so much for taking this journey with me. I'm excited for you to see what's next. Thank you, God, for your grace and never giving up on me." -- Biebs
Awwww, Justin! What a great way to end the show. These are just SOME of the lines where I nervous-laughed-out-loud because they were SO harsh and inappropriate. Watch the entire roast on Comedy Central to see ALL of the extremely uncomfortable jokes!
(Photo via FayesVision/WENN)
- Nicole Koch, YH Staff