The Top 10 Most Iconic Musical Moments from "The O.C."!
Written by Caroline Thayer. Published: July 15 2015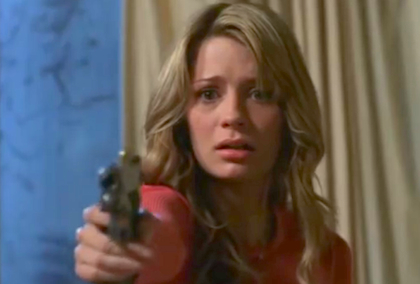 The year was 2003. Television was missing a hot, dramatic, soapy show with the right amount of quick-witted humor, edgy music, and a lifestyle people craved to win over a younger audience and become a hit sensation over night.
So "The O.C." happened. A show based upon the lives of teenagers and their parents in Orange County, specifically Newport Beach, "The O.C." became one of the first television shows to define the term "fangirl", with thousands of screaming fans worshipping the young stars of the fun new teen drama within a matter of weeks from the first episode premiering.
The show recently celebrated its 10-year anniversary from when it first premiered, which only fueled many people's desire to have a reunion amongst the cast and producers. Over the years, we have seen mini-reunions and odes from the stars to their "O.C." days, but with the new announcement that the hit show is being turned into a musical, we might be hearing from the original cast soon.
It was recently announced that Autumn Reeser, the actress who portrayed Taylor Townsend on TV, is joining the previously announced stars (Drew Seeley, Molly McCook, Rick Cosnett, Brendan Robinson, Tilky Jones, Christine Lakin, Greer Grammer, and Jarett Wieselman) on stage; however, she won't be resurrecting her role as the over-zealous, over-achiever, Townsend. Instead, Reeser will be playing the role of Julie Cooper (originally portrayed by Melinda Clarke), the highly dramatic and manipulative mother to the show's lead, Marissa Cooper.
With my favorite television show being retold in musical form, I thought it was only appropriate to give you my top ten musical moments that appeared throughout the four seasons of the show. This was incredibly challenging, as "The O.C." is notoriously known for using music to help tell the story and launch the careers of many then-unknown artists at the time!
10. "I'm Shakin'" by Rooney (Season 1, Episode 15)
Thank goodness "The O.C." introduced me to Rooney, as they have become one of my favorite bands. This moment, while brief and a little silly, always makes me laugh. How horrible of a singer is Luke? Seth's reaction is priceless. In actuality, this song is pretty cool, so search for the whole track when you finish watching!
9. "For the Widows in Paradise, for the Fatherless in Ypsilanti" by Sufjan Stevens (Season 3, Episode 15)
Say that song title ten times fast! Though Johnny Harper was one of my least favorite characters to ever visit "The O.C.", his funeral was incredibly tragic, and the song, along with the acting, created a poignant moment for television. Sufjan Stevens is one of my favorite artists, so that definitely helped put this moment on my list.
8. "Honey and the Moon" by Joseph Arthur (Season 1, Episode 1)
OMG… Can Ryan not leave? Does anybody else remember this heartbreaking moment from the series' first episode when Ryan and Marissa stare at each other through the windowpanes of Sandy's car (foreshadowing the Season 1 finale) after Ryan basically saved Marissa from sleeping on the pavement of her driveway?
7. "If You Leave" by Nada Surf (Season 1, Episode 21)
Okay, so we all know Summer and Seth were meant for each other, but I definitely got a little emotional when Anna and Seth said goodbye to one another in the airport. Don't tell me you weren't shedding a tear when Anna said, "Confidence, Cohen." Obviously the music complimented this somber moment.
6. "Running Up That Hill" by Placebo (Season 4, Episode 1)
No need to watch the first 15 seconds!!! I don't acknowledge what happened in the season 3 finale. #DENIAL Season 4 started out with an obvious aura of sadness and despair. We see Ryan and Julie in pain, and we can't imagine any other song complimenting the mood of how people are feeling 5 months after the dramatic events of season 3's final episode.
5. "Something Pretty" by Patrick Park (Season 1, Episode 20)
"Acknowledge me now, or lose me forever." One of the most iconic lines in the entire "O.C." series. I really can't handle Summer when she says "I'll IM you later." The music, with its Hawaiian vibes, captures the romance and spontaneity of this moment between these lovebirds.
4. "Forever Young" by Youth Group (Season 3, Episode 4)
Ryan and Marissa are my all-time favorite couple. "Forever Young" has now become one of my favorite songs. Everything about this moment screams perfection. How cute is it that they have theirown song?
3. "Hide and Seek" by Imogen Heap (Season 2, Episode 24)
Say what you want about this moment, with all the spoofs, memes, and parodies that have sprung from this "O.C." episode, but this is one of the best musical accompaniments to film that has ever graced the television screen. "Mmm watcha say" was put on the map because of this crazy moment between Marissa, Ryan, and Trey.           
2. "Hallelujah" by Jeff Buckley (Season 1, Episode 27)
This is what I was alluding to in #8! The montage is a series of transitions for all the characters -- Ryan moving back to Chino, Seth leaving Newport abruptly, Marissa moving in with her mom and Caleb, and the Cohens realizing what their home will be like without Ryan in it. So much sadness. Only "Hallelujah" could pull this moment together.
1. "Dice" by Finley Quaye & William Orbit (Season 1, Episode 14)
So I have made it pretty obvious that Ryan and Marissa are my favorite couple. Of course this is my all-time favorite episode and moment throughout the whole show. And naturally, the episode is titled,"The Countdown". Ryan making it just in time to kiss Marissa before midnight and finally telling her that he loves her... gets me every time! Swoon.
You can see the musical on August 30 at Sterling's Upstairs (in the Federal Bar) located in North Hollywood. It has also been reported that the producers are trying to figure out how to showcase this musical to those who do not live in California! Let's hope that happens.
Writing about "The O.C". makes me want to go back and watch the whole series for the billionth time RIGHT NOW! I'm sure you all have your favorite moments from "The O.C." too, so tweet them to us @younghollywood!
I hope you're just as excited as I am to see The Core Four and their parents, live, in musical form, as I am!
(Screenshot via YouTube)
- Caroline Thayer, YH Staff