"The Simpsons" Pulling Out All the Stops for Season 26
Written by Kevin Donaldson. Published: July 22 2014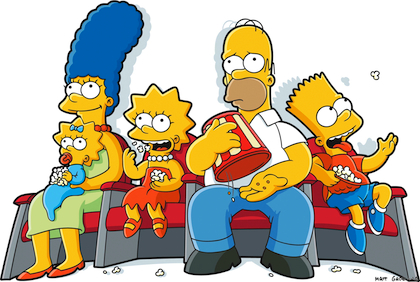 For 26 years,Matt Groening's "The Simpsons" has graced our television sets on prime time and in syndication. Think about it… If the show were a person, they could rent a car! This year, the creative minds behind the "The Simpsons" have more in store than they ever have had before. From concerts at the Hollywood Bowl, a new fully searchable streaming website, a crossover special with "Family Guy", and even the death of a favorite character at the season premiere on September 28, Season 26 already looks like one of the most eventful seasons for "The Simpsons" in recent memory.
To get things started, I think it's safe to say we all know the theme song to "The Simpsons" by composer Danny Elfman, but what many of us may not have realized is that, after 26 years of airing on television, there's a lot of other music that has been scored for the show. Hank Azaria (long-time "Simpsons" voice actor) is hosting a three-day orchestral concert event at the Hollywood Bowl, playing all the music composers have scored for "The Simpsons" over the years. Cowabunga, dude! That's going to one helluva long concert with all that music. The concert will be held on September 12, 13, and the 14. That's a whole weekend, for those of you without a calendar handy.
Sources have confirmed from long-time executive producer, Al Jean, that "The Simpsons" will be going digital with a new, fully searchable website via Fox affiliate FXX. The new website, called Simpsons World, will provide authenticated FX viewers with complete access to every episode of "The Simpsons" via their iPhone, iPad, Xbox One, Xbox 360, Android phone, Android Tablet, and Smart TVs. No specific word on if your Roku or similar set-top devices will work with the site, but in this day and age, I don't see why not; however, it does not look like PS3 and PS4 users will have access. At any rate, this will prove to be a great tool for "Simpsons" fans. Aside from DVD box sets and Hulu only providing clips from classic episodes, fans are limited to only syndication to view classic episodes, and as a result don't have a choice in which episode they want to watch. The streaming website is due to go up sometime in October.
Since it came on the air in the '90s, "Family Guy" couldn't help but attract comparisons to "The Simpsons". Both are Fox shows that air on Sunday nights, and both are about cartoon families with a stay-at-home mother and a fat, lazy, TV-obsessed, vaguely alcoholic father. Outside of those comparisons, the shows pretty much stop being similar, but nonetheless one cannot help but point out the similarities. Well, after about fifteen years (give or take because "Family Guy" was off the air for a while), the folks at "Family Guy" have decided to team up with the people at "The Simpsons" for an inevitable crossover episode, something we don't see too often these days. The episode is set to air as the hour-long season premiere for "Family Guy" and will see the Griffins taking a wrong turn on vacation and ending up in Springfield, at the Simpsons' front door. Not much else is known about the crossover event as of yet, other than the fact that Homer believes the Griffin family to be a pack of albinos.
Finally, "The Simpsons" own season premiere is rumored to involve the death of a "favorite" character. This wouldn't be the first time either. The show's most prominent death occurred way back in Season 11, fourteen years ago, when Maude Flanders was killed at a sporting event by a T-shirt gun. But who could be taking a dirt nap this time in "The Simpsons" universe? I honestly don't know, but I wouldn't be surprised if it's everybody's favorite chain-smoking, alcoholic and drug-addicted clown, Krusty the Klown. Krusty is one of my favorite characters on "The Simpsons", but I think his number might be up due to the countless years of abusing his body. With that said though, for all I know he could be "The Simpsons" version of Keith Richards and will live on well past everybody else on this planet.
How about you? Are you excited for all these different things "The Simpsons" are trying out this year?
(Photo via WENN)
- Kevin Donaldson, YH Staff