"The Queen's Ball" Pop-Up Experience a Must For Any "Bridgerton" Fan!
Written by Katie Marzullo. Published: April 04 2022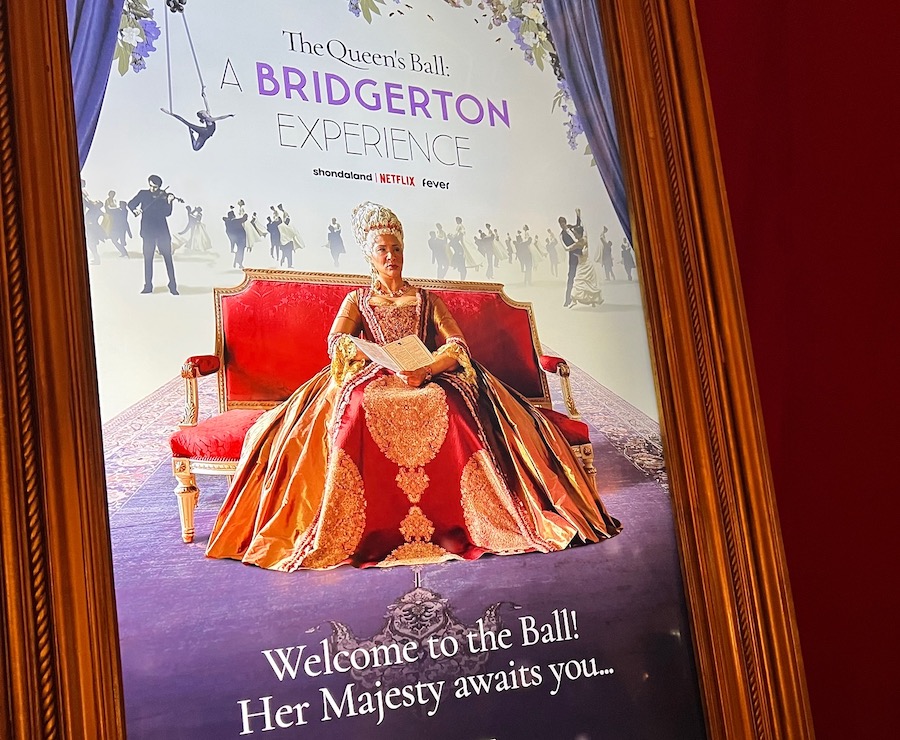 Are you a diehard fan of "Bridgerton"? Have you ever dreamed of attending a Regency ball? Or being the Diamond of the Season? Or getting to present yourself to The Queen? Or simply just basking in the vibes of The Ton?
If you answered an emphatic yes to any of those questions, then you're in luck because Netflix and Shondaland have teamed up with Fever events to bring you the pop-up event of the season – The Queen's Ball!
Taking place in 4 cities around North America (Washington DC, Los Angeles, Chicago, and Montreal), "The Queen's Ball: A Bridgerton Experience" is just what the doctor ordered to fulfill all your high society fantasies. I was able to catch this show this past weekend, and it was truly transcendent!
Taking up two entire ballrooms (and some adjacent nooks) in the Millennium Biltmore Hotel in downtown L.A., the experience starts with a fully immersive experience, featuring formal stewards handing out the latest copy of Lady Whistledown's scandalous gossip newsletter and a gift shop where you can purchase Bridgerton-themed odds and ends.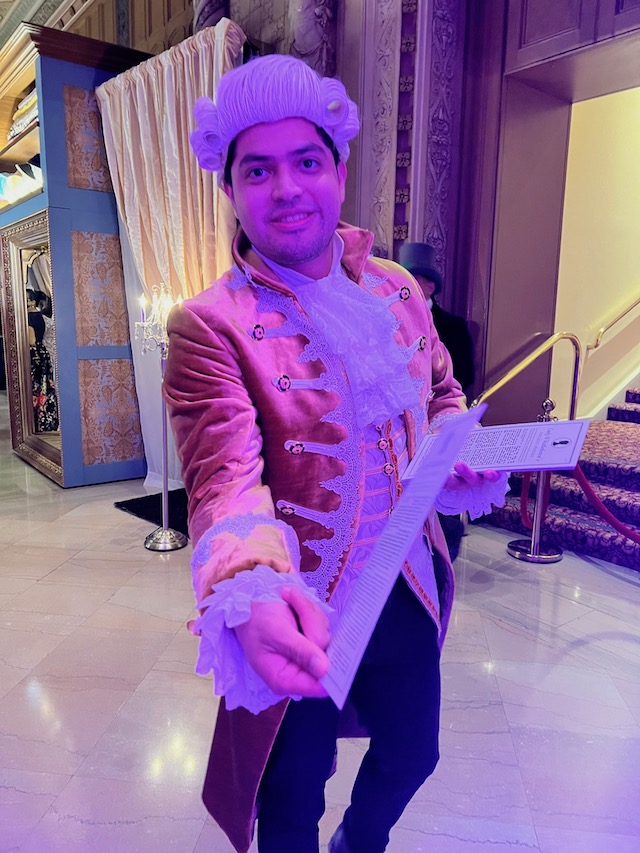 As you make your way through the corridor, you can goggle at some of the luxurious costumes from the show on display while also marveling at the fits worn by the attendees. Guests are encouraged to dress in their Regency best – or any splendid formal gown from any era, or at the very least a fancy headpiece. And let me tell you, the folks in attendance the evening I went took that very much to heart! It really does enhance the experience when everyone plays along, so if you're thinking of buying tickets, my advice would be: even if you own nothing Regency-related, just dust off your old Prom gown and go to town!
The experience also features some interactive and Insta-worthy opportunities, including photo opps and a station where you can "paint" your own portrait. There is even a cute little outdoor seating area if you need some fresh air from "the vapors".
The night kicks off in earnest when Her Majesty herself, Queen Charlotte, arrives to receive any eligible young ladies and gents who are bold enough to present themselves to her! But be warned – the subtlest cues from her could make or break your place in society! Among those being presented to the Queen is the very fetching (and very eligible) Sir Wilfred Mondrich, who shoots his shot with an extremely lively dance before teaching attendees how to cut a rug Regency-style as well.
Soon, the Queen deems it's time to pick a Diamond of the Evening, but she will need to observe everyone's skills before she can make an informed decision. It's at this point when we all retire to the next ballroom, where the live orchestra provides the soundtrack to our evening. It is here that Sir Will spots his love-to-be, and they take to the dance floor in a swoon-worthy display of courtship!
Once they have consummated their love for all to see, the Queen declares that she is ready to choose the Diamond of the Evening, who is celebrated with thunderous applause and a glitter bombing. The Queen then takes her leave, and the DJ fires up the Beyoncé, and the whole affair really does feel like Prom all over again!
The whole experience is about 90 minutes, so you won't have to suffer long in those tightly-laced corsets but you will definitely get your "Bridgerton" fix!
The Los Angeles pop-up just opened and will continue through the summer; the Chicago pop-up opens later this month; tickets for the DC and Montreal experiences are currently on sale. Click here for more info!