The OG Steve McQueen to Get His Own Biopic!
Written by Kevin Donaldson. Published: March 24 2015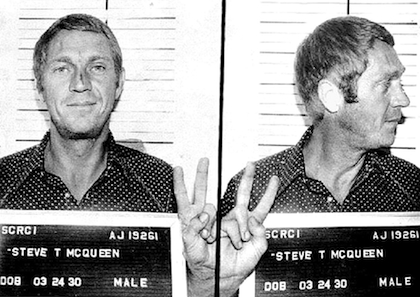 Who could've seen this one coming? A Steve McQueen biopic is already in the works? But it feels like he only just won an Oscar for 12 Years a Slave, and only justcreated his first television show, "American Crime", on ABC. Sure, he's got some great things under his belt and has been knighted, but at age 45 has he really done anything that would warrant having a biopic already? Clearly he's great at capturing amazing stories of other people's lives, as we saw in Hunger and 12 Years a Slave, but I'm just not sure that… Oh. It's notthat Steve McQueen. It's Steven McQueen. My bad.
Steven McQueen is a young actor known for his starring role in the CW series "The Vampire Diaries" as Jeremy Gilbert and the role of Jake Forester in Piranha 3D. At the age of 26, it's crazy to think that he as amassed so many life achievements that need to be put on screen, but, hey, that's Hollywood for you. Since McQueen is so young, who could possibly play him? Is it really too far out of the realm of possibility that McQueen could play himself? Entirely. In this case, I think Zac Efron would be perfect for the role as the year-younger McQueen. Why do I say this? It's obvious that Zac Efron captures the essence of what it is to be Steven McQueen better than Steven McQueen can. Hear me out. This is going to be a doozy, but first off let's start talking about Efron's eyes. Anybody could get lost in those for days, weeks, even years. There's something magical in those eyes and…
What? It's the wrong McQueen again?? Who the hell are we even talking about then? Oh, it's Steven McQueen's grandfather,Steve McQueen. Duh! How could I forget this Hollywood legend?
If you don't know, McQueen is one of those special actors from back in the day that could only be labeled as Hollywood royalty. He starred in such famous movies as The Magnificent Seven, The Great Escape, The Towering Inferno, and The Sand Pebbles, the latter for which he received an Academy Award nomination. McQueen also starred in the movie Bullitt, which The Exorcist director William Friedkin recently told me is "the greatest cop movie of all time" when I met him. (How's that for a name drop?) But anyway, McQueen lived a pretty extraordinary life. He led the standard of "men want to be him and women want to be with him." He is even said to have done a lot of his own stunts, including car chases, as he was an avid car collector and racecar enthusiast, among other high-octane sports.
Eventually, his literal fast lifestyle caught up with him and he caught pleural mesothelioma from asbestos exposure, which he died from in Mexico. The exposure is believed to have been accumulated from his racecar suits, helmets, and the shoddy conditions of movie studio soundstages back in the day. No matter what, though, this man has gone down in history as one of Hollywood's greatest badasses and is now said to have his story told on his old place of business, the big screen.
The question stands, though as to what actor will play the acting legend. Reports have said that Channing Tatum andRyan Gosling have been in talks, but I'm not quite sure I'm up for either of those guys to play him. Nothing against either of them, and Drive may put up a good case for Gosling, but I think Daniel Craig would be perfect for the part. Sure, Craig might be 47, and he would definitely have to lose that weird speech impediment that people claim is a "British accent", but if that theory that all celebrities are actually vampires or some other immortal beings is true, then Craig is the best example. I mean, look at the two. They look exactly the same, and pretending to be British is the perfect cover up. When you put on a silly accent, then people will believe you are whoever you say you are. (I'm onto you, Mc-Craig-Queen.) Another actor that I think could be pretty good after seeing Rush isChris Hemsworth, and if Ron Howard ends up directing this, then forget about it, Hemsworth will be a lock. Some others could be Mark Wahlberg or even Chris Pratt, just because that guy is in everything these days.
Now that you know some more about the original Steve McQueen, how about checking out some of his movies? To get you started, check out the car chase scene from Bullitt. It's considered one of the best car chase scenes ever made, and, remember, this was at a time where they actually had to do everything you see on screen. During this time, computers were bigger than a studio apartment and their most advanced function was long division. No CGI trickery here, folks:
(Photo via WENN)
- Kevin Donaldson, YH Staff