Hollywood Adjusts to Peter Dinklage, Not the Other Way Around!
Written by Kevin Donaldson. Published: March 23 2015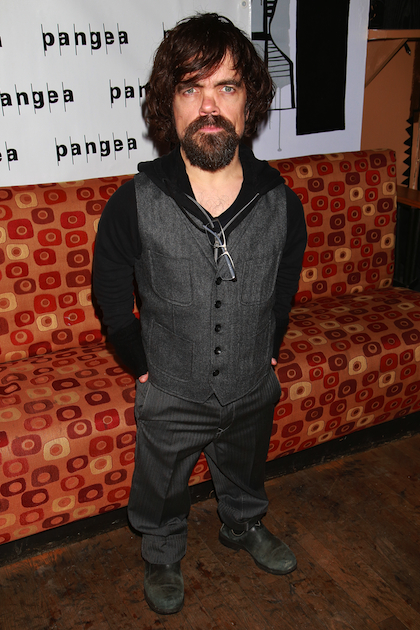 Peter Dinklage is a hot commodity these days in entertainment. His portrayal of the too-smart-for-his-own-good Tyrion Lannister on HBO's "Game of Thrones" has set a standard for himself as one of the premiere badasses in Hollywood right now. There's nothing wrong with that, right? Right! We love seeing Dinklage being able to put lesser people in their place, especially since somebody of his height has usually been the one subjected to that in the past. Now Dinklage is said to be starring alongside Christian Bale and Rosamund Pike in a film adaptation of The Deep Blue Good-by, which could be a potential franchise as there as 21 books in the series (take that,George R.R. Martin).
In this film, Dinklage will play the role of a salvage consultant, meaning he and Bale will work to recover people's property in various ways that aren't always legal. Throughout their adventures, Dinklage and Bale will get into trouble, fight bad guys and have copious amounts of promiscuous sex with strangers. Does a lot of this sound familiar? Well, Dinklage is also set to star as a bounty hunter in a movie called The Thicket. In it, he must track down a kidnapped girl by entering a lawless region of the world called "The Big Thicket". Dinklage's character is described as being the "grave-digging alcoholic son of an ex-slave and a street-smart prostitute", who also gets into trouble, fights bad guys and has copious amounts of promiscuous sex.
All these roles where Dinklage plays the man that a lot men wish they could be, makes me wonder what some other movies or shows would've been like if Dinklage were cast instead. Both the movie and TV show for "Miami Vice" would've been greatly improved by having Dinklage play either of those cops. Especially in the movie when Jamie Foxx takes that weird trip to Cuba to sip mojitos and rub that woman's thighs. (Like, I don't know what rubbing her thighs means… Really I don't. Leave a comment below and tell me.) If Dinklage were cast as Hank Moody in "Californication", not only would it have made the show better and more action-packed, it would have also made it more believable. Finally, can we all agree that Dinklage just needs to be in something where he has a buddy? Can there be a buddy action flick where Dinklage caps some goons like a gangster and has a sidekick, like Channing Tatum, who seems like he can handle himself, but at the end of the day is always going to need to be saved by Dinklage? Also, whenever a ninja would come out flailing nun-chucks around and Channing would cowardly tell Dinklage, "You got this one, buddy."
So, if any of Dinklage's upcoming roles makes you think he's getting typecast, I've got one thing for you: Who cares? He's a little person and he's getting the girls, kicking butt, and taking names, so stop being so sensitive. He does a lot of great things dramatically and will continue to. His role as Tyrion isn't his only one like this. Watch The Station Agent sometime:
Crazy how young he looks there. But, point and case. Dinklage has range as an actor and will always be recognized for that, so look out for more different roles in the future. Until then, check out Tyrion's most drop-the-mic moment of "Game of Thrones":
(Photo via Joseph Marzullo/WENN)
- Kevin Donaldson, YH Staff