The Odd Couple 2013: Kelsey Grammer & Martin Lawrence?
Written by Katie Marzullo. Published: January 04 2013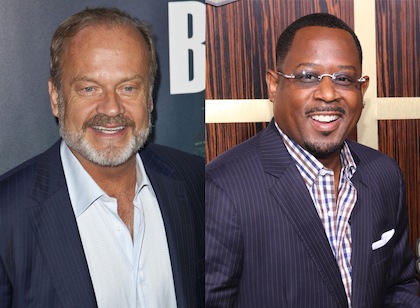 "Hey Frasier, WASSUUUUUP?!"
(Alternatively: "Go ahead, Martin, I'm listening.")
If a recent Deadline report is true, then we might be getting an historic meeting of two classic TV radio DJs – that is, Kelsey Grammer and Martin Lawrence. The television vets are reportedly in talks to pair up for an "Odd Couple"-like multi-camera sitcom, bringing together a couple of '90s TV powerhouses.
Let's face it – Grammer hasn't exactly found his groove back on the boob-tube since retiring his classic character, Frasier Crane, after 20 years with the bowing of his Emmy Award-winning sitcom, "Frasier". He gave it a go with the short-lived comedies "Back To You" (17 episodes) and "Hank" (9 episodes) before landing what looked to be his triumphant return to the small screen with the drama "Boss" – but alas, despite heavy critical acclaim, that barely lasted 2 seasons. And it is a shame; despite how you may feel about Grammer as a person in real-life, his talent can't be denied, and I for one am anxious to see him settle down into another great weekly comedy series.
As for Lawrence, he's pretty much been sticking exclusively to cinematic endeavors as of late, taking the leap onto the big screen after 5 seasons on his hit TV show, "Martin", and nary looking back. However, from what we understand, Lawrence and Grammer attended a meeting with Lionsgate TV to discuss the potential project, and upon seeing their terrific chemistry, the company was eager to move forward with developing the show.
I won't lie – if this is true, then I am crazy excited. "Frasier" is one of my favorite shows of all time, and although I never watched "Martin", Lawrence has tickled my funny bone in flicks like Nothing To Lose and Welcome Home, Roscoe Jenkins. The idea of these two guys together on-screen is definitely wrought with possibilities. I'm sold!
Would YOU watch a sitcom starring Kelsey Grammer and Martin Lawrence?
(Images via WENN)
- Katie Marzullo, YH Staff Editor