The Newest Trend in Late-Night: A More Worldly View
Written by Kevin Donaldson. Published: April 07 2015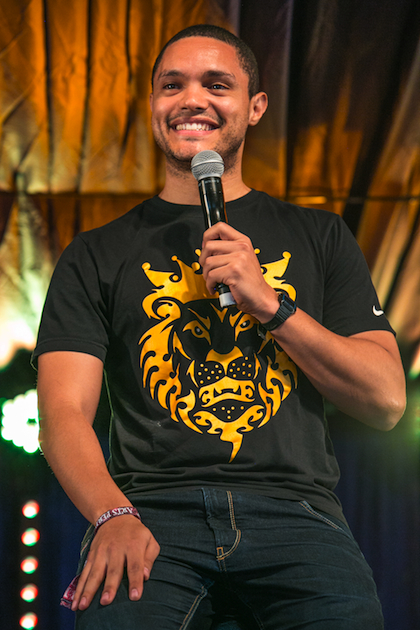 We have an epidemic on our hands, folks. Our talk shows are being taken over by foreigners!!!!! First, it was that British guy Piers Morgan talking over for American legend and walking monument Larry King; following him was that other British guy John Oliver, who, after filling in forJon Stewart on "The Daily Show", got his own fake news show on HBO called "Last Week Tonight with John Oliver"; then it was that other other British guy, John Corden, taking over for that Scottish guy Craig Ferguson, who took the "Late Late Show" duties from the red-blooded Craig Kilborn. To top it off, this invasion of foreign television talk show hosts hasn't ended with Corden. Now, a South African comic named Trevor Noah is taking over Stewart's spot on "The Daily Show" indefinitely… When will this end?!
Well, hopefully never. This invasion of foreign (mostly British) talk show hosts seems to be working for the moment. I, for one, warmly welcome Noah to "The Daily Show". Sure, he's only been on the show since October of last year, but he was hand-picked by Stewart himself and has his blessing, which is more than all of the successful names above got from their predecessors. America is a country of diversity, so it's only logical that we see more people of different backgrounds on late-night television.

Why does it work? In the case of somebody like John Oliver, who came to this country for entertainment opportunities, being an outsider probably helped him to see just how weird America is. He has shown, week after week on his HBO show, that he gives us a perspective that, perhaps, we never thought of before, but when the other shoe drops, he'll get a good amount of people to agree with him. I think that Noah is being brought in for a similar reason. There's something that Stewart obviously saw in both of these guys, and with Oliver's recent success, he's 1 for 1, which is pretty good in my book. If you haven't seen Trevor Noah on the show yet, check out his first appearance:

I love Jon Stewart, but I can't wait to see what Noah is going to bring to the table. There's no official word yet as to when Stewart is retiring, but one can hope that he's going to make the upcoming 2016 Presidential Election his final stand on "The Daily Show". Until then, let the flaw in my theory of foreigners taking over our late night television talk show sink in when thinking about how, instead of Craig Ferguson taking over for David Letterman, Stephen Colbert is. (Miss you, Craigy Ferg.)
Now, let's see if we can get a woman to host one of these shows finally!
(Photo via WENN)
- Kevin Donaldson, YH Staff