The New Trend in Movie Trailers?
Written by Kevin Donaldson. Published: December 17 2014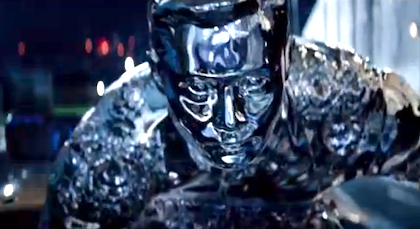 Less than a month ago, Jurassic World posted a 16-second teaser trailer promoting the Thanksgiving Day premiere of their first full length trailer. Of course they ended up releasing the trailer on the Internet before Thanksgiving, but still, this 16-second trailer may have started a new trend.
In case you missed it, Terminator Genisys released their own 16-second teaser trailer to promote the release of their full length trailer. Take a look below:
As you can see in the beginning, it said "Tomorrow He Is Back". Tomorrow, the people behind Terminator Genisys did just that and released a trailer for the upcoming film on the Internet. Since you saw the teaser, now watch the full trailer:
What does this mean for the future? With services like Netflix producing award-winning original content, the way we watch TV and movies has definitely changed… Does this mean the way we watch trailers has changed as well? Do movie companies really care about how many views their trailers get on the Internet rather than on broadcast television? There is a strong possibility of all of that. It's only been two trailers, but by the time Summer 2015 rolls around and all the big blockbusters get released, how many 16-second teaser trailers will we have by then?
I'll answer that previous question for you… a buttload! If you want to know who won't be having a trailer like that, I can tell you The Avengers: Age of Ultron won't. They've already given fans an entire scene to accompany their full-length trailer:
All I can tell you blockbuster movie fans out there is to keep your eyes peeled on the Internet. You never know when a 16-second trailer will pop up with instructions for when and how to view the full-length trailer for that movie you've been dying to see.
(Screenshot via YouTube)
- Kevin Donaldson, YH Staff