The New Trailer For 'Mary Poppins Returns' Just Dropped and We Are So Ready For Another Jolly Holiday!
Written by Brooke Sharland. Published: September 17 2018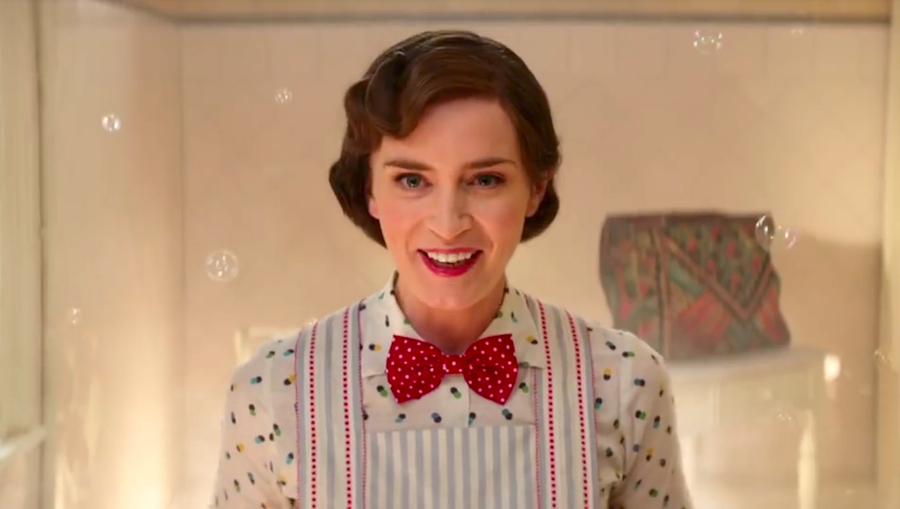 If you grew up loving the 1964 Julie Andrews and Dick Van Dyke classic, Mary Poppins, then get ready for this all new 2018 sequel. That's right, contrary to popular belief, this film will NOT be a remake of the beloved tale, but rather a sequel to the original film. And it looks like Mary is ready to look after the Banks children -- now adults -- once again…

The film takes place 25 years after the events that occured inMary Poppins, in 1930s London. It appears that the story will revolve around Mary returning to London (caught in an old kite that you may recognize) to help the Banks family once again. And while she's there to help the next generation of Banks children, she's also there to help Michael and Jane Banks (played byBen Whishaw and Emily Mortimer) as she once did all those years ago. From the looks of it, we can assume that Michael's wife has died and Jane has come back to help Michael take care of his three children (at least that's what we're hoping...unless they changed their last names to "Lannister"...).
With help from her friend Jack (Lin Manuel-Miranda), a street lamplighter, the duo bring the kids on incredible journeys and show them a magical world they never knew existed.
Emily Blunt stunningly captures the wit, charm, wisdom, and charisma of the timeless character of Mary Poppins. She reincarnates the role that Julie Andrews once brought to life, yet keeps it original and has her own take on the character.
The lineup of new characters for this sequel is stellar. We have Julie Walters (AKA Molly Weasley) as Ellen, Michael's housekeeper; Colin Firth as William Weatherall Wilkins, the current president of Fidelity Fiduciary Bank;Meryl Streep as Mary's cousin, Topsy; andAngela Lansbury as the balloon lady. We can't wait to see these all new characters come to life!
Not gonna lie, this trailer had me tearing up like no other. It brings back the nostalgia of childhood in such a new, fresh way. Not only that, but seeing a 92-year-old Dick Van Dyke stepping in time again had me CRYING. Van Dyke will be starring in this film as Mr. Dawes, Jr. (the son of Mr. Dawes, Sr, who was, in additon to Burt, also played by Dick Van Dyke in the original film), who is the retired chairman of Fidelity Fiduciary Bank, now run by Firth's character. Even though Van Dyke will be taking on a "new" role in this Mary Poppins film, I wonder if there will be any easter-egg references to our favorite chimney sweep, Burt…
The film is directed by Rob Marshall (Annie, Chicago, Into the Woods, and more!), with new music from  songs byMarc Shaiman & Scott Wittman.
Mary Poppins Returns flies into theaters (on her magic umbrella, of course) on December 19!
(Image via Walt Disney Studios)
- Brooke Sharland, YH Contributing Writer