Emma Stone Competes for the Queen's Favor in Film Fest Fave 'The Favourite'!
Written by Michael Gonzalez. Published: September 17 2018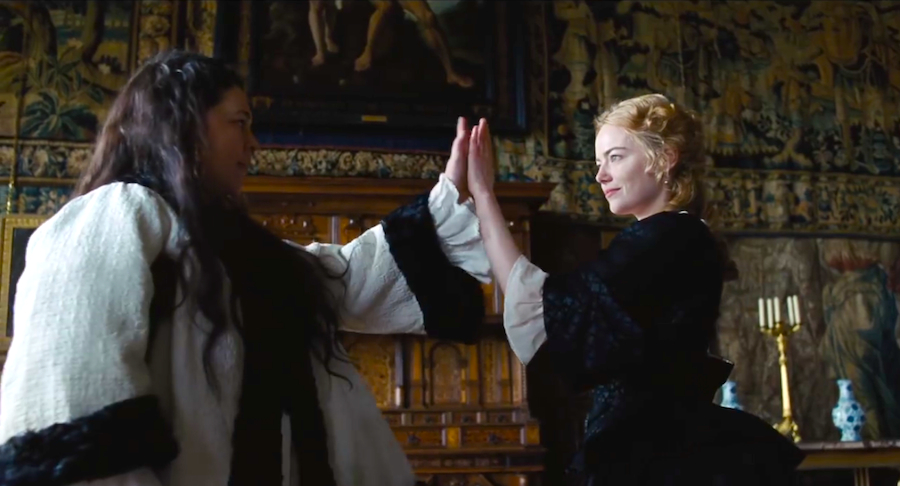 One of the hottest movies to come out of the film festival circuit this year is Yorgos Lanthimos's The Favourite, and a new trailer was recently dropped showcasing the bizarre period piece starring Olivia Colman, Emma Stone, and Rachel Weisz. Colman plays the early-18th century Queen of England, Queen Anne, with both Stone and Weisz's characters, chambermaid Abigail Hill and Sarah Churchill, the Duchess of Marborough, respectively, famously competing for her majesty's favor. The film looks to have the same quirky style found in Lanthimos's previous films The Lobster and The Killing of the Sacred Deer.
At the Venice Film Festival, the film was nominated for the prestigious Golden Lion award, which is given to the voted-upon best film at the festival. In addition, it also received a nomination for the Queer Lion award and ultimately won the Grand Special Jury Prize, which is considered to be the second place award behind the Golden Lion award. Its 91 score on Metacritic also ranks it in the top five best-reviewed movies of the year!
The Favourite has a lot backing up its hype heading into awards season. Many see it as a strong favorite (pun intended) to earn a Best Picture nomination at the Oscars, along with acting nominations for the dynamic trio of Colman, Stone, and Weisz. Lanthimos is also very much in the conversation for Best Director, and the screenplay will certainly earn some award recognition.
The film, which also stars Nicholas Hoult (Mad Max: Fury Road) and Mark Gattis ("Sherlock"), will hit theaters on November 23.
(Image via Fox Searchlight)
- Michael Gonzalez, YH Contributing Writer