The (Many) Highs & Lows of the 2013 Emmys!
Written by Katie Marzullo. Published: September 23 2013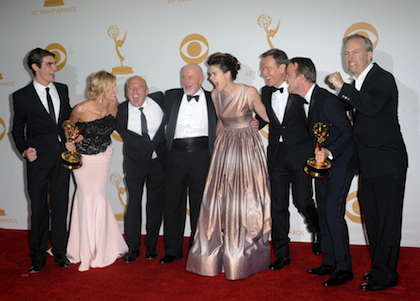 Is it just me, or were last night's Emmy Awards kind of a rollercoaster ride of emotions???
All I can say is, THANK GOODNESS Neil Patrick Harris was hosting, because when he wasn't singing and dancing and making us laugh for half of the show, the other half was dedicated to bumming us the hell out with extended tributes to TV stars who died over the last year, and they even threw in the Kennedy Assassination for good measure, in case we hadn't quite reached the lowest depths of melancholy.
Yes, it was indeed an unusual night at the Nokia Center, to put it plainly, and for a variety of reasons. In between bouts of joy and depression, there were moments of head-tilting confusion as we watched people like Merritt Weaver, Bobby Cannavale, and Jeff Daniels pick up some golden hardware whilst the likes of Bryan Cranston, Aaron Paul, and everyone from "Modern Family" walked away empty-handed. There was a moment of pride and elation when a woman (Gail Mancuso) became only the second female in history to win the award for Outstanding Directing for a Comedy Series ("Modern Family") followed by immediate disappointment when she gave a shout-out to misogynist summer anthem "Blurred Lines" in her acceptance speech. Then Elton John came out to sing a tribute toLiberace (not "Candelabra in the Wind", unfortunately), because of course you would do such a thing at an award show that honors TELEVISION.
But for all the head-scratchers, there were genuine moments of pure awesomesauce. Such as:
- My first-ever crush, Michael Douglas, winning Outstanding Lead Actor in a Drama Series for Behind the Candelabra and delivering the best speech of the night (sorry, Merritt, yours was cute but hardly inspiring!), in which he traded some brilliant double-entendres with co-star Matt Damon and then got extremely candid (as he is wont to do) by thanking his estranged wife, Catherine Zeta-Jones (who was not in attendance), for her support and stating how he hoped to see his eldest son,Cameron (who is in prison), very soon.
- Host NPH gets some unsolicited advice from other past Emmys hosts, such asJimmy Kimmel, Jimmy Fallon,Jane Lynch, and Conan O'Brien. Turns out, it was all in elaborate plot by the dastardlyKevin Spacey!!! (who needs to host the Oscars one of these days, for real…) Tina Fey and Amy Poehler, who hosted the Golden Globes earlier this year, also gave NPH some good-natured ribbing, cat-calling him from the front row to get his twerk on.
- In a rather brilliant tableau of the Old and the New, this year's winner of Outstanding Lead Actor in a Comedy Series, Jim Parsons, accompanies TV legend Bob Newhart to present an award, and the latter gets a LONG OVERDUE standing ovation from his peers after winning his FIRST-EVER(!!!) Emmy this year for a guest-starring stint on "The Big Bang Theory". Better late than never, I guess!
- Despite the fact that Bryan Cranston has won pretty much every award since taking on the role of Walter White in "Breaking Bad", the show itself has never been so honored. Thus, in an odd little switcheroo, Cranston was shut out from acting accolades but the show took home its first-ever Emmy for Outstanding Drama Series.Anna Gunn (a New Mexico native) was also finally recognized for her role as Walt's long-suffering wife. The show, and its stars, will be eligible one last time next year, so we'll see how that goes! At any rate, I'm happy for the show winning if for no other reason than I didn't know prior what any of these people looked like when they smile…
- Film, TV, and music legend Diahann Carroll throws some old-school shade at her "Julia" co-star, Lloyd Nolan, stating that the men on TV right now are way hotter than in her day. Geeeez. Good thing Nolan has been dead for almost 30 years…
- For the first time ever, the Outstanding Choreography award was handed out during the main telecast, and to celebrate, the nominees put together a really clever and intriguing tribute to the nominated shows with a dance performance that seems to have many split reactions this morning. Personally, I loved it. And kudos toDerek Hough for taking home the award itself – any avid follower of "Dancing With The Stars" can attest that his choreography skills are unmatched!
- Even though all the stars from "Modern Family" were snubbed from the acting categories, justice was served when the show itself won Outstanding Comedy Series, its 4th straight. There had been a lot of talk during the pre-show about "Modern Family" being on track to tie, or even best, "Frasier" (my favorite sitcom of all time, thankyouverymuch), which won the top prize 5 years in a row, from 1994 to 1998. They still have a couple years to go, folks, pump the brakes!
- Jon Hamm and Alec Baldwin presented an award together, and it was just as tense as you would expect it to be.
- NPH gets photobombed during a bumper. Many in the Twittersphere were (and are) talking about this awkward moment when, as Harris was teasing some upcoming award presentations, a man, seemingly caught off-guard by being on camera, scoots his way off frame. I am here to assure you that it was entirely a set-up. The man in question was comedian Paul Greenberg, one of the writers for the show and former sketch comedy actor. I am quite familiar with his work, and this is definitely his style. So, mystery solved!
- Fashion is always a major facet of the Emmy Awards, and in an ironic twist, the one gal who I feel killed it above all others was probably the one person you were least expecting to make any impression on the red carpet at all – "Big Bang Theory" star and nomineeMayim Bialik. Girlfriend was absolutely flawless in an emerald green Oliver Tolentino Couture frock, understated accessories, soft curls in her hair, and conservative make-up. QUITE a departure from Amy Farrah, yes? Other faves includedCobie Smulders in J Mendel, Anna Chlumsky in Badgley Mischka, Allison Janney in Lorena Sarbu, and Kerry Washington in my fave red carpet designer, Marchesa.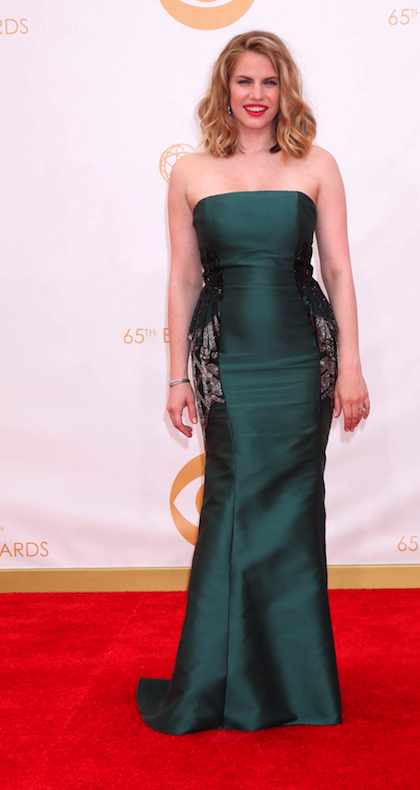 And there you have it, everything you need to know about last night's Emmys! But if you insist on knowing more, you can check out the full list of winners here.
Until next year!
(Images via WENN)
- Katie Marzullo, YH Staff Editor