The Legacy of Harold Ramis: More Important Than You Might Think
Written by Katie Marzullo. Published: February 24 2014
Ghostbusters I & II. Stripes. Animal House. National Lampoon's Vacation.Caddyshack. Analyze This. Groundhog Day.
No doubt you've seen several of these movies. And any bouts of roaring laughter they elicited from you are thanks to one man –Harold Ramis.
Most people hear that name and think immediately of Egon Spengler, the bouffant-haired uber-nerd from the Ghostbusters movies. And honestly, that would probably be perfectly okay with him. Harold Ramis was responsible for some of the most classic comedy films of the past 30 years, yet he was happy to remain in the shadows of other big-name comedy stars of the time likeBill Murray, Chevy Chase,John Candy, John Belushi, etc. But even those guys probably would not be who they eventually became if not for Ramis. And his influence is still felt in the works of guys like Judd Apatow and theFarrelly Brothers.
Harold Ramis, Chicago born and bred, helped cultivate a new kind of comedy that was fast emerging on the scene in the late-'70s and early-'80s thanks to television sketch shows like "Saturday Night Live" and "SCTV", populated with talented folks who had come up the ranks through stand-up and improv troupes. It was a less polished, more fly-by-the-seat-of-your-pants type of comedy that relied heavily on ad-libbing and whip-smart one-liners that would become quotable fodder for decades to come. I grew up on flicks like Animal House, Stripes, Ghostbusters, theVacation franchise, etc., and lines from those movies were tossed out CONSTANTLY around my house.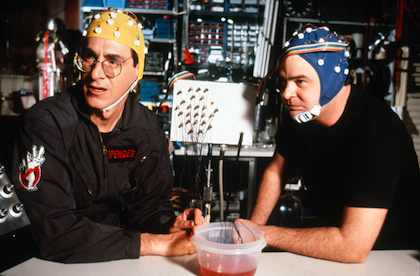 It wasn't until I was older that I realized that Harold Ramis – the eternal second-banana to the Bill Murrays and John Candys of the world – had such a bigger hand in it all. And I suppose that's a testament to the man himself. He could have very easily placed himself front and center along with these guys (like, say, Mel Brooks), but he never did. He let them take the spotlight, and provided the stage for them to stand on.
That is why it is with such a heavy heart that we have learned that Mr. Ramis passed away in the early morning hours today at the age of 69 from a rare autoimmune disease (which has apparently been plaguing him for the past 4 years). Here is a man who brought so much joy to my childhood… without my ever really realizing it. He might not have craved the spotlight as much as his comedy brothers, but today, it's all his.
Rest in peace, Harold Ramis, and thanks for everything!
(Photos via WENN)
- Katie Marzullo, YH Staff Editor