'The Favourite' Is a Fresh, Relevant Take On The Period Piece!
Written by Michael Gonzalez. Published: December 10 2018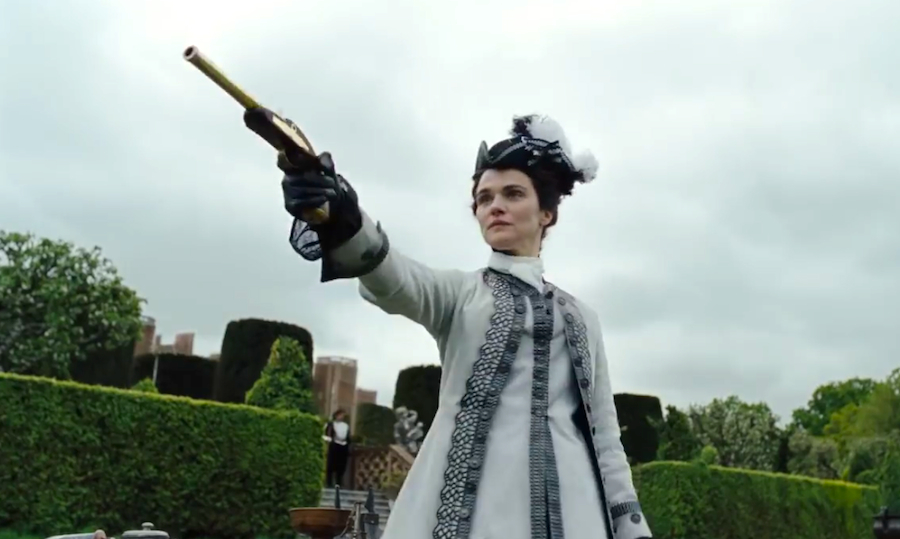 The Favourite takes many shapes. It's bizarre, erotic, and intelligent, sometimes all at once, and it is relentless with its arsenal of witty dialogue and wildly entertaining performers. Don't let this ravishing-looking period piece fool you: this film is fresh, relevant, and bold. It's Jane Austen with sharpened fangs.
Set during early 18th century England, the film follows the timid and insecureQueen Anne, played by Olivia Colman, whose physical deterioration matches her constant emotional distress. Anne knows little of how to run her country effectively, mainly because she's too emotional for her own good, and represents one of the few (if not the only) sympathetic character in the film once some of her backstory is revealed, shedding light on the character's psychology.
Part of the reason Anne is unable to act within her own agency is due to the imposing nature of her right-hand woman, Lady Sarah, played byRachel Weisz. Sarah is commanding and powerful, and Weisz owns every frame she's in. Sarah and Anne are essentially polar opposites yet are nearly inseparable, and Sarah devotes herself to the Queen, both emotionally and romantically.
All of this goes out the window when the film throws a wrench into their relationship in the form of Abigail, played by Emma Stone. Abigail is Sarah's cousin and has made her way to the Queen's estate in search of work. Abigail has had a difficult life, having endured lower class struggles and succumbed to the will of the vile and pathetic men in her life. So when she sees a chance to win the Queen's favor and secure a life of comfort and power for herself, she commits herself to a psychological game of chess with Sarah, who refuses to let go of her title of the queen's favorite. The constant shift in the two characters' power dynamic is compelling and fun to watch.
Quite simply, the central trio of Colman, Weisz, and Stone give some of the best performances of their careers and effortlessly carry the film on their shoulders, and it comes as no surprise that all three earned Golden Globe nominations. As mentioned, Weisz is especially strong, serving as close to a protagonist as the film allows, and if she is the "hero", then Stone is her antagonist. What's most impressive about Stone's performance is that Abigail has an assortment of personalities at her disposal depending on who she is around. She's manipulative and tactical, and her scheme makes Abigail one of the most memorable characters from 2018, and seeing a film focusing on 3 complex, strongly-written women makes this an incredibly well-timed film.
Unlike other period dramas that simply use its extravagant costumes and buildings as pretty backdrops, this film utilizes its setting to poke fun at the wild luxury the characters are living in. The film is indeed gorgeously put together, but all the powdered wigs, puffy dresses, and duck races instill a weirdly comical tone found throughout director Yorgos Lanthimos's work. The Greek filmmaker usually writes his own films with writing partnerEfthimis Filippou; however, this time around, he worked with a screenplay written by first-time screenwriterDeborah Davis and Tony McNamara.
Lanthimos is currently riding a hot streak, coming of films like The Lobster and The Killing of a Sacred Deer. While not as dark as the latter film, this film represents a perfect melding between Lanthimos's adoration for whimsy, satire, and digging deep into his characters' psychology.
The Favourite is one of the most unique movies of the year, and will certainly be talked about deep into Oscar season, as it just earned a nomination for Best Film – Musical or Comedy at the Golden Globes. Check it out for yourself and see one of the wildest movies of the year!
(Image via Fox Searchlight)
- Michael Gonzalez, YH Contributing Writer