The Crawley Clan Hits The Road For New 'Downton Abbey' Movie!
11-19-2021 by Katie Marzullo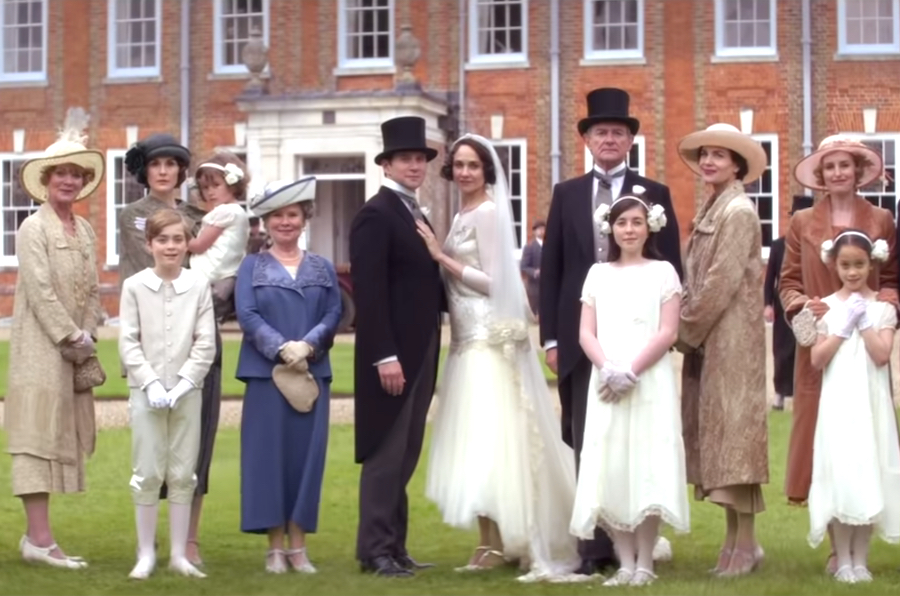 (Focus Features)
Guys, did you know that there's a new "Downton Abbey" movie coming out?! I'm willing to bet you didn't, as promotion for it has been very on the DL to say the least. But it's true, and I am ready to get down with the Crawley clan once more!
To quickly recap what happened in the last movie: In 1927, Downton plays host to King George V and Queen Mary during their visit through Yorkshire, prompting Mr. Carson to come out of retirement to relieve Mr. Barrow of butlering duties because he's totally out of his element; the Royal staff tries to usurp the Downton staff during the visit, so the Downton staff schemes to undermine them; Tom Branson and Lady Mary thwart an assassination attempt on the King; Barrow gets busted at a gay nightclub but the King's valet covers for him (and they share a kiss later!); Tom gets cozy with the Queen's lady-in-waiting's maid Lucy; Edith is pregnant; and the Dowager Countess Violet reveals to Mary that she's dying. But it ends on a high note, I promise!
And don't even worry about the Dowager, because she (and the legendary actress who plays her, Maggie Smith) is back for Downton Abbey: A New Era, along with all the rest of our faves, and in fact she is the catalyst for the plot!
As revealed in the teaser trailer, Violet comes into the position of a swanky villa in the South of France, bequeathed to her by an old man-friend of hers, so you know what that means – ROAD TRIP!!! It looks as though the whole gang goes down there for Tom's wedding to Lucy, and many a grand to-do is had! Not much else can be gleaned from the trailer, except that Mr. Carson is still around and wearing his livery – did he come out of retirement for good? Has Barrow been demoted (again)?
It's hard to tell when exactly the new movie takes place, but it appears to be the early-1930s, which begs the question: are the Crawleys dealing with the Great Depression (known as "The Great Slump" in the U.K.)? How does that affect them and the Abbey? (Guessing not too much if they're partying in France…)
One thing I do know is that it appears I will have to continue to wait for my dream Downton Abbey movie where the entire household takes a trip to the U.S. I mean can you IMAGINE Mr. Carson dealing with Americans?! Sigh…
Downton Abbey: A New Era hits theatres on March, 2022!