The Coen Brothers' 'The Ballad of Buster Scruggs' Is Creating Quite a Buzz!
Written by Meg Spaulding. Published: November 21 2018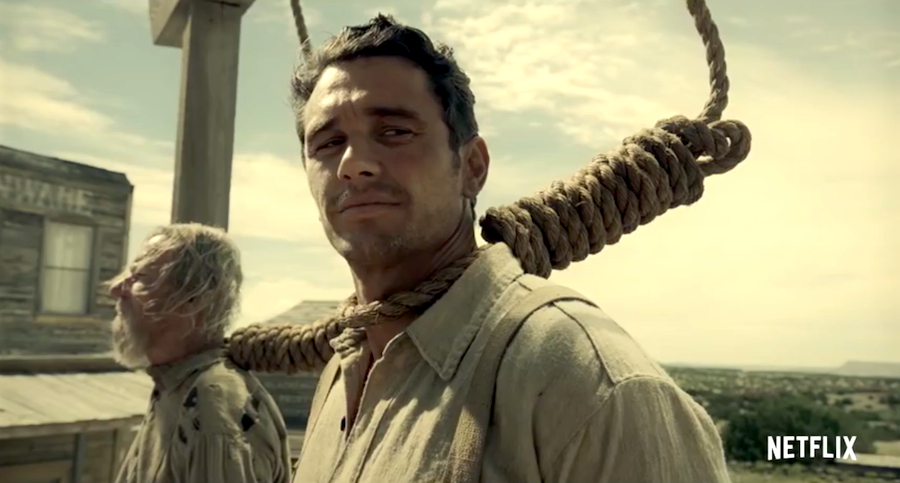 The Ballad of Buster Scruggs, a new movie by Joel and Ethan Coen, premiered on Netflix over the weekend with only moderate fanfare, but that is sure to change soon as Oscar season approaches. Debuting in theaters and on Netflix, it will surely spark more conversation about streaming services and whether they're taking over, yada yada yada. The film was originally planned to be a limited series, but now it exists as one feature film with 6 stories inside of it. An anthology film, if you will. Each part follows a story set in the Wild, Wild West, from the antics of the country crooner Buster Scruggs to gold miners and ghosts.
"Things have a way of escalating out here in the West," says a certain cowboy in the trailer. Things have a way of escalating in a Coen Brothers film too. The Ballad of Buster Scruggs looks like another Coen Brothers classic in the making that fits somewhere between disturbing and delightful. It's being called a dark comedy, and for the Coens, dark means really dark. Often, especially in their famous Western  No Country for Old Men, violence takes center stage. Despite the expected violence, The Ballad of Buster Scruggs looks more reminiscent of the silly and surreal fare they are most known for, like Raising Arizona and O Brother Where Art Thou?. Genre aside, if there's anything the Coen Brothers can do, it's create a mood.
Tim Blake Nelson plays the musician Buster Scruggs in the first story within the film. You might recognize him as Mom, aka Dr. Pendanski, from Holes, which I've watched so many times that his voice has never really left my head. It's like Buster could yell "The early mole digs the deepest hole" at any moment. Buster Scruggs looks to have a bit more confidence than the bumbling Dr. Pendanski—we see him twirling his gun with all the ease in the world. I'd watch the whole movie just to see this particular (maybe not for the best?) glow-up. The cast also includes James Franco and Liam Neeson, in case you needed a little more convincing.
Check this movie out if you like Westerns with strong casts and unexpected plot points. The Ballad of Buster Scruggs will remind you of the brutality of the Old West, while keeping you guessing with its quick stories and Western wildness.
(Image via Netflix)
- Meg Spaulding, YH Contributing Writer