"The Bachelor" Recap, Episode 8: Happy Hometowns... Or Not?
02-18-2020 by Nicole Koch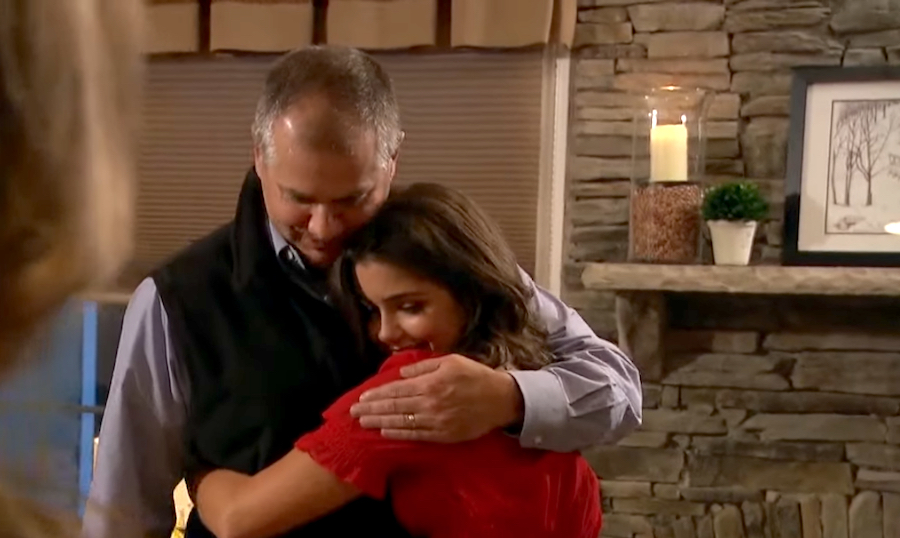 ( © ABC)  
What's good, Bachelor Nation?
In last night's episode (#8), we finally got down to the FINAL THREE. Which means we had a whole lot of hometown dates and even more drama (thanks to Victoria F. that I'll get to later).

In case you missed it or want to relive it, I've laid out the most stand-out moments of the episode and their corresponding clips so you can get a full taste of what went down last night. Enjoy bbs!
The Most Dramatic Moment
Like we've all said before – the Devil works hard but "The Bachelor" producers work harder! On the hometown date with Victoria F, a girl approaches Peter (whom we later found out is Peter's ex!) and tells him to be careful. Apparently, his ex and Victoria F. used to be friends before the show, and Victoria F. has done some shady stuff, i.e.: broke up other relationships.
Check the clip out below!
Peter then confronts Victoria F. about this later on, and that brings me to my next moment...
The Cringiest Moment
Long story short, Victoria F. gets REALLY upset, like REAAALLY, when Peter confronts her about the above moment.
She turns it all on him, and Peter is truly speechless. Bachelor Nation goes so far as saying she's toxic and gaslighting him (if you keep up with live tweets and YouTube comments), but I'll let you watch it yourself to decide. Major yikes.

The Most Emotional Moment
This moment goes to our girl Madison!
As a viewer, we see her talk to her parents about how she's saving herself until marriage, and yep, you guessed it – Peter has no idea.
Madison and Peter have had a conversation about their religious beliefs, but it didn't go as far as physical intimacy.
After the rose ceremony (Kelsey goes home), we see Madison walk up to Peter to "talk" before they all go to Australia. Here's a clip for next week where Madison gives him an ultimatum about him sleeping with the other girls:
The "Yes, Girl!" Moment
I'm giving this moment to Kelsey!
She created a rep for herself on this show to be the overly emotional one who cries 24/7. I actually think she's just emotionally open, but whatever! To each their own.
But here I say "Yes, Girl!" because she got sent home after telling Peter she was in love with him and she left with pure class. She says she's in shock and I'm sure she is – but she left with grace, said goodbye, and left. She could have left super dramatically and she didn't.

Kelsey for "The Bachelorette"?! Here's a clip of her telling him she loves him:
The Funniest Moment
Cheers toHannah Ann's dad for this moment.
In all seriousness, he was the standard protective papa here, but what makes it funny is all the memes and tweets that came out about him during the episode!
Peter tells her dad he's falling in love with her, and his face is completely unimpressed. Her dad is honest about his feelings, and Peter takes it. Watch the clip first and then check out some of the memes and tweets below!
What was your favorite moment of Episode 8?!
Tweet/DM us, we'd love to know!
@younghollywood:
@nicoleckoch: