The 8 Most Controversial Music Videos Of The Last Decade!
09-12-2021 by Gabbi Wiesehan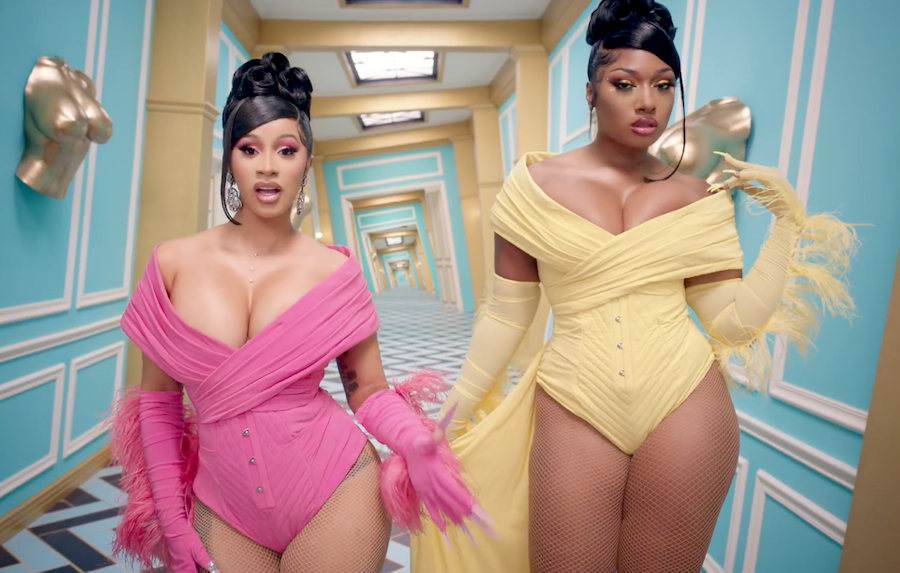 ( © Cardi B/YouTube)  
Music videos can be a lot of things: feel-good, fun, heart-breaking, even boring sometimes. In some instances, they can even make or break the song. But what happens when a music video sparks controversy and elevates a song to icon status -- for better or for worse? In honor of this year's MTV Video Music Awards, let's take a look at some of the most controversial music videos that really got people talking!
[Warning for some NSFW content, obviously!]
1. Rihanna - "S&M"
Initially banned in 11 countries after its release, Rihanna's "S&M" music video features softcore BDSM themes that amassed both critical and positive reviews. We should've known a darker hit like this was brewing, though, after her last 2 albums Good Girl Gone Bad and Rated R.
2. Childish Gambino - "This Is America"
Singer/rapper Childish Gambino, AKA actor Donald Glover, chose to not give much personal commentary on this music video, saying that people should perceive it how they want to perceive it and let the art speak for itself. And boy, did it. The video, which is (theoretically) packed with imagery and references to racism and gun violence throughout the history of the U.S., has been countlessly analyzed by both historical experts and common listeners alike.
3. Lady Gaga - "Judas"
Mother Monster caught an onslaught of both negative and positive reviews of the "Judas" video; some called it flat-out blasphemous and sacrilegous, others called it a masterpiece. The video is heavy with religious themes and imagery, drawing a line between those who thought it was mocking Christianity and those who saw a deeper narrative about religion and feminism. One thing's for certain -- it got people talking.
4. Kanye West - "Famous"
Ah, yes. This one. The "Famous" video is known mainly for featuring wax figures of notable celebrities naked in bed with Yeezy, but it's one wax figure in particular that made this video notorious. Contrary to the video's message, many like to think that this certain someone's Reputation era made this song famous...
5. Miley Cyrus - "Can't Be Tamed"
Contrary to the song's title, this music video seems pretty tame now compared to the ones Miley Cyrus has released since Bangerz. But during her Disney kid era, "Can't Be Tamed" was the scandalous music video no one could stop talking about. Miley's look was more intense, the dancing more provocative, and the overall message completely different from the squeaky-clean image that Disney stars maintained at the time. It was the first hint of Miley breaking the mold and becoming herself as an artist.
6. Cardi B & Megan Thee Stallion - "WAP"
The "WAP" heard 'round the world, if you will. Some called this video tasteless, others called it a disgrace to humanity, but you know what we call it? A bop. From the graphic lyrics to Cardi and Megan's (insanely impressive, might I add) suggestive choreography, this music video was all anyone could talk about when it dropped, not to mention a source for great TikTok dances.
7. Nicki Minaj - "Stupid Hoe"
Nicki's vid for "Stupid Hoe" was not only banned from the BET network for risqué themes and sexual dancing but was criticized for something entirely different -- the seizure-inducing effects and flashing colors that are anything but easy on the eyes. It's definitely stimulating!
8. Lil Nas X - "MONTERO (Call Me By Your Name)"
Y'all knew it was coming. If folks thought "Judas" had shocking religious imagery, they weren't ready for what Nas had in store for them. The second he slid down a pole into Hell, we all knew this was going to be one for the books, whether it was for better or worse. Like Gaga, some viewed the vid as blasphemous while others (including Nas himself) focused on the inner commentary on religion and sexuality.